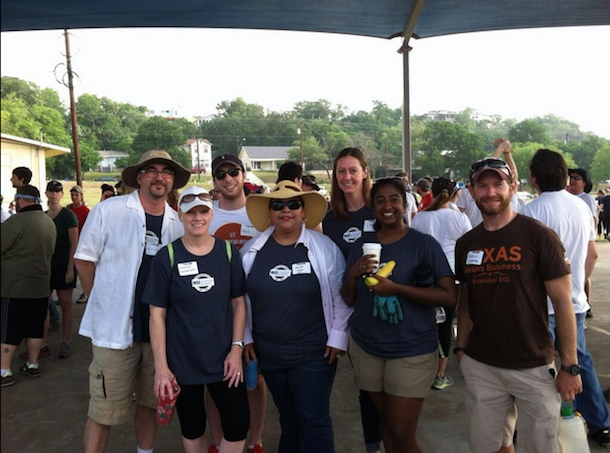 When people talk about tech entrepreneurship in Austin, they undoubtedly discuss the Austin Technology Incubator (ATI) at the University of Texas at Austin IC2 Institute. Launched in 1989 by former UT Business School Dean and founder of Teledyne George Kozmetsky, ATI lives up to its promise to get startups funded.

It has incubated 200 companies, which have collectively raised about $1 billion. In the last 10 years, ATI companies have generated nearly $600 million in exits. Of the 2014 ATI graduating class, for example, 88 percent raised external capital; 17 raised more than $1 million, and three startups raised more than $5 million. The 2014 graduates raised a total of $102 million to date.

With a rich 26-year history and an impressive track record, ATI has developed quite a reputation in Austin and beyond. Indeed, ATI being referred to as "the granddaddy of business incubators in Austin" — as termed in this post on The SpareFoot Blog — is not far from reality. A Jan. 2014 report published by the Bureau of Business Research and UT at Austin analyzed 39 ATI startups from 2003-2012. The study showed that those companies created 6,524 jobs in Travis County, resulting in a total economic impact of $880 million.

So, how exactly does ATI set startups up for such success and impact? Why do startups apply to ATI? To find out, we caught up with Bart Bohn, partner at ATI and director of the IT & Wireless incubator, and we also spoke with some executives of current portfolio companies and recent graduates.

ATI has connections

Not a penny of the capital raised by ATI graduates since the incubator's inception has come from ATI, a reflection of its deep connections in Austin's investor community. As Bohn said of ATI, "it doesn't exist in a vacuum." A lot of organizations around town are somehow connected to the incubator, he said.

In fact, ATI's website lists more than 20 official business and community partners, including The Greater Austin Chamber of Commerce, the Austin Technology Council, the Central Texas Angel Network, Dell, CleanTx and SXSW Eco.

Some startups find ATI appealing strictly because of its connections to the local business and tech communities. That was the case with Xeris Pharmaceuticals, a graduate of the 2014 class. The Austin-based company, which creates innovative, patient-friendly injectable drugs, was looking to quickly integrate into Austin after relocating there from California in 2009, according to COO Yash Sabharwal. He said Xeris prioritized connections rather than mentorship when it joined ATI in Oct. 2010. Unsurprisingly, the incubator came through.

In 2011, Xeris raised a $1.5 million Series A round through Central Texas Angel Network, a connection Sabharwal said ATI helped facilitate. He said ATI was instrumental in the grant Xeris received in 2012 from the Texas Emerging Technologies Fund. Furthermore, Xeris closed an $18 million Series B round in Jan. 2015, and Sabharwal said a number of investors from Xeris' earlier rounds reinvested.



ATI's sell to startups, front and center on its website

Similarly, Zac Maurais, co-founder and CMO of Austin-based on-demand delivery company Favor, said his company valued ATI's connections when it relocated from California two years ago. Maurais said Favor, a 2014 graduate, appreciated connecting with mentor Jay Manickam, co-founder of uShip. He said Favor entered ATI with an established product, and Manickam provided much sought financial advice.

Another valued connection ATI boasts is UT students. Not only do 30-35 students work at the incubator per semester, many grow into instrumental interns for participating companies.

According to Matthew Lynch, co-founder and chief product officer of Austin-based and current ATI portfolio company Bractlet, working with UT students helped his company step onto the national stage in the six months it spent in the Clean Energy incubator. Specifically, Lynch said the students helped construct an inventory management plan, helping Bractlet, which makes hardware and software for real-time energy-use assessment, be prepared for time-sensitive hardware requests from customers.

The company is currently raising a funding round, some investors of which were introduced through ATI connections, Lynch said, adding that Bractlet hopes the round closes this spring.

Students, of course, can be entrepreneurs themselves. ATI's Development incubator deals with enterprises founded by UT students and faculty, or university-owned intellectual property. In addition, the incubator's Student Entrepreneur Acceleration and Launch (SEAL) program is designed to lead student entrepreneurs to an important decision after 12 weeks: pursue their business idea or go back to the drawing board. Twelve ventures are invited to the program annually. SEAL companies have raised more than $15 million.

ATI doesn't take equity

With all the funding that takes place with ATI startups, one might think the incubator requires equity, like many other startup support programs. It does not.

Bohn confirmed that startups are asked if they would like to issue equity to a charity of their choice, though such an act is not required. Regardless, he said ATI never owns any shares. Instead, 10 percent of ATI's funding comes from rent and membership dues, 85 percent from grants and contracts, and 5 percent from sponsorships. Bohn said grants and contracts come from entities such as the City of Austin and the Department of Energy, which gave $745,000 to ATI in June 2014. He said membership dues are tiered based on company size; five employees or less equates to $5,000 per year, for example.
"The business model is not about getting money from office space or from the companies," Bohn (pictured right) said. "It's about doing whatever we can to support [the startups]. Most incubators are real estate plays. We are about strategic impact."
But even exchanging equity for up-front investment, as is the case with many incubators, has its downfalls.

"The downside is you may rush a product, you may take on more funding than you intended to because you have commercial pressure to perform as a portfolio company," said Gavin Gillas, co-founder and CEO of The Magazine Channel, an Austin-based startup currently in the IT & Wireless incubator. Its free app, STACKS, which is launching on the AARP RealPad tablet this month, curates content for users based on their specific interests, rather than restricting them to certain magazines. Its archive contains 100,000 articles from 400 publications, Gillas said.

Flexible, yet selective

Not having to pay equity gives startups more control and more freedom. That policy aligns with ATI's overarching theme of flexibility, which is exemplified by its rolling admissions.

When ATI was created in 1989, rolling admissions were more common among incubators, Bohn said. Accelerators that developed later on tend to take a tightly-clustered class cohort approach. Incubators such as ATI, he said, are in a longer-engagement cycle, and thus are better suited for rolling admissions.

"We want to work with companies when it's the right time, and then stop working with them when it's the right time, as well, as they're gaining traction and taking off," Bohn said.

Now, rolling admissions don't allow for just any company to be accepted. From 2010 to 2015, the incubator reviewed more than 1,000 companies. Only 80 were accepted.

"We're highly selective of who we engage with, and we tend to look for companies that are solving very clear, tangible problems, which translates to early customer validation and traction," Bohn said, adding that coachable, competent teams are also valued.

When is a startup ready to graduate? Bohn said ATI typically looks for a company that has a core senior team in place, a product that's gaining traction in the market, and enough money in the bank to go hire the right executives and talent to join the team.

Procurement of funding is typically a good indicator, as well, but it's not everything.

ATI is moving ahead, too, and is showing no signs of slowing. According to Bohn, 25 startups might be in the incubator at any one time.

Although historically ATI has focused on startups in the Austin area, Bohn said the incubator is experimenting with startups based elsewhere, one as close as Dallas and one with headquarters in Belgium. As long as ATI can maintain its standards for intimacy and impact, Bohn said the incubator is comfortable taking in startups near and far.

"We want to find a company that we can make a distinct impact on," Bohn said, adding that once a company establishes a core team and is on solid footing, the time to move on has come. "At that point and time, I can't have a unique impact on that company. I need to go on to the next one."

Have a tip for us or know of a company that deserves coverage? Email us via [email protected].