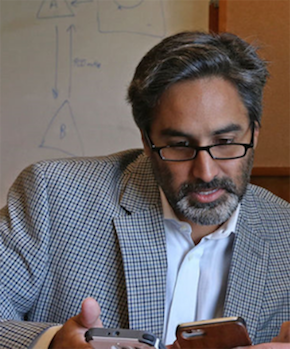 Always on the prowl for leadership advice, we recently caught up with Nick Bawa, co-founder and CEO of Covintus. His company assembles teams of top software developers from around the world to devise innovative solutions for clients. The unique business model, with all its challenges and opportunities, gives Bawa particularly keen insight into what it takes to keep sought-after technologists engaged, inspired and loyal in a 24/7 world. Read on, startup founders—and learn to lead like a boss.
Q: How would you describe your leadership style?
My leadership style is built on transparency and trust. For our small management team, we have an open-book, open-financials approach, because we want to empower our people to ask for what they need to help Covintus reach its goals. Empowerment is also important for the remote developers we hire for clients' projects. It's about trusting talented people — giving them control over the direction of their work. That goes further than any benefit, because, in turn, people become leaders in their own right.
Q: What's the most important leadership lesson you've learned?
In the early days, I felt I needed to have all the answers all the time. I've learned that no one can do it alone. Today, I feel incredibly blessed that everyone in my company is incentivized to make success happen together as a team.
Q: Do tech leaders face challenges that leaders of traditional companies do not?
Leaders in tech need to motivate a different kind of employee: sought-after knowledge workers who work remotely more than in other industries. For skilled developers, who can always take their talents elsewhere, work isn't an 8 to 5 proposition. So it's especially important to give them respect. And to offer flexibility, because there will be times you'll need them to work into the night. The side effect of treating people fairly is that they'll be there for you when a client has an emergency at 10pm.
Q: Any words of wisdom for new startup founders?
Don't try to solve every problem yourself. Know your strengths. Then have the wisdom to surround yourself with experts who are strong where you're not.
Q: What's the best advice you ever received?
Someone once explained to me that there are all sorts of clients. Some will appreciate your work more than others. At Covintus, we know that we do best with entrepreneurial, cutting-edge startups and emerging-growth challenges. We focus our efforts there. It comes down to understanding which clients make the best fit.
Photo: Nick Bawa, CEO/Co-Founder, Covintus. Responses have been edited for length and clarity.
For its roster of entrepreneurial, cutting-edge clients, Covintus assembles teams of top software developers from around the world. Working on a fixed-price, fixed-timeline basis, Covintus teams devise innovative solutions on time every time. Learn more.