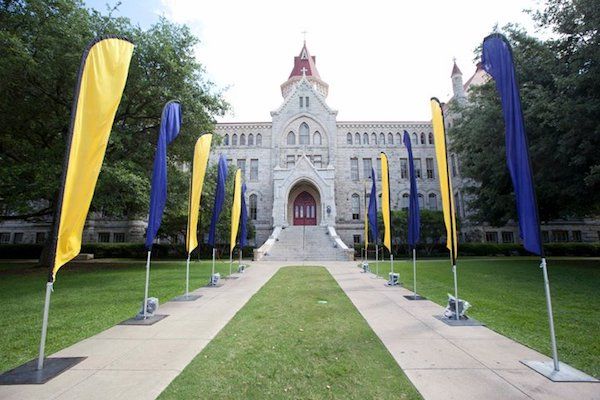 St. Edward's University has made a name for itself as one of the top liberal arts colleges, ranked the 15th best school in the west, according to U.S. News and World Report. It's no surprise that the Holy Cross Catholic university has graduated a number of tech company founders across Texas. Check out this list of entrepreneurial alums. 
Pikoff attended St. Edward's University as an undergraduate from 1992 to 1994. About 13 years later, he founded Games2U. The company delivers fully mobile, on-site entertainment for children's parties.
The games his company offers range from high-tech outdoor laser tag to 4D movie rides. And when you attend your next Games2U party, run, don't walk, to the life-size Hamster Balls.  
To gain visibility for his company, Pikoff appeared on Shark Tank in 2011.
After establishing himself in product management and other senior leadership roles for marketing and real estate companies, this St. Edward's alum went on to start SmartTouch Interactive in 2008.
Cowes' company provides real estate marketing and software services, with a lead-nurturing CRM. The company's platform led to over 400,000 buyer leads in four years.
Barnett received his Bachelor of Business Administration from St. Edwards in 2007. Since then, he founded Partake, a mobile commerce marketplace.
Serving the hotel and sports and entertainment industries, among others, Partake gives businesses the tools to engage, sell and serve customers from a centralized platform, with streamlined operations.
Since earning her bachelor's degree from St. Edward's in 1997, Lesmes has been on a mission to make healthcare more accessible.
She founded BB Imaging and Healthcare Consulting to provide ultrasound care to clinics in Central Texas and Oklahoma. Lesmes is also a passionate advocate for women's health. In the future, she hopes to make positive change happen for that social cause on a global scale.  
Ikard graduated from St. Edward's with a public relations and advertising degree in 2016, but by that time he was already flexing his tech and business muscles in the professional arena.
He founded AquaSprouts in 2013 while still in school. The company aims to make aquaponics accessible to anyone.
Benton graduated from St. Edward's in 2004 and earned his MBA in corporate finance from the school in 2008.
Since then, he co-founded Fairprice Healthcare, a network for doctors designed to make healthcare pricing more affordable and transparent.