You don't need to have an upcoming TED Talk to want to brush up on your presentation skills. Whether you're a founder doing an investor pitch or a job candidate seeking to impress, you can change the game if you present well.  
We went to an expert for counsel.
Professor R. Scott Livengood is a lecturer of strategy and entrepreneurship within the M.S. in Technology Commercialization program (MSTC) at the McCombs School of Business at the University of Texas at Austin. He is also an assistant director of the school's Kelleher Center for Entrepreneurship, Growth, and Renewal. He offered these five tips for giving a great presentation.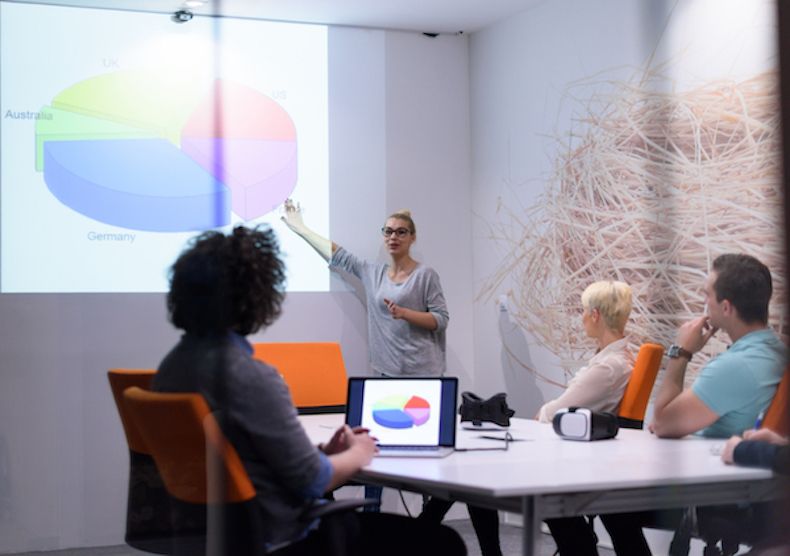 TIP 1: KNOW YOUR STUFF
"It's important to know your material inside and out and be able to persuasively present it to others," said Livengood, who has a doctorate in strategic management and an MBA in finance, strategy, and global management. "You can then draw on a wealth of information to respond to whatever question is being asked."
When Livengood gives a presentation, he doesn't plan a general outline. He plots out the details, writing every slide and speaker's note.  
TIP 2: KNOW YOUR AUDIENCE
Every presentation has two participants: you and your audience. Know both.
"The better you're able to tailor your message to the needs, wants, perspectives and personalities of your audience, the more likely you'll be able to achieve your objectives," he said.
Ask yourself: Why is this audience here to see me? What is their main purpose for attending?
"I then really try to hit that purpose, so that they come out saying, 'Wow I got out of this what I wanted,'" he said.
TIP 3: PROVIDE A CALL TO ACTION
A great presentation builds up to a call to action. Your CTA is best placed at the end, provided you've laid the groundwork.
In a pitch, for instance, you can close with a request for a million dollars. "But the million dollars shouldn't come out of left field," said Livengood. "You don't say, 'I want to open a lemonade stand where I'm going to be the sole person, and I need a million dollars.' That doesn't match."
A great CTA leaves people with two things: something to remember and something to do. This gives people a reason to want to engage with you again.
TIP 4: ANTICIPATE QUESTIONS
Here's another reason Livengood likes to prepare his own material: it helps him anticipate questions. Livengood imagines what might come up from a given audience.
Then, he writes backup slides to handle those questions. His rule: one to five backup slides per presentation slide.
No need to present all of the backup slides, but you'll look like a pro if you have one ready to go.
TIP 5: PRACTICE
How do you get to Carnegie Hall? Practice. No matter the presentation, practice is key. That means not just reviewing the material, but literally rehearsing it.
"When I prepare, I'm trying to prime myself," he said. "During the actual presentation, I don't want to search for words that I've never thought of before. I want to recall what I've already practiced."
He even rehearses the Q&A portion by asking himself a hypothetical audience question, and then responding aloud. The preparation helps ensure that audience members will have what he calls the "ah-ha moment." That's when he sees the lightbulb go on in someone's eyes, and he knows they understand his content in a way they never have before.
When you see that happen, your job is done.
The M.S. in Technology Commercialization (MSTC) is a one-year master's degree program focused on technology, business and innovation at the University of Texas at Austin's McCombs School of Business. Learn more about MSTC.