Working in tech hits a high point during the holiday months. Sweet treats stack office kitchen countertops. Employees bond over secret gift exchanges. Executives get to relax, if only for a moment, at the annual holiday party. And most importantly, companies come together to support our local community.
This year, here's how four Austin tech startups are giving back.
Social Solutions, like the nonprofits it supports, embraces a giving-back spirit year-round. During the holiday season, the company maximizes its philanthropic efforts with ongoing events. Frank Vanco, senior manager of recruiting and engagement, filled us in on what the crew has been up to thus far.
How is your team giving back to the community this holiday season?
Social Solutions' mission is: "We help people transform lives." Given the nature of our business, employees are encouraged to volunteer with organizations they care about. In the last month alone, Social Solutions' employees have volunteered with Coats for Kids and Southwest Key, collected items for Ronald McDonald House and Saint Louise House, participated in an Hour of Code and made donations to more than 25 organizations through #GivingTuesday.
Any fun company traditions aligned with charity work?
Typically, at all of our company events (i.e. summer picnic and holiday parties) we coordinate volunteer opportunities for the entire office to participate. Some of these events have included building bicycles, trash clean-up and food sorting, among other activities.
We have a tradition of encouraging volunteer work during anytime of the year through our Volunteer Impact Program. This program provides each employee with eight hours of volunteer time per quarter.
Why does your company encourage people to give back?
The majority of Social Solutions' clients are non-profit organizations and we feel inspired by the work that they do. That inspiration drives employees to give back which creates a connection to our local communities. When we feel connected to our communities we can better understand the needs of our clients.
Kendra Scott marks another Austin-based company with a heart of gold. Philanthropy is one of its three core pillars — alongside family and fashion. The team encourages employees and members of the community to bring causes to their attention so that they can contribute to them. In 2016 alone, Kendra Scott donated over $3.5 million and more than 75,000 pieces of jewelry to 3,500 local and national organizations.
HR coordinator Taylor Thompson filled us in one of the company's most beloved local philanthropic traditions.
Your team does a lot of charity work year round. Do y'all have a favorite organization to support?
One of our favorite annual traditions at Kendra Scott is partnering with Alex's Lemonade Stand for a company-wide wellness challenge. During the month of September, our Home Office departments pair up and compete together to earn miles and raise money for childhood cancer research. Whether it's taking a fitness class, biking to work or going for a swim at Barton Springs Pool, Alex's Lemonade Stand helps us promote a healthy lifestyle while also doing good.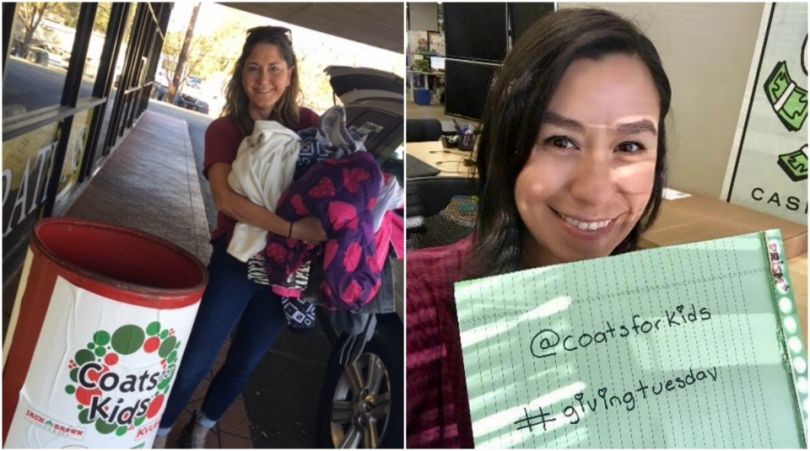 Ashley Birkeland, BuildASign's communications manager, said the company fills the calendar with volunteer opportunities and donation drives. Supporting families and animals in need, this year the team took #GivingTuesday to a new level with company-matched donations.
How is your team giving back to the community this holiday season?
This year, we donated over 50 coats to the Coats for Kids Drive. We participated in #GivingTuesday with company-matched employee donations to some amazing non-profits totaling more than $3,000. BuildASign also adopted two families through SafePlace and donated pet supplies Austin Animal Center.
What's your company's favorite local charity/nonprofit?
It's hard to pick just one. Our folks love animals, so Austin Pets Alive (APA) or Austin Animal Center are always popular. Last year, our Level Up Games charity was APA. We also participate in Bowl For Kids Sake benefiting Big Brothers Big Sisters of America and have a lot of employees who volunteer with Seedling Foundation. We also send lots of groups to Ronald McDonald House Charities, The Food Bank and Mobile Loaves and Fishes/Community First Village.
Mood Media teams supported Operation Blue Santa for the second year by donating more than 100 bicycles for children in need. Mood Media President and CEO Steve Richards said the Mood Bikes for Tykes program has helped unite employees for a cause that pays it forward and brings smiles directly to those within the Austin community.
How is your team giving back to the community this holiday season?
This year Mood Media and Mood Texas were proud to donate 100-plus new kids' bikes to Austin Police Operation Blue Santa for the second year. Not only is Operation Blue Santa a highly respected, local non-profit with tight bonds throughout the Austin community, but they support other local, non-profit organizations throughout the year. We love that this means our donations actually help them give back to deserving children in our community across all seasons, not just during the holidays.
Mood Media is also a proud Trail of Lights sponsor and has been serving as their music partner for four years running. Mood provides the customized holiday music programming throughout the entire Trail of Lights path in Zilker Park, also ensuring all performance rights and licensing are properly covered for the legendary community event.
Any fun company traditions aligned with charity work?
Our annual photo with the bikes and APD Operation Blue Santa representatives has become a fun and welcome tradition for all of us. It really helps to bring to life for our staff what our efforts have resulted in by seeing the sheer number of bikes firsthand (most of which don't even fit in the photo).
It's also such a pleasure to get to meet and shake hands with some of our local police officers who are so dedicated to serving and protecting our community. Mood Media and Mood Texas are humbled and honored to play a small part in helping them in their efforts to give back to families in our very own backyard.