"Wanna meet in Las Vegas for our one on one?"
No, we're not actually talking about hopping on a flight to Sin City. We're talking conference rooms — the historically drab and entirely forgettable office place staple. But some startups, in true form, have decided to administer a healthy dose of style and spirit when building out these meeting areas.
Austin tech is no exception. From film and music to sushi and champagne, conference room themes across the city buck expectations in the name of fun. We connected with five tech companies to go on a "Tour De Conference Rooms" to learn more.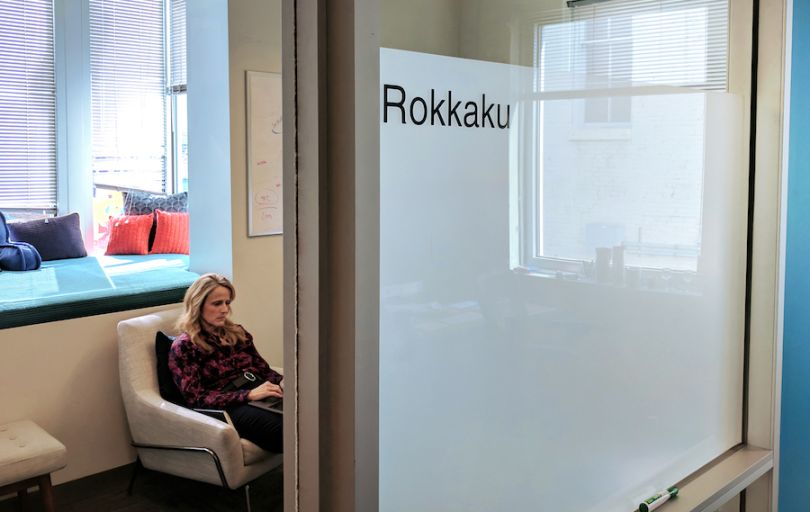 TrendKite's conference rooms started under the naming convention of different kinds of kites — sensibly. Lacey Miller, a content marketing manager at TrendKite, said that this theme worked great, until they got into obscure kite names like Rokkaku, Tetrahedral and Sode Doko. As the company expanded into larger office spaces, conference room confusion heightened. So they shifted toward a different set of themes: life at TrendKite.

How'd you move away from kite names?
We looked at what else represents TrendKite. For the first suite we commandeered, it was beverages — we've got Topo Chico, Red Bull, cold brew (which we have on tap), and more. Then we grabbed another suite, and for that one, we landed on music genres. Everyone wants to have a meeting in Rock-n-Roll. Or maybe you're a Blues person.
It's been fun to see which genres are booked the most. For our next space, we're going with National Parks, and that's probably because our CEO Erik Huddleston is super excited to call people to the Grand Canyon for meetings.

How were the rooms named?
Projects like this are the most fun because we grabbed a few people from across teams, and truly, we started with the question of 'What defines TrendKite?'
We love our beverage choices. We've got 13 kinds of water, cold brew on tap, regular and nitro, all flavors of Topo Chico, energy drinks, two machines dedicated to types of fizzy water. We do not mess around. And of course, we have an amazing selection of happy hour beverages. In regards to music, that's integral to our culture. Our speaker system is so sophisticated, it's probably considered a TrendKite employee.

How do funny conference rooms add to your office culture?
Having new hires ask to meet you in Chapi Chapi might be the best running joke we have. And yes, that's a type of kite.
RetailMeNot's five-story downtown office has plenty of conference rooms to support its local staff of nearly 400 employees. Chelsie Baugh, manager of corporate communications, said their rooms pay tribute to U.S. cities, popular toys and games, movies and more. One room has red carpet and velvet ropes, while another has an Operation game board as a table.

Can you describe some of your conference rooms?
Our sixth floor, which is considered our reception area, features a conference room with a large two-story window made to look like a large shopping cart. Each floor focuses on two or three specific retail categories, such as travel, fashion, books and movies, games and toys, or pets.
On the eighth floor, for example, a central theme is movies. There, you'll find conference room "3D," complete with holographic wallpaper and 3D glasses on the table. You could also book "Runway," with red carpet, red velvet ropes on the wall and a glittering tabletop. To align with the retail category of travel, some fourth floor conference rooms highlight U.S. cities with rooms featuring Las Vegas marquee lettering and a wall that's made to look like a postcard from Miami Beach complete with a neon flamingo. The fifth floor has a toys and games theme, with "Operation," an eight-person conference room featuring the Operation game board as a table and Battleship on the wall behind.

What's your most popular, most frequently booked room? Why that one?
A frequently booked conference room is "Retro," on our 7th floor. This cozy nine-person room also doubles as a video-conferencing room, where the TV screen is encased in a very old-school television. There's shag carpeting on the floor and a mid-century modern vibe of the chairs and table.

How do fun rooms add to your office culture?
All of these rooms expand on RetailMeNot's vibrant culture, allowing room for creativity and fun. As a nod to one of our company values, transparency, the majority of our conference rooms and meeting spaces incorporate glass walls. This visual transparency offers the ability to see into our meeting spaces — even our CEO's favorite conference room has a wall of glass. This is also reflected in our informal conference areas, which can be found scattered among desks and encourage "stand up" meetings out in the open.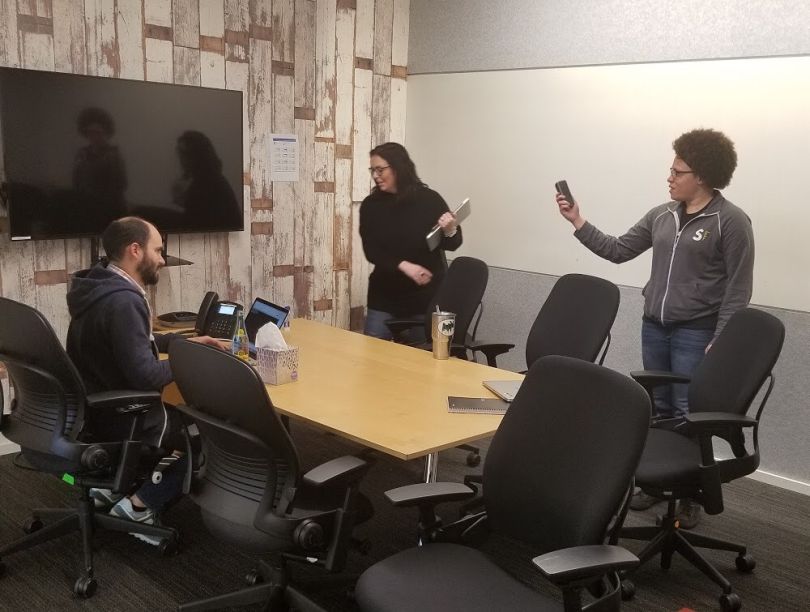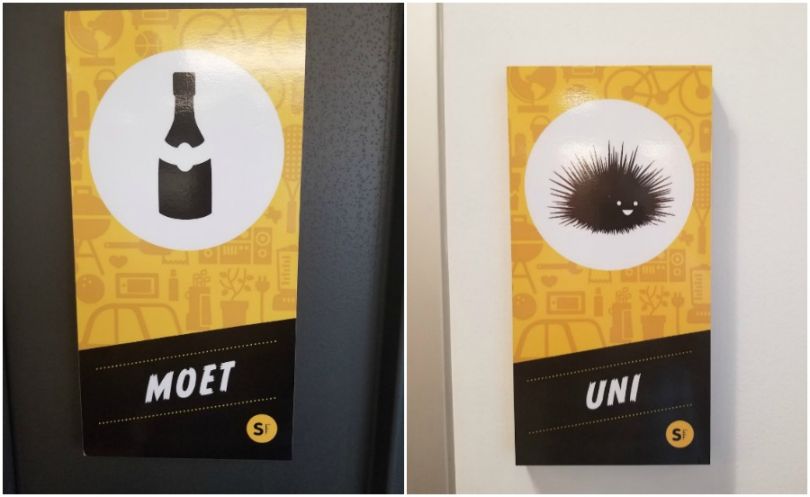 Last month, SpareFoot moved into a new Austin headquarters located at University Park. The company's new office includes conference rooms named after two of their favorite things: sushi and champagne. CEO Chuck Gordon filled us in.

How were the rooms named?
The rooms were named to celebrate our deep love for sushi and champagne. The smaller rooms are named after champagne and are used primarily for phone calls, and the larger rooms are named after sushi. In the early days, we would fête new employees by taking them out for sushi and sake bombs. And, we have a tradition of celebrating regularly with champagne.

What kinds of sushi and champagne?
Our sushi room are Fugu, Hotate, Saba, Maguro, Madai, Tako, Bincho, Hamachi, Wagyu, Toro, Uni. The champagne rooms include Moet, Dom and Veuve.

What's your most popular, most frequently booked room?
Our most frequently booked room is probably Toro, because like the fish (toro is the fatty tuna belly) it's the best and nicest.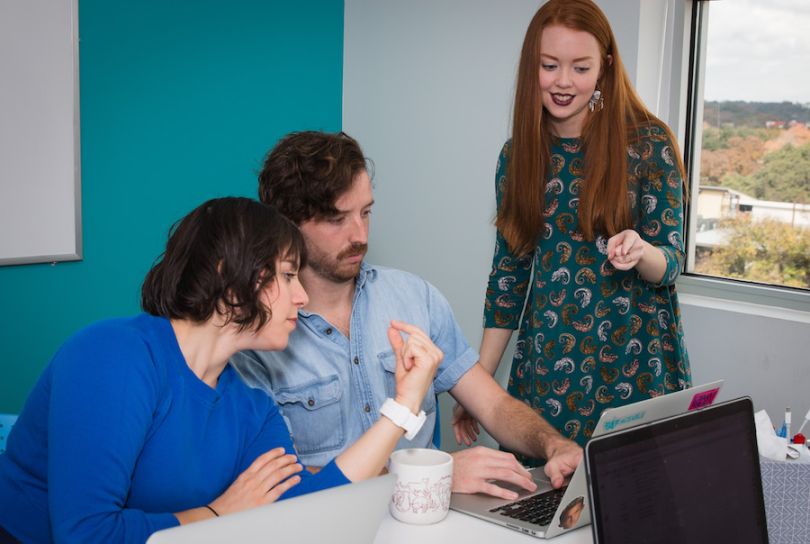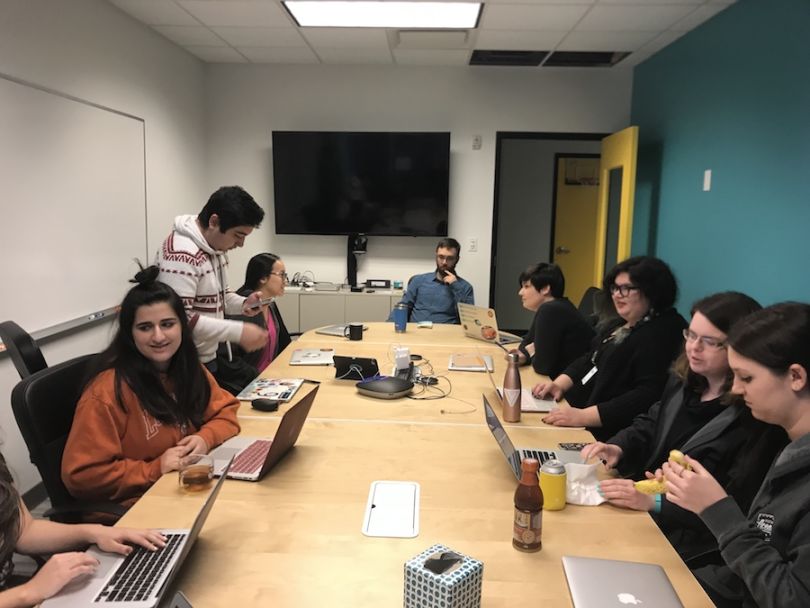 Aceable has state-approved online courses in seven states. To get that approval, the process requires the help of some very special individuals from the state government offices. Aceable honors these folks by nicknaming their conference rooms after them. Office manager Brad Wilkinson said this acts as a nice reminder of what the team has accomplished together and those who have helped along the way.

Can you tell us a bit more about these individuals?
When Aceable gets ready to submit a new course for approval, there is usually a specific point person in state government who does the approving. By naming our conference rooms "The George" or "The Mary," we are reminding ourselves of some huge obstacles that we have overcome, and of how awesome our team is at making our super sweet courses available around the country.

What's your most popular, most frequently booked room? Why that one?
All of our rooms are booked constantly, but my personal favorite has to be "The Valerie." The Valerie is in the corner of our office, so it has two huge windows that look out on Rio Grande St. and W. 6th Street. It is inspiring to look out of the Rio Grande St. window and see the construction of new skyscrapers.  
This kind of growth continues to make Austin a hotbed of innovation and a fantastic place to live and work. We can also look out the W. 6th Street window at a rooftop bar with a pool which reminds us not to take ourselves too seriously, to say yes to an impromptu happy hour or sometimes just to not be "that guy."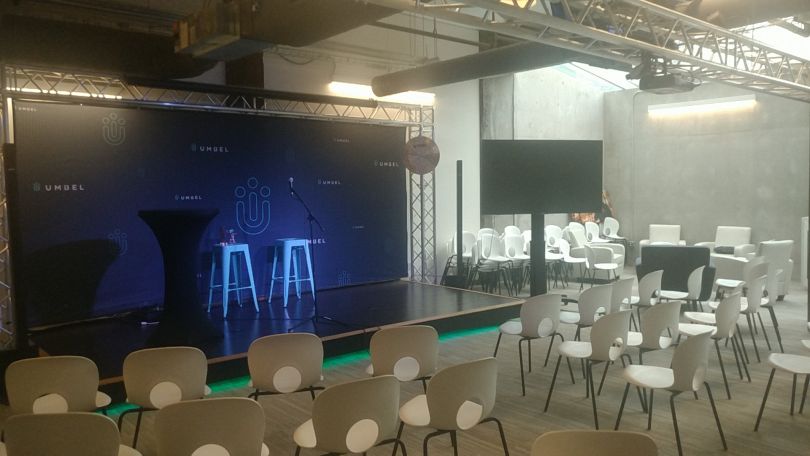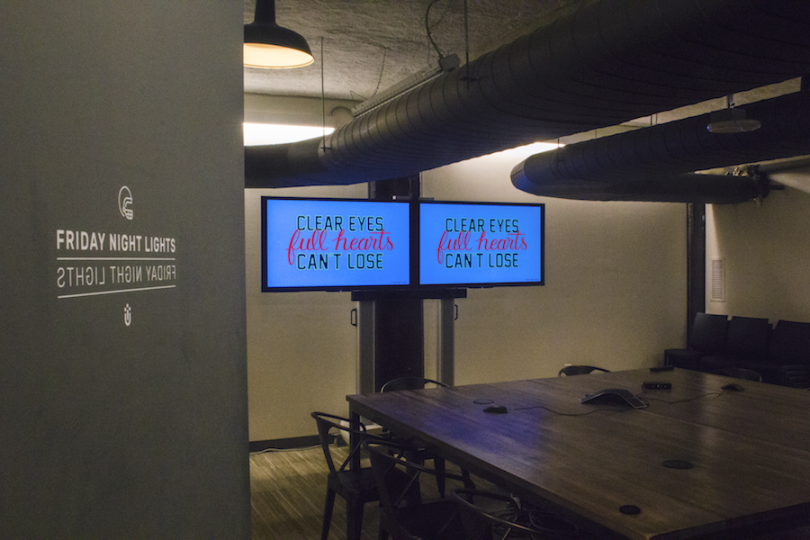 Tal Vinnik, a senior content marketing manager at Umbel, said that all of the company's conference rooms pay homage to sports movies. To narrow the list down from hundreds of contenders, the entire team voted on their favorites, followed by a smaller team to select the winners. Today, Umbel's office includes spots like "Field of Dreams" and "Center Stage."
 
Why the sports theme?
Our conference rooms at Seaholm were originally named after sci-fi movies. Since Umbel focuses on the sports and entertainment sector, we wanted to back that up with sports themed rooms still in the spirit of films. The company voted on their favorite sports movies, then a team culled down the list since there are way more sports movies than there are conference rooms. Many rooms are based on location (e.g., the area where we have company meetings is "Field of Dreams," "Blue Chips" is closest to the kitchen, "Center Stage" is where we hold meetings with visitors or candidates).  

What's your most popular, most frequently booked room?
Rudy is booked fairly frequently. Who doesn't love Rudy?

How do fun conference rooms add to your office culture?
For one, we have a lot of conference rooms, so giving them memorable names helps avoid wandering Seaholm as you try to find your next meeting spot. We're also passionate about helping our sports and entertainment customers, so it's just another way to reinforce our commitment in a simple, yet meaningful, way.