Company perks aren't usually the reason a job candidate accepts a position — but they are the reason an employee stays.
We checked in with four Austin tech companies to learn about top benefits contributing to employee happiness. Take a look.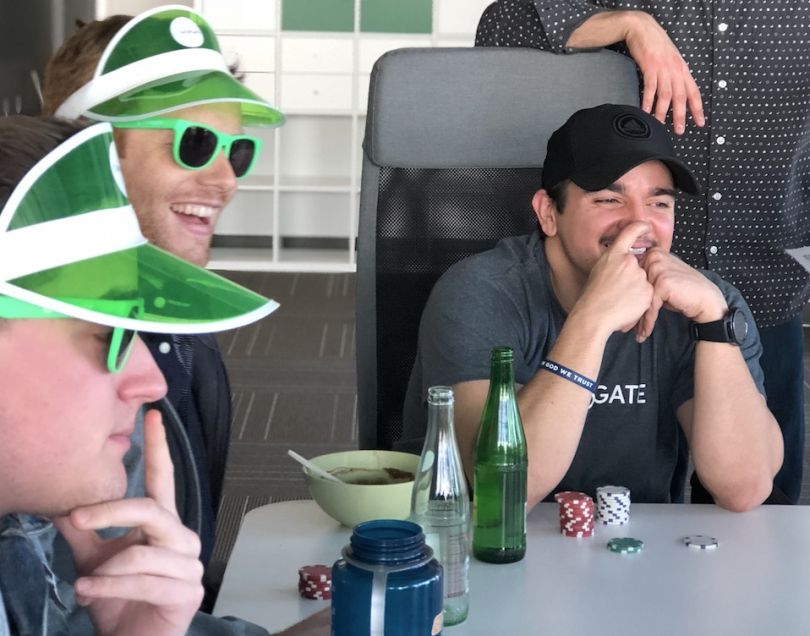 In addition to a recent team poker night at the office, Shopgate plans events and opportunities regularly to bring the team together, celebrate wins and have a good time. Sarah Meadows, Shopgate's copywriter, filled us in on a few more leading perks.

What are some of Shopgate's biggest perks?
We offer the standard benefits, including health, dental and vision insurance for full-time employees. Additionally, all of our employees have the opportunity to enjoy discounted gym memberships and subsidized 24/7 parking at our enviable West Campus office. We also offer unlimited PTO to give employees the time they need for themselves and their families.

What perks does your team have that you don't often see at other companies?
Our office is extremely laid back and non-traditional in a number of ways. We have no official dress code, allowing employees to work in whatever makes them feel comfortable and capable. We offer employees a fully stocked kitchen with a plethora of meals, snacks and beverages, including a German beer keg and a cold brew keg. We have a foosball table and a basketball hoop so employees can take a break and recharge while having fun. We also have an office DJ program that allows employees to request music and collaborate on playlists.
 
What team building and social opportunities does Shopgate host?
We hold company-sponsored happy hours, regular potlucks, holiday parties and special occasion parties. We're constantly trying to find new ways to have fun together. Our latest endeavor involves a local pub trivia game for our May happy hour.
We also provide opportunities for individuals on our team to showcase their talents and interests. For example, our VP of customer success is also a part-time photographer, and he stages headshots and photoshoots for employees to use in their professional and personal lives. Plus, one of our customer success managers leads a weekly yoga class in the office, inviting all employees to come relax and gently exercise. Perhaps most importantly, we provide monthly culture awards to recognize the hard work and personal contributions that employees make.
The team behind the restaurant and entertainment management platform HotSchedules is privy to a long list of perks that include 401(k) matching plans, a monthly cell phone subsidy and four community service days per year to go and give back to their favorite charity. But one in particular seems to stand above the rest. DeeDee Breaux, the company's senior technical recruiter, dished on one of the company's most loved perks — First Fridays.

Can you tell us a bit more about HotSchedules' First Friday event?
The first Friday of every quarter our executive team cooks for the entire office. It's their way of giving back to their employees.   
I think our employees really enjoy First Fridays because it's a chance for the leadership team to show how much they appreciate how hard we all work. It's their way of giving back to us, and it's also a great time to bond and enjoy some good food and cold beers.   

What did the execs prepare for the start of the second quarter?
We recently had our annual Crawfish Boil and Gumbo cookoff for our First Friday event. We boiled 350 pounds of crawfish, had a gumbo cookoff, a Cajun band playing and a crawfish eating contest. Bryce Hollas, one of our regional sales managers, won the crawfish eating contest, eating a whopping 62 crawfish in just five minutes.
Alex Hearn's favorite perk at RunTitle is the seemingly never-ending supply of cold brew coffee on tap, Topo Chico, La Croix and beer. But the perks go beyond refreshments. Here's what else RunTitle offers to keep employees happy, per Hearn, a RunTitle engineer.

What are some of RunTitle's biggest perks?
Unlimited vacation time. It's incredibly convenient to be able to schedule vacations or trips to see family without having to time it around when your time off becomes available. It seems like it would be an easy perk to abuse, but everyone shows up to work daily because they want to be here, so in practice, it just makes life easier without a real downside.

What's one perk that RunTitle has that you don't see other companies offer?
Other companies do office events, but the sheer quality and quantity of our office activities really stands out. My favorites so far have been this year's RunTitle Winter Olympics and FunTitle Fridays from last summer. For the RunTitle Winter Olympics, we had a week of various competitive events between the different teams of RunTitle. Events included ping pong, a kayak race and a planking endurance competition.

What are FunTitle Fridays?
They are a series of events during the summer where the whole office does something fun on Fridays, like pork chops at Perry's Steakhouse or going to see live music together. I can't wait to see what's planned for this summer.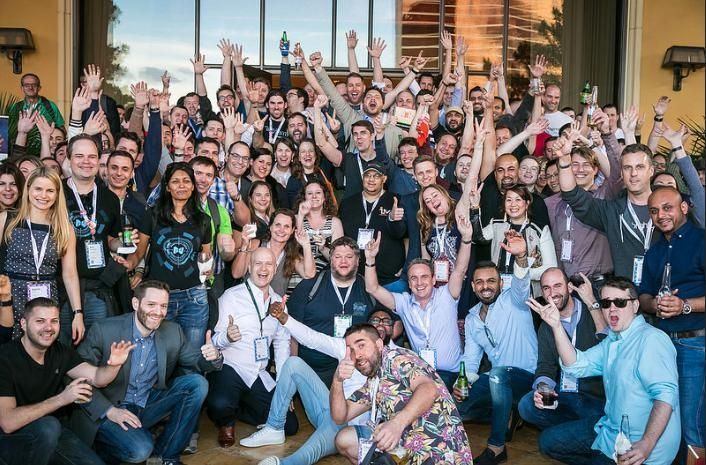 At Magento, everyone can channel their inner Pitbull, a.k.a. Mr. Worldwide, by traveling the world to attend Magento events, like the company's MagentoLive Europe event in Barcelona or its premier commerce conference in Las Vegas. Tricia Guyer, Magento's senior director of talent acquisition, gave us the deets.

What are some of Magento's most notable perks?
Some of the highlights include free food, a great office location in the Domain, competitive pay, flexible schedules, awesome parties and so much swag that employees typically have a Magento T-shirt for every day of the week.
We also provide employees the opportunity to be a part of a broader open source community and empower them to make their own decisions while working independently.
 
What's a Magento perk that you wouldn't see at other companies?
Employees have the opportunity to travel internationally and throughout the U.S. to attend Magento events. We also encourage members of our team to take on stretch assignments and to work alongside a multinational group of both internal Magento developers and the broader Magento open source community.