While sales and marketing roles often require similar skills and tactics, joining a new organization can still be overwhelming for a sales rep. Reps must learn about the product, the customer base, the company's unique sales approach and more at a rate akin to drinking from a firehose.
Fortunately, these six Austin tech companies have implemented sales onboarding processes that help make it all a bit easier to swallow. Here's what the first day, first month and first year as a sales and business development rep is like there.
Your welcome to the Duo team begins long before your first day. Andrew Bos, Duo's senior sales recruiter, said teammates help new candidates feel at ease by sending new hires welcome notes, congratulatory emails and offering up their time for any last-minute items or questions. Bos, and Brian Verenkoff, the enterprise solutions engineering manager, let us know what else you can look forward to in your first year at Duo.

What does day one at Duo look like for new sales employee?
Bos: The new employee has likely already exchanged emails with three to five people, including their new manager. Day one then includes orientation meetings involving IT setup, cultural overviews, benefits and other team-specific requirements.
Verenkoff: A sales new hire's first day typically includes a rollout of our top-of-line Apple products, lots of Duo swag, getting enrolled into Duo's systems, meeting with other new hires and having a sync up with their manager.
What does the first month look like?
Bos: We try to bring candidates up to speed on any and all intricacies pertaining to the role. Once orientation week wraps up, we offer several support systems and training courses. These include sales boot camp and sales methodology — both of which run approximately two to three days. Once those are complete, the team takes over and offers to shadow while the candidate fully assimilates.
What's it look like for a rep after a year has passed?
Bos: Due to tremendous growth and an evolving landscape, the first year could vary. We hope that after the first few months, the candidate is self-sufficient and contributing to the overall success of the team. The only constant at Duo is change, so we do our best to prepare candidates for what is to come.
Verenkoff: Every new hire in sales has a different and customized onboarding experience with a variety of mentors. Typically there is eight weeks of continued education, team meetings, shadowing and associated onboarding. After which, sales hires begin to work semi-autonomously with the full support of their team, management and the company at every step of the way. By the one year mark, it's not uncommon for sales hires to be seasoned veterans.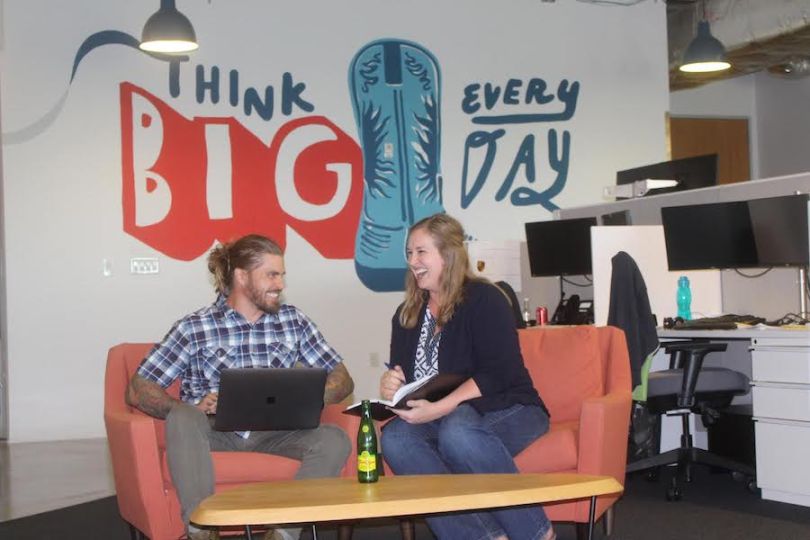 All new hires at BigCommerce have their first day on "T-shirt Tuesdays." This weekly occurrence encourages all employees to sport their finest company tee as a symbol of team unity. Jeremy Peabody, a senior e-commerce sales consultant and sales mentor, said BigCommerce's cultural leader, CFO Robert Alvarez, introduces the new hires to the entire company at the end of the week.
What does day one at BigCommerce look like for new sales employee?
It's a lot of fun. We have new hires start on "T-shirt Tuesdays," which has become my new favorite day of the week. Tuesdays are full of energy as it's our day to welcome new people to BigCommerce and come together with colleagues over a catered lunch. Every new hire, regardless of department, starts their BC career with product training, where you'll make your first group of work friends.
What does the first month look like?
First, all new hires spend two weeks on product training. As a sales rep, it's tempting to try to get on the phones during this time, but the management team is adamant that you focus your time on learning the platform. After you graduate from product training, you move to sales training. You're also assigned a mentor at this time to help you bridge the gap from training to telling, easing the transition to full quota attainment in your fourth month while instilling core values, building confidence in you and alleviating any social anxiety.
What's it look like for a rep after a year has passed?
At the end of the year, you will start to ingrain yourself in extracurricular activities like Tribe, BC Buddies, book club, sales scrum teams and will be welcoming the next group of new hires with enthusiasm. 
As a sales development rep joining the SecureLink marketing team, you will begin your first day at breakfast and coffee with the company's corporate trainer, Susan Quesal, as well as other new SDRs. This first day is meant to create a cohort atmosphere where you feel connected to the other new hires and welcomed to the SecureLink team. Quesal and Cindy Corey, SecureLink's director of demand generation filled us in. 
What does day one look like for new SDR rep at SecureLink?
Quesal: We greet the new SDRs in the lobby at 8:30 and take them upstairs to have their first breakfast or coffee in our cafeteria. After we get all the paperwork out of the way, we dive into the company culture and history and play some getting-to-know-you games. They have lunch with their team and come back to the training room to learn more about our products and the problem they solve for our customers before their one-week boot camp kicks off. 
What does the first month look like?
Corey: After they complete new hire training and SDR bootcamp, the SDRs spend time going deeper into how to accomplish their day-to-day tasks. This includes researching accounts and contacts within Salesforce, LinkedIn Navigator and other third-party data providers, as well as getting familiar with Yesware — our campaign platform. They spend a good portion of their second week shadowing the legacy SDRs and role-playing, and are assessed again at the end of the week. By week three, they are starting their outreach to their list of accounts.
What does the first year look like?
Corey: After demonstrating several months of consistent performance in meeting their activity and lead goals, as well as mastering the art of a cold call, they are eligible to transition to the next role, SDR2, where they will handle both inbound and outbound lead follow-up. 
For team members that achieve their lead and activity goals during this phase, they are eligible to progress to SDR3. During this phase, they are provided a more narrow set of target accounts and will be tasked to develop their own outreach strategy and messaging to target the key decision makers at those accounts.
From here, possible advancement opportunities include a promotion to account executive or other customer-facing roles within the company such as account manager, client success manager or onboarding specialist. Regardless of what level they are working at or toward, they have a variety of tools and resources at their fingertips to help them move up and will continue to be supported through training, coaching and role-playing.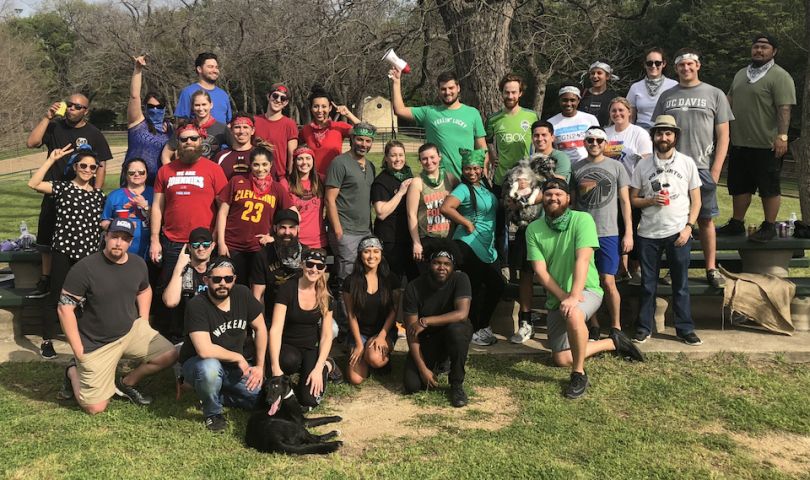 Your first day at Signpost will revolve around feeling welcomed to your new team. Nina Choi, a recruiter for the company, said this includes a showering of introductions and Signpost swag, plus breakfast upon your arrival. Choi and Erik Mathew, training manager, filled us in on what else you can look forward to.
What does day one look like at Signpost for a new sales rep?
After breakfast, we give them a tour and let them know about our "New Hire Happy Hour," which happens Friday after their first week. We send out a newsletter to the entire company that introduces all the folks with their pictures. Then, we host a Q&A with each member of the C-suite. Because we have three training classes happening simultaneously in three cities, the conversations are really awesome. Lastly, all of our new hire classes across each city are no bigger than eight people, so training managers have the ability to really give each person individual attention.
What does the first month look like?
That first month is a combination of classroom and real-life implementation. Sales isn't something you can learn from a book; it's hands-on. We also pair each new hire with a mentor, so they have secondary support for questions that come up while they build their own pipelines. We pair each mentor specific to the new hire's experience and sales style.
We have a ton of lessons and checkpoints to make sure that people are getting up to speed. We've also been very strategic in how we build our new hire classes so that they include people from all sales backgrounds, including entry level through those with one to three years of experience. This creates a great group atmosphere and leads to everyone helping and supporting one another.
What's it look like for a rep after a year has passed?
After the first year, employees move toward a promotional path, whether means moving into a mentorship role, a team lead role or even management. For people who are looking at going after the bigger fish, we have a franchise team that focuses on brands and higher-level multi-locations. It's a pretty exciting place to be because Signpost only hires for these positions from within.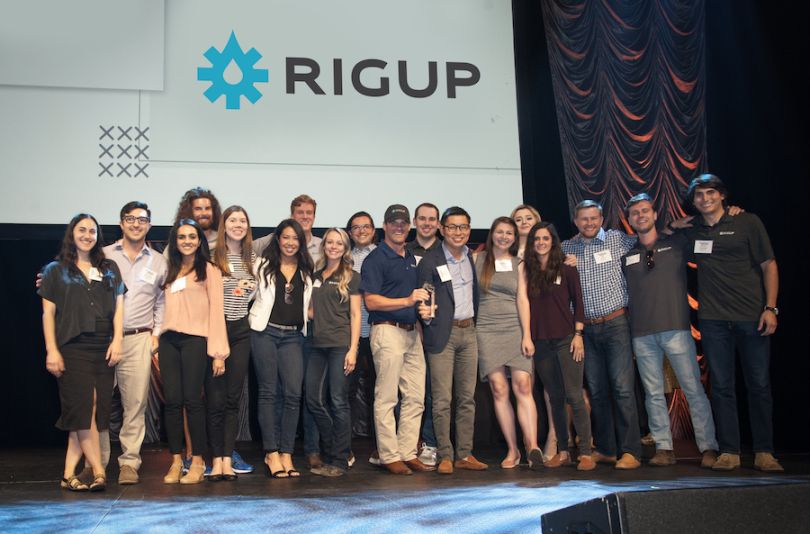 Sehr Charania said your first day at RigUp is both exciting and empowering. With a deep focus on the employee experience, the company has carefully designed a multi-week sales onboarding program to ensure a smooth and productive transition to life at RigUp. Charania, who is RigUp's VP of talent, gave us the deets on what this actually looks like.
What does day one look like at RigUp for a new sales rep?
New sales employees arrive at the office mid-morning, so they have plenty of time to figure out the basics like parking and setting up their computers without feeling rushed. The rest of the day is filled with team-building activities, knowledge sharing sessions and an introduction to RigUp's culture. It's not unusual to find a new sales employee in the middle of a loud and laughter-filled conversation on our communal dining table during lunch that very first day.
What does the first month look like?
Once the new sales employees complete day one, they begin their two-week sales onboarding program. This is tailored to ramp-up our employees by providing them with tools, skills and resources needed to do well. We articulate our customer-centric approach through classroom sessions, shadowing, role-playing and real-time feedback. New sales employees feel confident and enabled at the end of our two-week sales onboarding.
We also have several support systems in place to help new employees get up to speed. We have a feedback-rich culture and provide ongoing mentorship, training and exposure to strategic information to help employees during onboarding and beyond. We have a strong culture that focuses on transparency, autonomy and results. There's no limit to the type of impact a new employee can have at RigUp.

What's it look like for a rep after a year has passed?
We're one of the fastest-growing tech companies in Austin, which means we have unique opportunities for growth and development for new sales employees. We are building the future of oil and gas at RigUp, so there are always new and interesting roles coming up within the organization. We facilitate stretch opportunities for employees who have done a great job in their roles to take on a new challenge within the organization.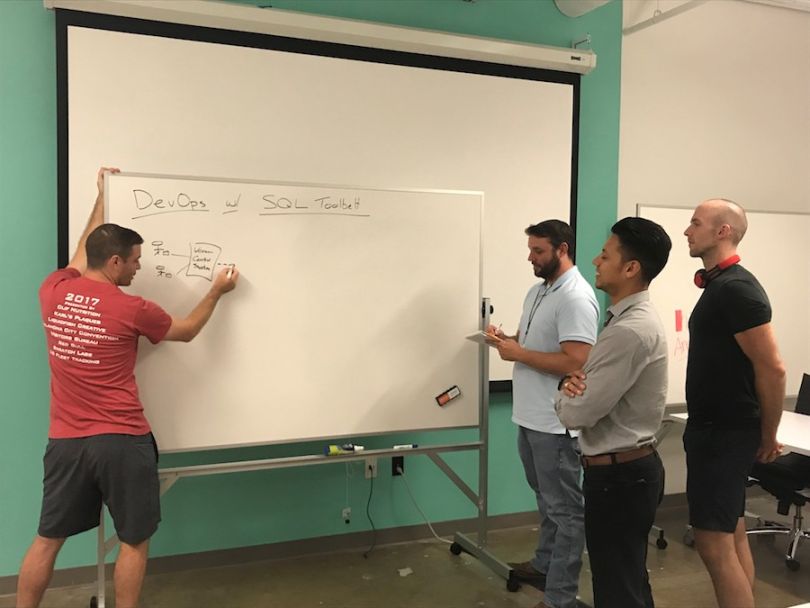 Expect a great first day when you join Redgate Software's Austin team. Before fully diving into a couple weeks of what sales manager Nick Doyle described as a "whirlwind of learning," new hires will be eased into their new surroundings through office intros and a walkthrough of what their first few weeks will look like.
What does day one look like at Redgate for a new sales rep?
The morning is filled with introductions to everyone in the office as well as an introductory session with our HR team based in Pasadena. We take every new starter out for lunch on their first day with various members of our teams. In the afternoon, new starters sit with our sales enablement manager for a high-level overview of Redgate as well as a roadmap for the next couple of weeks of training.
What does the first month look like?
The first month is a focused whirlwind of learning. New hires will have direct interaction with department heads from marketing, sales operations, product marketing, partner management and product development. We spend time training on our product offerings as well as our sales process. New hires will have a strong foundation of knowledge by the end of their first month and will have already spent time building their pipeline and introducing themselves to accounts in their territory.
What's it look like for a rep after a year has passed?
By the end of year one at Redgate, our sales hires are integral parts of our team and company. They own the relationships at major accounts in their territory. They are now leading some of the same training sessions they participated in as new hires 12 months ago. They have a development plan filled with goals for their future at Redgate and beyond. And, of course, they're crushing quota quarter after quarter.