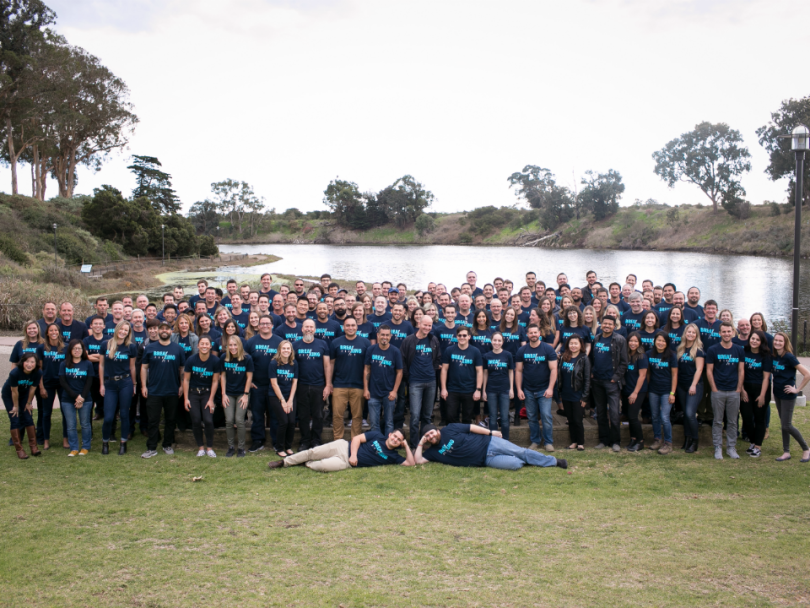 "IT infrastructure is becoming increasingly more complex," said LogicMonitor's Director of Talent Acquisition, Stacey Richey. This presents a whole host of challenges, she said, from cloud migration, scaling, Internet of Things deployments and more.
Fortunately, as Richey put it, "that's where LogicMonitor comes in."
Founded in 2007, the Austin-based SaaS firm builds software that monitors IT infrastructure performance in real time, giving companies insights never before possible. Richey shared LogicMonitor's story with Built In Austin, including the company's recent explosion of growth.
How did LogicMonitor come to be?
LogicMonitor was born in the cloud over ten years ago, and as IT continues its massive shift towards SaaS, we have have emerged as the most comprehensive and easy-to-consume monitoring provider in the industry. We believe that IT teams have better things to do than to manage overly complex monitoring solutions.
How has the company grown within the last several years?
In 2012, LogicMonitor was roughly 50 people. Since then, we have experienced tremendous growth. We've built our product with scale in mind, which allows us to take on larger customers. We've developed product capabilities that are well suited for complex IT environments, and we've resourced our customer experience organization with amazing engineers.
We now support over 1,700 companies of all sizes, and we've grown our team to over 250 people across seven global offices. Looking forward to 2019, LogicMonitor's growth will accelerate as we continue to globally scale.
Now that your team is expanding, what roles are available?
LogicMonitor's entire organization is poised for unprecedented growth in the coming years. We are currently adding seasoned sales account executives, sales engineers, customer success managers, professional services engineers, product managers, software engineers, people operations specialists and recruiters to the team.
What do you look for in potential candidates that's unique to LogicMonitor?
As a SaaS business, our future growth is dependent upon building long-term relationships with our customers. With that in mind, the best candidates have a deep passion for our customers' success. We also look for highly intelligent people who embrace change. In a hyper-growth company, the one constant is change.
Our employees always have the option of exploring new careers and departments."
How would you describe LogicMonitor's culture?
One of the best parts about working at LogicMonitor is our people. When you join LogicMonitor's team, you will be working alongside some of the brightest minds in one of the fastest-growing global software firms. Our managers are coaches and mentors. They will partner with you as you take your career to the next level. Our coworkers quickly turn into family.
And when you join LogicMonitor, we don't expect you to "fit in." We hired you because of your unique expertise, drive and passion. We celebrate diversity and are committed to creating an inclusive environment for all employees. This means you'll have the opportunity to work with the best people from all different backgrounds.
How do you sustain culture during this rapid growth period?
To support the close-knit bond between our employees, we have company perks such as weekly onsite yoga, quarterly happy hours, catered lunches, stipend for gym membership, unlimited PTO with a minimum of 15 days per year for all employees and even a $1,000 "unplug bonus" when you take an entire week off work.
What internal growth opportunities are available within LogicMonitor?
Every discipline has an established career development path, which is available to all our employees. Our employees always have the option of exploring new careers and departments. For those who want to stay within the same department, our managers coach employees to achieve that next level of success.
We also provide benefits to help employees pursue career development options of their choosing. Our customers and our company benefit when our employees are able to advance their careers, and we make every effort to ensure that happens!
What are your favorite perks and benefits?
Each year, team members who deliver exceptional performances are invited to participate in our President's Club program — an all-expenses-paid luxury stay in a remote tropical destination. Last year, we brought over 20 team members and their loved ones to the beautiful Kona coast of Hawaii.
In addition, all employees work in one of our several world-class office spaces with access to fully stocked kitchens, chill-out spaces, weekly group workouts, yoga and much, much more. Departments also organize quarterly offsite events such as wine tasting, go-kart racing, paintball, paddleboarding, or whatever event the group wants to build relationships over.