Despite sharing multiple job responsibilities in common — quota-chasing, prospecting, relationship building, presenting, etc. — sales teams can differ quite a bit. How one team determines a success can be wildly different from another. And how teams celebrate said successes is a whole 'nother story. We checked in with five sales organizations from Austin tech to learn how they measure wins, and what types of celebrations follow.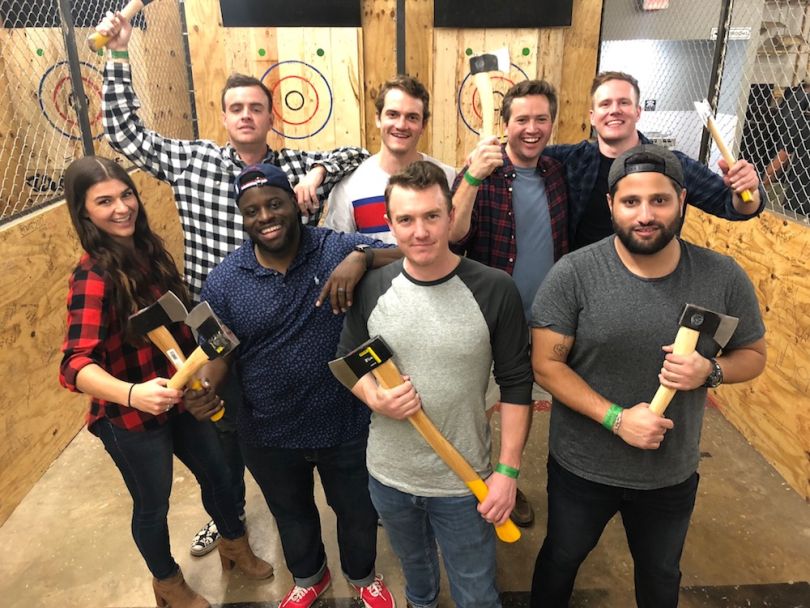 Measuring sales success at cybersecurity technology provider CrowdStrike is simple. Amy Stimets, a corporate sales account executive, revealed what that means, as well as how the team sharpens its competitive edge through its celebrations.
What constitutes a sales success at CrowdStrike?
Every new customer is a success in our book. Once a customer joins the CrowdStrike family, we can feel good about protecting them from today's advanced cyber threats.
What are some of the best ways in which your team celebrates big wins?
It comes as no surprise that salespeople are inherently competitive, so what better way to celebrate achieving team objectives and personal goals than with an added dose of competition? We love to wrangle the sales team together for bowling, ping pong, axe throwing, or anything else where someone is keeping score.
For the sales team at SecureLink, success can show itself in a number of different ways outside of the usual quota attainment. Cortney Smith, SecureLink's director of sales, explained what this means and how the company, which provides secure third-party remote access, shows appreciation for its sales team.
What constitutes a sales success at SecureLink?
We recognize that success is the culmination of doing the right things consistently and trusting the process. By acknowledging the incremental pieces that, as a whole, make up our sales strategy, we can set up and celebrate benchmarks that ultimately lead up to our desired end result. Objectively, that includes measuring things like overall activity along with meeting and exceeding specific sales objectives; things like effective discovery, tailored demonstrations, identifying stakeholders, negotiating price and establishing time frames.  
That said, our ultimate success is when we sell to a customer and they are so excited about what we provide that they evangelize our solution with other companies they work with, which in turn leads to additional opportunities with new potential customers.
What are some of the best ways in which your team celebrates big wins?
We are continually hitting new milestones and achieving new individual and team sales records. We recognize and celebrate achievement at every level. For individual success, we offer above-average commission rates on deals closed, healthy bonuses for meeting quarterly targets and spiffs like all-inclusive staycations for individuals that exceed targets in specific areas.
As a company, we acknowledge and celebrate significant wins through weekly happy hours catered by our on-premise chefs. During these happy hours, you'll find the team playing a round in our golf simulator, a game of ping pong, pool, or even "Super Smash Bros."
As a team, we coordinate regular off-sites that acknowledge monthly and quarterly finishes. From bowling at Punch Bowl Social to a March Madness watch party in Lakeway, to an after-hours poker night, we try to bring the team together in different ways frequently to celebrate our success.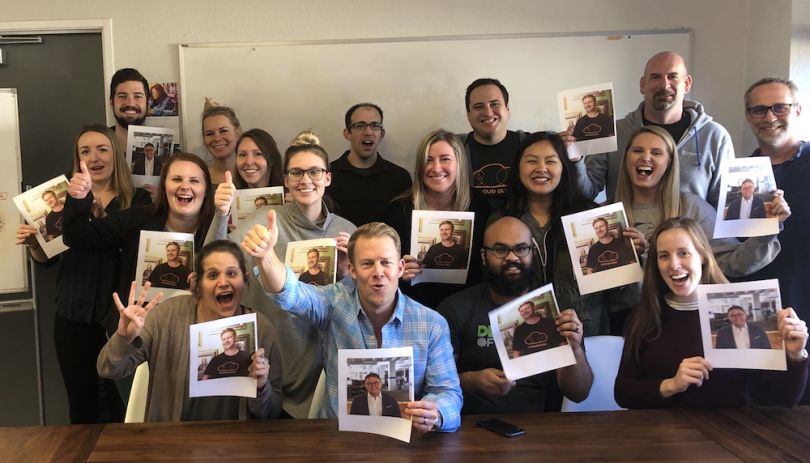 At A Cloud Guru, sales success isn't dictated by a sale amount. Instead, it's determined by the students using its platform for cloud computing training. The more certifications; the greater the success. Travis Russell, A Cloud Guru's VP of sales, filled us in.

What constitutes a sales success at A Cloud Guru?
For us, a sales success isn't measured by the sale, but by helping our clients and partners meet their cloud transformation goals through training and certifications. Cloud skills are in very high demand, and our learning platform provides organizations with a programmatic approach to scale their teams through internal development faster and more effectively than hiring in a hyper-competitive market. When we see our training click and become the spark for a culture of innovation, that's a huge win for A Cloud Guru, our clients and partners, and all of our students.


What are some of the best ways in which your team celebrates big wins?
We don't have a set way of celebrating wins. We believe people should be recognized and rewarded for their efforts, and our celebrations often follow the team's interest. Generally, big wins and team successes are celebrated through internal recognition and fun out-of-office events. That could be a team dinner at a hot, new restaurant, or it could be booking a day in the park for people to enjoy time outdoors relaxing or playing sports. It really depends, but keeping it varied keeps it from becoming stale.
Logan Creque, director of sales for automated marketing firm OutboundEngine, doesn't sugar coat it: Sales is a tough job. So when a win is earned, a celebration is in order. Creque disclosed a few of the fun and creative ways his team has celebrated.
What constitutes a sales success at OutboundEngine?
In our world, a sales success is just about every positive impact someone can have for the business. The term is pretty fluid and can mean different things on different days. A typical phrase we use is "going above and beyond the call of duty." A great example of this is someone staying late into the evening to accommodate a prospective client's schedule and bringing in a deal. Another one would be a teammate not just hitting, but exceeding quota to cover for other team members. All of these actions would be called out at daily stand-ups or our monthly award ceremonies.
What are some of the best ways in which your team celebrates big wins?
We'll set off team theme songs when reps walk up to ring the gong after every sale. We'll host a monthly awards ceremony, roast-style, which means, the better you do, the more you get joked on for the entire floor to enjoy. You know you've made it here if there are recurring monthly jokes in your honor. One of the most memorable examples was during a tough summer month. After we hit goal, we surprised the entire sales floor with charter buses outside the office to drive us to the BSR Cable wakeboarding park in Waco. We spent the day enjoying each other's company in the water, cooking out, and of course, trying our best to throw down amateur flips off a gigantic water slide.
EZ Texting's Chief Revenue Officer Lucas Wilson reflected on their two-step process to define a sales success. For the SMS services provider, it's only a win for the company if it's a win for the customer.
What constitutes a sales success at EZ Texting?
EZ Texting is a customer-centric company. We are completely focused on ensuring our clients gain the proper solution from day one.  Hustle is one of our core values. For our fast-paced and high-volume sales team, exceeding expectations and beating our forecast is always a definition of success.
What are some of the best ways your team celebrates big wins?
There are numerous sales spiffs and other incentives given out for large wins, such as lunch with the CRO and an afternoon cruise on the lake. We also like to share our wins company-wide. During our monthly town hall meetings, we recognize big wins that garner major applause across the organization.