With nearly 40 years under their belt, you'd think Blackbaud has already passed their busiest times.
But you'd be mistaken.
The cloud software provider powering social good organizations is growing and designing solutions faster than ever, much in part due to the internal work its technical team has been doing.
We caught up with two leaders from Blackbaud's local team to learn what exactly they're working on and how it's helping them deploy features and iterations in record time.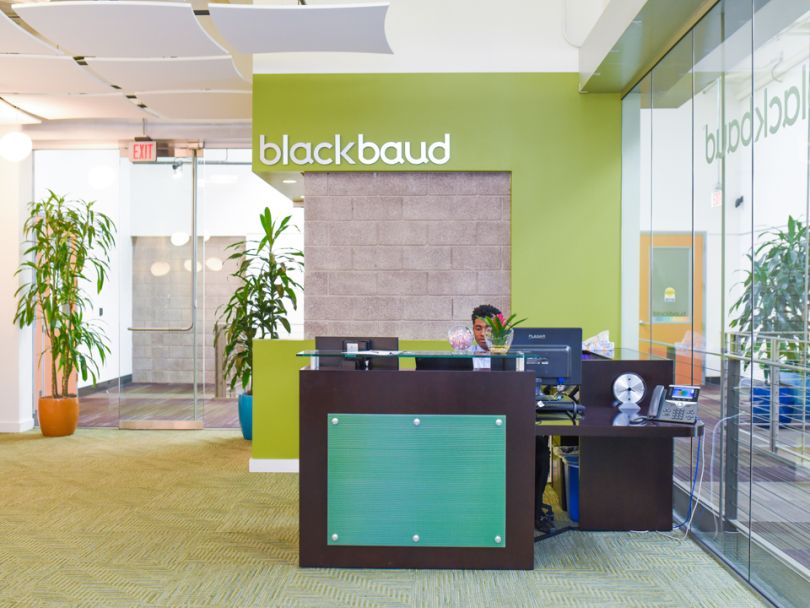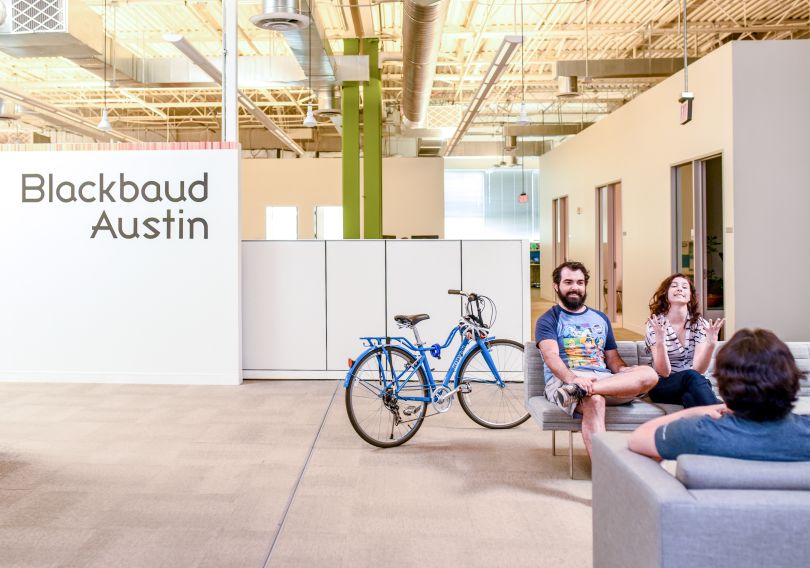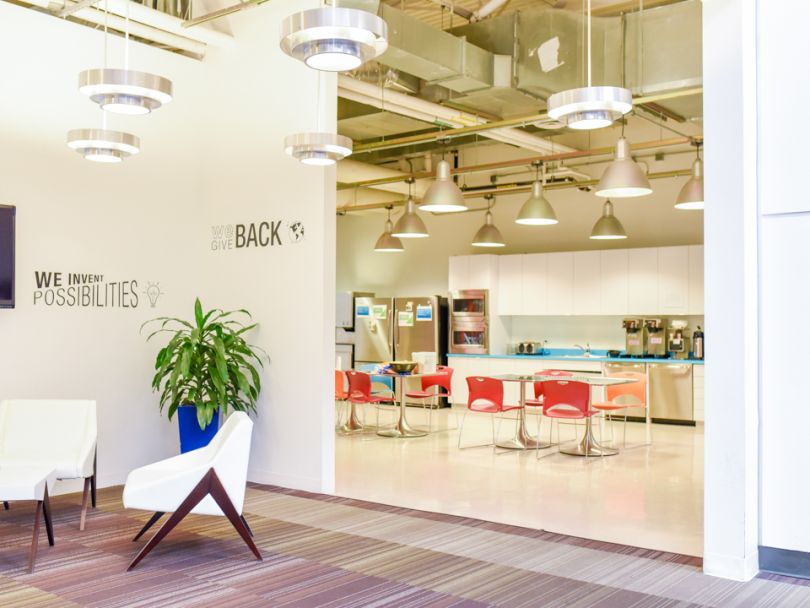 FOUNDED: 1981
EMPLOYEES: 3,300+ nationally, 345 locally
WHAT THEY DO: Blackbaud serves philanthropic organizations across the world and in our own backyard — Central Texas Food Bank, Austin Humane Society, The Lady Bird Johnson Wildflower Center — through its digital tools and services to raise more funding, strengthen relationships and reach broader audiences. 
WHERE THEY DO IT: North Austin, The Domain
VTO: In addition to four weeks of paid time off, Blackbaud offers time off for volunteering. The company also matches employee charitable donations.
INSPIRED BY CLIENTS: Serving a diverse client base has ignited Blackbaud to focus on their own diversity efforts. In doing so, the organization was recognized by Forbes as one of America's Best Employers For Diversity Award recipients. 
LOOKING FOR: Collaborative, curious individuals with the ability to view problems from different perspectives and whip up multiple solutions. Oh, and passion is crucial.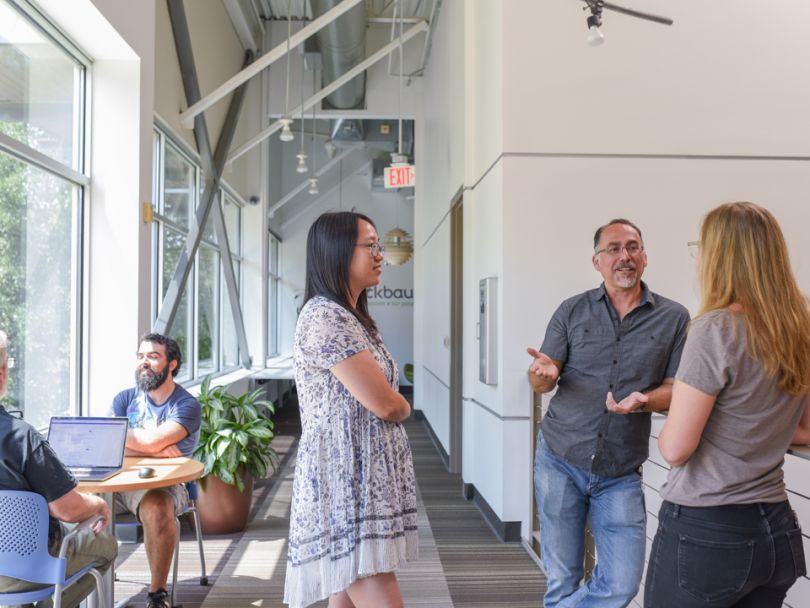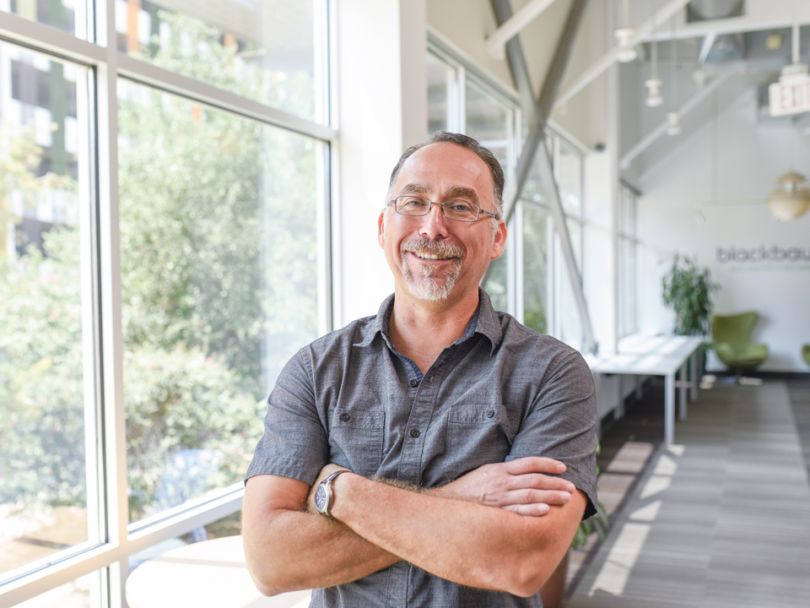 Ed Garaña, Senior User Experience Manager
Ed's team designs tools for both small organizations (mostly volunteer-based, with 1-2 employees) and large organizations (a dedicated staff with time and money). While difficult, helping social good groups of all sizes make the world a better place is precisely what inspires him day in and out. 
HANDS ON: Ed's passion for woodworking grew a few years ago after one of his pear trees passed away (RIP). After cutting down the tree, he milled the wood into an outdoor tabletop that fits nicely over the pear tree's stump. He continues to create, and his garage workshop sets the perfect spot to unplug. 
Walk us through how your team is supporting the development of Blackbaud's internal framework — what is it?
In addition to designing SaaS solutions for nonprofits and faith-based institutions, we also work with the larger user experience team to develop and mature our Blackbaud UX framework, called Sky UX. Sky UX is being developed in partnership with our engineering counterparts to provide a consistent, cohesive user experience for Blackbaud products. Sky UX is part-style guide and part-pattern library and provides components and services that designers and developers need to ensure that we are creating cohesive experiences across capabilities and vertical teams.  
How has your product or tech evolved from when you first started five-and-a-half years ago? What are you able to do now that you couldn't then? 
When I first arrived at Blackbaud, the Sky UX system was in its infancy and was slowly being tried out on a few products with varying success. Now, Sky UX has been fully embraced which is allowing us to design more cohesive user experiences across a range of our applications. This translates to solving problems once and using it in multiple places, which helps gets things out the door faster and provides consistency of experience for our users. 
 
Sky UX has been fully embraced which is allowing us to design more cohesive user experiences across a range of our applications."  

How does the technology your team develops drive value within your industry?  
The goal for the UX team is to design delightful and easy-to-use experiences for our customers so that they can spend less time "pushing buttons" in our system and more time delivering on their mission. At Blackbaud, we believe that users should always be at the center of any capability or feature that we build. By placing a focus on really understanding a user's goals, needs and objectives, we are able to build out capabilities that not only meet the user's needs, but oftentimes meet the needs and objectives that the user didn't even know how to verbalize.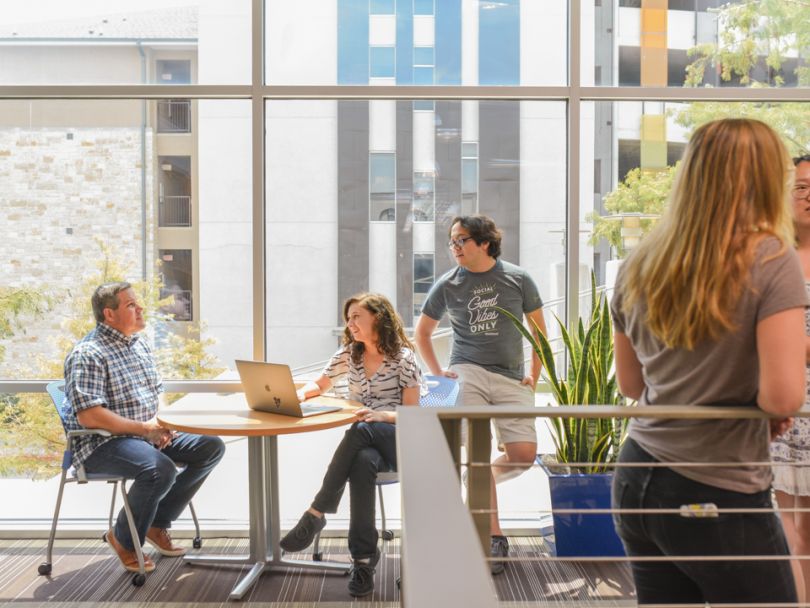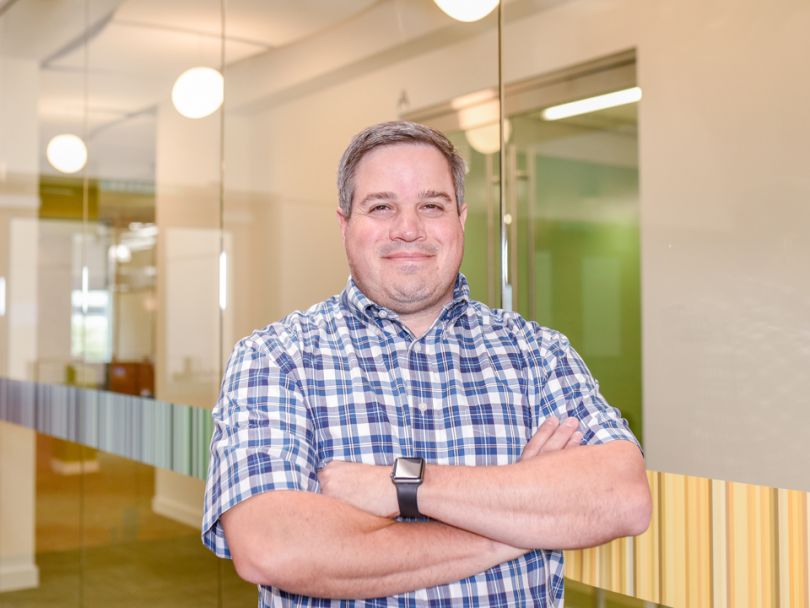 Steve Merritt, Senior Distinguished Engineer
Along with Blackbaud's social good culture, Steve was most looking forward to the challenge of modernizing the company's architecture when he joined four years ago. He enjoys the challenging work and serving mission-driven customers, but ultimately he said it's his teammates that have him looking forward to work each day. 
BRISKET, BBQ, BARRAGES: A man of many hobbies, Steve loves to brew beer, smoke meats and create fireworks. "I am always chasing the best smoked brisket, a new beer recipe and the perfect fireworks show," Steve says. 
Tell us about the technology your team is building. What value are you driving for your customers or users? 
I lead application architecture at Blackbaud, and our team is responsible for guiding the architecture patterns and best practices across all of Blackbaud's applications. These patterns and practices have a direct impact on application availability, quality and time to market, and are geared toward greater agility and being able to deliver customer value faster. Our goal is to design and build our next-generation architecture and a path to get all legacy applications to it. 
What's the biggest technical challenge your team has faced, and how did you overcome it? 
The biggest technical challenge has been around consolidating data across all of our various legacy applications. This has been as much about changing the culture and tearing down historical silos as it has been about the tech. We have made huge strides in changing the organization's culture and moving it forward. 
 
We have made huge strides in changing the organization's culture and moving it forward."

What's it like to work on your team? What does it take to be successful on it? 
The team is extremely smart and passionate. You have to be engaged and willing to express your opinion. You have to be willing to constantly push for improvement. A big part of the architecture role is influence, and we try not to dictate standards. To be successful, you have to be good at working with teams and showing them why they should use certain patterns and best practices.