Now Hiring: 10 Austin Companies Looking for Top Talent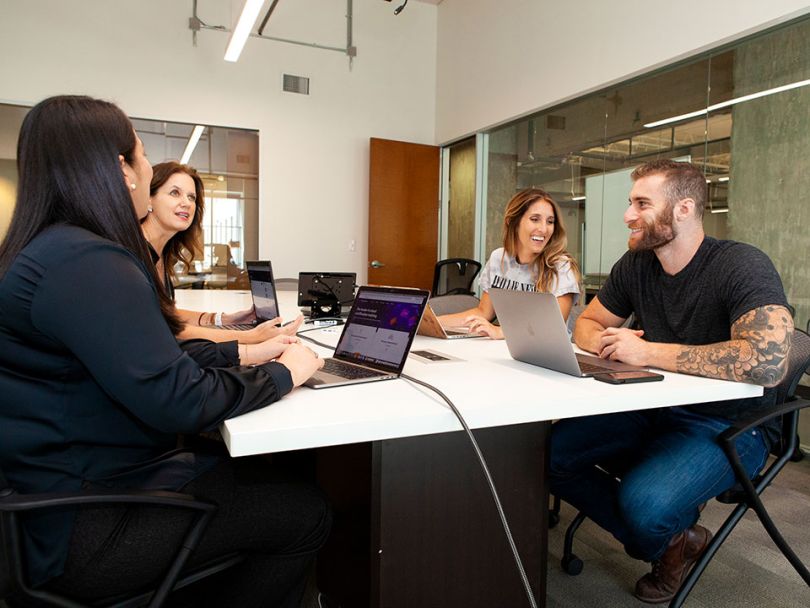 Rapidly growing companies... in 2021?
Some might think that a company is only as strong as their quarterly revenue reports or ranked position on an annual list. But 2020 showed the business world that a united team with shared goals is an extremely powerful asset for an organization to have.
Job seekers within the tech industry are aligning their values and personal growth aspirations with the work they take on more than ever before, and it's important that the people they work with have similar mindsets.
"I need to be part of a company whose product I not only believe in, but where there is a larger mission to actually make an impact on people's lives," Liz Sachs, an enterprise account executive at Canva, said.
Built In Austin sat down with employees at 10 of the fastest-growing companies in the Lone Star capital city to discuss what drew them to their current role and what successes are on the horizon.
ibble is an interactive social media app that allows users to ask questions, hang out with friends, and tune in to conversations about current events to make information both entertaining and retainable.
Embracing challenges for growth: "The deciding factor to work at ibble came down to the growth-oriented environment," Croce said. "At the time I joined ibble, I saw the perfect opportunity to accelerate my learning and knowledge about software development. Working in this fast-paced and challenging environment not only has taught me a lot about what it takes to build an app, but it has given me the chance to work directly on the product and see the immediate impact my work has on the business, which is not something you usually get when you work at a bigger company."
Pushing ahead in the digital age: "What excites me about ibble is the potential impact to change the current social media landscape and how people interact and learn online. We're constantly pushing these boundaries and rethinking ways to improve the overall user experience, so I am excited to continue on that path by growing our web presence so that users can have a similar experience to the mobile app."
Founded in 2013, SparkCognition is an Austin-based firm focused on catalyzing growth with artificial intelligence and machine learning technology to help clients adapt to a changing digital landscape.
Innovation as a team sport: "It is easy to rest on past laurels, but SparkCognition continues to build on previous success and perpetually sets the bar higher on each deployment and engagement," Capellman said. "This energetic environment creates continuous innovations and opportunities for growth – at all career levels, in every department.
"Over the past four and a half years, I have personally seen the company grow significantly. Each new hire has been aligned to the goals and successes of our products and company as a whole. It has been a great joy to see how we've built team camaraderie and a culture where everyone has a 'whole product ownership' philosophy, even in a remote setting."
Breaking the industry mold: "To see firsthand how our approaches solve problems across multiple verticals is truly exhilarating. As we further develop our products, we're encouraged to employ creativity and AI technology to break previous molds."
"For the next-gen cybersecurity product team I lead, we work to stay ahead of threat actors around the globe using machine learning. The inflection point for overcoming these challenges occurs when we collaborate across teams, involving creative software engineering, data science and threat research solutions. It's truly a team effort, and this collaborative culture spans the whole company."
Canva is a free online visual communications platform with a mission to empower everyone in the world to design using a simple interactive interface.
Finding meaning in the mission statement: "I am a genuine seller – I need to be part of a company whose product I not only believe in but where there is a larger mission to actually make an impact on people's lives," Sachs said. "The mission to 'empower the world to design and impact entire workplaces towards a more collaborative communication experience' was a problem I suffered myself, and could therefore speak the language of the issue I am helping companies solve.
"Furthermore, I wanted to be part of a growing team – one where my experience and leadership would have a huge role. Having the opportunity to be part of the founding enterprise sales team in Austin was exactly that: a place where my voice is heard and my impact is known, as we all grow together."
Fruitful leadership endeavors: "The reason I joined Canva was because the company's growth opportunity was ripe with leadership roles, both internally and for the industry at large. Canva started in 2013 as a predominantly consumer product that exploded with fanfare, evolving into an enterprise product for the workplace as organizations around the world realized the value of visual communications."
"The concept of reimagining how entire organizations communicate and collaborate is not a new one, but the way in which it can be done – with a visual communications tool – was (and is) a new frontier. There is no better feeling than being part of this growth trajectory and to be part of the team's success as part of my own career growth."
Billd is a payment and finance solution for the construction industry, allowing organizations to acquire the materials they need upfront and pay suppliers later.
Looking inward for leaders: "As someone who takes a lot of pride in their work and excels with ownership, autonomy and responsibility, Billd has been a great fit for me," Katz said. "I've been able to build the marketing department from scratch and enjoy the freedom to develop the processes, demand generation strategies and brand strategy that I see fit. The company also prefers to promote from within, which offers people an opportunity to grow into more senior roles. The fact that Billd is growing at such a rapid pace – doubling in size to over 100 employees in 2021 – shows that there's great opportunity for people to step up."
Collaborating for success: "We're creating incredible partnerships with other disruptive companies in the construction industry – including Procore and STACK – with many others lined up. Additionally, we'll be launching new products to expand our footprint on the commercial construction industry. With all of these new initiatives on our 2021 roadmap, I'm incredibly excited to be leading the marketing efforts and go-to-market strategies to accelerate these initiatives towards success. But what excites me the most is the collaboration and team effort required to successfully launch and scale these new products."
As an account takeover prevention platform, SpyCloud helps protect businesses from fraud stemming from stolen credentials. Their cybersecurity solutions are designed to make it harder for hackers to profit from stolen passwords by alerting companies when their credentials have been compromised.
Trust in the culture: "I've stayed at SpyCloud for four years primarily because of the people," Bush said. "I trust the leaders, both in terms of their hearts and their business decision-making, and I trust my co-workers on those two counts as well. We've been able to establish a high-trust, humble, hard-working culture where we are free from drama and enjoy coming to work each day to solve interesting challenges together. It's been great so far."
Looking forward: "I am excited to see how we scale out our current technical infrastructure, in terms of our codebase and our use of the cloud. Specifically, I like working on our APIs and the data structures behind them in order to keep up with our customer demand. I look forward to seeing how customers continue to use our data to protect their employees and their own customers."
Shipwell is a platform dedicated to automating the freight transport industry by replacing manual and opaque shipping processes with a tech-enabled, fully-connected logistics system.
Pushing for change: "In my career, I've always looked for opportunities to build something new and innovative that will have a positive impact on the economy and people's lives," Cohen said. "At Shipwell, I am getting the chance to stand up the marketing department and to drive adoption for a product that is truly disrupting the way the world moves critical goods."
Adapting in real-time: "With the disruption of COVID-19, supply chain technology and freight logistics have played an even more central and visible role than I could have anticipated, and it's really exciting to be part of it. We have been able to help our customers navigate a transition from an on-premise manual process to an automated cloud-based approach that has enabled their businesses to grow, despite the volatility that COVID-19 has presented."
Guided by its mission to "teach the world to cloud," A Cloud Guru offers hands-on courses for consumers and companies to give people the skills they need to work with AWS, Azure, Google Cloud and more. 
Passion in performance: "I've worked at A Cloud Guru for over four years and still feel like I'm continuously learning," Bechtel said. "Everyone is super passionate about what they do  – whether it's sales, engineering or graphic design, everyone just wants to make their piece of the company a little more awesome."
"I think we've been able to maintain this high-performing, down-to-earth mix because our co-founders set the direction with their words and with their actions. Every chance our CEO gets, he gives gratitude for hard work and celebrates small wins. And he follows up with actions like hiring senior leadership who put people over processes."
Laying the groundwork: "We've trained 2 million people, but we still have a huge way to go. In the next year, we're really focused on creating the next generation of ACG as a product in the market, and that's exciting. We're never happy with just 'good enough.' It's always 'how can we provide a better experience or position ourselves in a new market?'
"I'm personally excited about making A Cloud Guru a best-in-class enterprise software. The autonomy to own the full lifecycle of enterprise marketing is both challenging and rewarding because, if I do well, it means thousands of more engineers get the chance to become a cloud guru and create a better future for themselves and their families."
As an on-demand media platform, Digital Turbine provides users with simplified content discovery, user acquisition and engagement, operation efficiency and monetization opportunities.
Learning on the go: "The company culture, the talented and intelligent team and the opportunity to make a significant contribution were some of the things that drew my interest to Digital Turbine," Mojica said. "Another deciding factor was having the opportunity to learn a lot in the mobile advertising technology industry. It was also very important for me to be in a position where I could contribute, learn and improve as an engineer – and that has continued to be the case after almost two years with the company."
Rolling with the punches: "I'm very excited about Digital Turbine's future. We have grown so much in the last year and growth brings a unique set of challenges that require creative solutions and outside-of-the-box thinking. Our products must continue to scale with the business, and in some cases this means onboarding new partners and developing new features."
"In other cases, this means rethinking and restructuring how we currently operate. I look forward to these challenges and working together with the team to solve them."
Verkada is a hybrid cloud security solution system that makes it easier for businesses to protect assets and manage devices at scale.
Providing a path for upward mobility: "As a salesperson, you want to work for a company that will grow your skill set and provide a clear path for upward mobility," Songey said. "I chose to work at Verkada because they have a culture that encourages collaboration and rewards hard work. I'm learning new things each day, whether that be from a company-wide training, a one-on-one session with my team lead or a customer-led webinar. Verkada understands the value of providing strong training for employees at every level of the business. When you're prepared you can perform, and a strong performance opens doors."
Implementing feedback for safety: "When speaking to customers, I'm able to answer their questions in one of two ways: 'We currently offer that tool' or 'We will build it.' Whether it be our product, our teams or our culture, Verkada understands the importance of constant improvement.
"I hear statements like, 'Wow, I never knew this type of technology was out there' or 'This will make such a large difference for proactive campus security' every day on my calls. Verkada builds its vision and products based on customer's and employee's direct feedback."
Web development company Engagency builds sites for enterprise-level organizations in addition to providing Sitecore migration and training services.
Putting it all up front: "I've worked at Engagency for over 12 years," Clifton said. "The reason I decided to accept the job is the same reason I've been a part of the team for over a decade: it's the culture. We're a family in the best sense of the word."
"For me, it's really about finding a place that feels like home and is a pleasure to show up and do my best work every day. The interview process gave me a taste of what it would be like working there. I had an assignment that gave me an idea of what my work would be like, and I got to spend a lot of time with the people I'd be working with day to day. By the time I accepted the job, I had a really strong hunch this wouldn't just be a job, but a place I could create a career path and grow as a person. Those expectations all came true."
On the horizon: "We're currently in the midst of a huge expansion of our services and customer base, from focusing on one platform to multiple. This means I get the opportunity to explore new platforms, learn about different industries, grow my skill set, and be part of drafting what those new service offerings, processes, and best practices look like for our team."