Mentorship program, 11 - 50 employees
3 Companies

Artificial Intelligence • Machine Learning
New Knowledge is a fast-growing information integrity company on a mission to help our clients understand what's real and what's not on the internet. We use AI and ML to alert brands to potentially damaging online campaigns, and we are revolutionizing the way companies and industries make sense of disinformation, echo chambers, and filter bubbles.

Accomplice is an experience design firm conspiring to create products and experiences of consequence. Bound across disciplines, driven by collaboration, we drop the theater of business in favor of just doing the work. Because, if it's worth doing, it's worth doing right.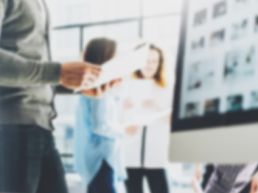 CSTMR Digital Marketing & Design Agency
CSTMR is a digital marketing and design firm that helps companies build the brand, attract and convert more customers!! We'll help you translate your growth goals into tangible, measurable strategies and plans of action that we can then implement to accelerate your growth.