On the sales floors, cheers erupted. Laughter, applause and shouts of encouragement rang throughout the office. Those in other departments smiled knowingly or perhaps were so used to the blips of celebratory noise that they didn't even notice.
That was before COVID-19 reached the United States. Now, those same floors sit empty and the buzz of congratulations is heard exclusively over Slack and video calls.
Ashley Boyer, a vice president of sales for nonprofit software company Social Solutions, said the shift to remote work can be dramatic for sales reps who are accustomed to frequent social interactions and working face-to-face with both peers and customers. 
"Before, we'd go out and meet people in person — I'd be traveling pretty much every week," Boyer said. "It's drastically different now."
 
You can't just look over the cubicle or walk down the hall and ask somebody a question."

It's not the kind of work environment many envisioned their careers unfolding in, yet it might be one that persists even after the pandemic subsides. As heavyweight companies like Twitter and Facebook lead the way in radical new policies promoting remote work, tech hubs may become more of a state of mind than a physical location. 
Until then, newly remote employees are finding themselves playing catch up on adapting to working from home — and managers are no exception. For those unfamiliar with the territory, suddenly overseeing a distributed team can be a challenge. 
"When you're a remote manager, it's important to understand the ecosystem of your company and what resources you know you have at your disposal," Boyer said. "You can't just look over the cubicle or walk down the hall and ask somebody a question." 
Boyer would know: She's telecommuted from her home outside Chicago for the four years she's been with Social Solutions. Leading an inside sales team that works out of Austin and an outside sales team scattered across the country, she's picked up some best practices for overseeing teams virtually. 
Boyer spoke to Built In Austin to share some time-tested advice on how leaders can find their footing in a remote workforce — and help their teams do the same.
Keep the team spirit alive through group check-ins
Boyer: We're doing something new since we're all remote: We're checking in multiple times a day. We have a morning call and an end-of-day wrap-up call. It's useful to see how everybody's feeling, how the day went and to have a moment to remind the team that, while they're not next to their peers feeding off of that collective energy, they are still part of a larger group. 
Turn solo sales work into team activities to keep energy up
We do call blitzes, which is a very normal activity for an inside sales team. We got some feedback from the reps that while the blitzes are needed for pipeline generation, it's not as easy to make dials when you're not feeding off of the energy of the person next to you. So we thought about how else we could incorporate some of that energy into a remote setting. 
Now, instead of doing that call blitz where everybody is at home by themselves dialing, we pair people up and they Zoom each other to do tag-team calling. One person calls while the other person listens and then they switch for the next call. They provide feedback, encouragement and can share best practices with each other. We got a really good response from the team on that.  
 
While they're not next to their peers feeding off of that collective energy, they are still part of a larger group."
Promote — and practice — mental health breaks
I tell the team to take a real lunch break and not to eat at their desk. Walk away from the computer, go outside, reset and then come back. I also say to take little breaks throughout the day. If you see people who are online religiously and available on Slack all night long, tell them to put the computer down and step away.
I think it's a matter of leading by example on that front and showing that some personal space from work is OK. I took a day off last week just to hang out with my kids and I made sure that my team knew that. I think people are not as apt to take vacations right now because there's nowhere to go. But sometimes you just need a mental break where you're not thinking about work. Then you can come back with your batteries fully charged — and you'll bring more to the table.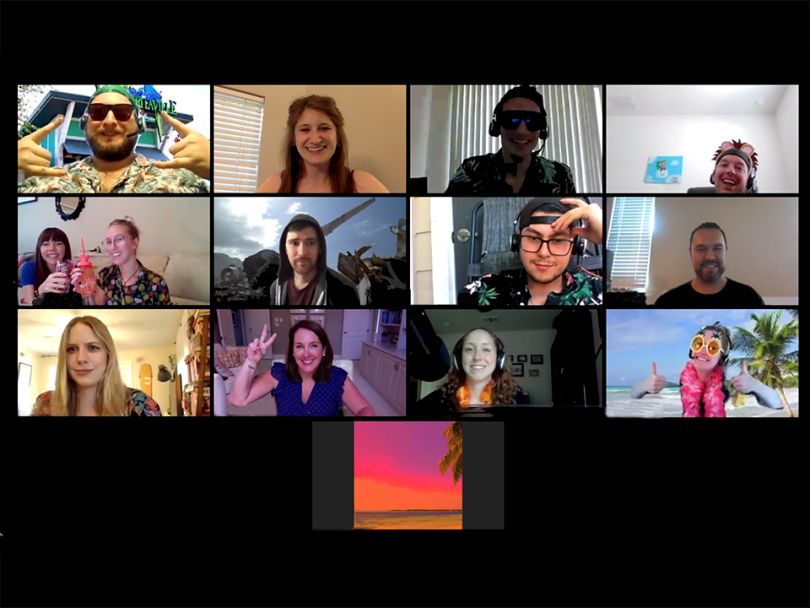 Times are strange. Don't be afraid to adjust your roadmap and expectations
We created an offering for our clients that if they sign up now, our software is free for the rest of the year. That gives them time to get back on their feet, which is absolutely critical. For example, there's a huge number of people unemployed right now. Nonprofits that do workforce development programs are going to have a spike in people needing their services in the near future. But unfortunately, these nonprofits are missing their fundraising season. So that offering certainly helps. 
We also realized that the expectations that we had on reps for activity performance, such as the number of product demos they would do in a month, may no longer be realistic in these times. So we looked at our standards, expectations and documentation, and changed the way people were being held accountable to make sure that it was fair and equitable.
Reserve more time for onboarding new hires
Our organization is rapidly scaling, from the number of salespeople that we have on the floor to the number of product releases we're rolling out. We ended up extending the virtual onboarding boot camp classes to be four weeks instead of two. With everything currently remote, we wanted to make sure that people were getting a deep understanding of everything since they couldn't just walk up to people and ask questions. We set up more rolling opportunities, like office hours, so new hires could actively engage with product specialists and Salesforce administrators. 
Reclaim your calendar
Ruthless prioritization is important. Pick where you want to spend your time, especially as a leader. What are the three objectives that you want to make sure you've accomplished at the end of the quarter? What do you have to be doing on a daily basis to make sure those happen? Thinking more strategically is the first thing that goes when things get hectic and busy.
It's easy to let other people control your calendar in a remote setting. It's really important to block off time to complete your tasks each day. When everybody is remote, I think one of the first things that people notice is how everything gets turned into a meeting. What was normally a quick conversation in a hallway is now a 30-minute Zoom call. Everybody's calendars fill up extremely quickly.
Don't let your team's career goals fall to the wayside
I think remote salespeople definitely need to be advocates for their own career development because they don't have as much exposure to the rest of the organization. But other than that, at Social Solutions, career goals are part of regular conversation. I could probably tell you what each person on my team is striving for in the next five to 10 years.
If your contributors have a plan that you've been working with them on, make sure to have checkpoints along the way and reflect on what they've accomplished each quarter. That way, you take the element of whether or not they're working remotely out of the question.