It's time to take your career to the next level, and you need look no further than Austin tech. Check out these seven fast-growing tech companies just waiting to get their eyes on your resume. Happy huntin'!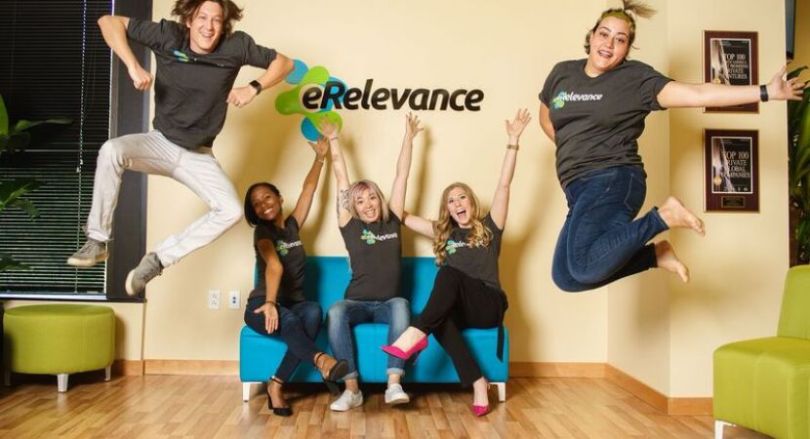 What they do: At four years old, eRelevance has experienced explosive growth in the marketing automation industry for the SMB sector. Their platform targets repeat business and is built on proprietary technology guided by marketing experts.
Why you want to work here: The startup, led by founders who have held influential roles collectively with 12 other startups, comes with employee stock options, growth opportunities, a fully stocked kitchen, health benefits and onsite yoga classes, dance lessons and massages,
From the boss: "At eRelevance, we're building a very special company in Austin. We're addressing a very large market, growing rapidly, and changing how customer marketing is done for small businesses," said co-founder and CEO Bob Fabbio. "We recruit only the best of the best, so our team is caring, hardworking, talented, highly attentive to our customers, passionate, driven and smart. We work hard to promote a culture that is clear and driven by the following values and beliefs: honor and integrity, transparent communication, courage to take risks, collaboration, creativity and innovation. As a fast-paced startup, we are working hard to transform an industry that is ripe for disruption."
What they do: Social Solutions develops case management and data analytics software that supports nonprofit and government sectors.
Why you want to work here: Here, you'll have the chance to combine your love of tech with your calling to help social service organizations. And while you're at it, you'll get to enjoy perks like a generous vacation time policy, eight hours of paid time to volunteer once a quarter, 401(k) match, tuition reimbursement and 100 percent paid medical insurance.
From the CTO: "We look for smart people who do software development during the day — then go home at night and read, write and talk about writing more code," said CTO Joel Martins. "Our team members are highly collaborative, highly energetic and care deeply about our client causes. We are honored and privileged to be part of the philanthropic community, and we feel an obligation to make the community better by developing awesome software."
What they do: Sumo develops free tools to help grow website traffic. Since its launch, Sumo has grown to support over 630,000 sites that reach more than 65 million users. The company also runs the site AppSumo.com, which promotes weekly deals on products that help businesses and entrepreneurs.
Why you want to work here: With an onsite massage therapist every Thursday, Sumo's dog-friendly office on the East Side comes with perks like unlimited PTO and catered lunches, plus the option to work from home up to twice weekly. And, if you're entrepreneurially minded, you'll have the ability to directly help entrepreneurs kick more ass.
From the leadership: "The number one thing we look for is an excitement and ability to grow," said Anton Sepetov, VP of sales. "As the world is constantly changing, the only way to succeed is to adapt, improve and grow. At Sumo, we constantly push each other to be better, to do better. That takes each of us to the next level. It pushes each of us from just being good at what we do to being great, and then from great to amazing. Ultimately, our goal is for everyone to become the Sumo version of themselves."
What they do: Main Street Hub represents the online voice of more than 10,000 small business owners across the country. Their platform manages social media, customer service, online reviews and email marketing to help businesses strengthen their ties within the communities they serve.
Why you want to work here: Join a group of mission-driven storytellers that help local businesses thrive while receiving competitive pay and eligibility for stock options, 15 days of paid time off plus holidays, 401(k), opportunities for growth including professional development and 100 percent paid medical, dental and vision.
From the CEOs: "Main Street Hub has a driven and talented team, genuine mission to help local businesses and values-based attitude that makes every day of work collaborative, inventive and full of exciting challenges," said Matt Stuart and Andrew Allison, co-CEOs. "We are looking for people to join our team who are ready to work hard on behalf of the local businesses that give so much character to their communities."
"Over the past year, our relentless ambition to do more for our customers has helped us to hit best-ever milestones and metrics. Thanks to our team's ingenuity, discipline and hustle, we have never had as much potential to help local businesses thrive as we do today. It's an exciting time to be a part of Main Street Hub. Join our team if you want to grow your career with us while helping local businesses."
What they do: This late-stage startup helps businesses collect, make sense of and act on  customer feedback in real time. Medallia launched in 2001 and has grown to over a thousand employees spanning nine international offices.
Why you want to work here: Perks include an open vacation policy, a 401(k) program, employee assistance, FSA accounts, six weeks fully paid new parent leave and six weeks 100 percent paid short-term disability. But what they really pride themselves on is an all-in mentality that promotes diversity, creativity and curiosity.
From the leadership: "Medallia selected Austin as the inside sales team's new home because of the deep pool of talent the city attracts, and because Austin's atmosphere aligns with Medallia's culture of energy, enthusiasm and innovation," said Steve Vierra, VP of inside sales and account management. "We are excited to bring over 30 new job openings to the Austin community as we build out a world-class inside sales team. We're looking for people who are excited to grow, both personally and professionally, and who are ready to jump into a job where they can soak up a ton of knowledge and have fun while doing it."
What they do: Using large data sets, CreditCards.com helps consumers find the most cost-effective credit card offers online. Founded in 2000, the site generates over one million visitors a month and connects users with financial institutions to get approved quickly. In some cases, consumers can get a credit decision in as fast as 60 seconds.
Why you want to work here: A generous vacation policy comes hand-in-hand with multiple opportunities to give back to the community alongside your CC teammates. Plus, the company offers a 401(k) with employer contributions, full health benefits, office goodies like snacks and foosball and ongoing professional development opportunities.
From the boss: "What impresses me the most about the CreditCards.com team is our ability to innovate and inspire each other to devise new and better ways to do business," said CEO Chris Speltz. "Our mission is to help consumers seize greater opportunity through smarter spending. We do this by taking a consumer-centric problem-solving approach across the organization, fostering cross-functional teamwork and leveraging agile methodologies in our development cycles. In addition, we have a very community-minded group that volunteers for local service projects and holiday giving for families in need."
What they do: Shopgate helps online retailers build mobile experiences that optimize customer retention. Their software integrates with over 60 e-commerce platforms and mobile payment companies and supports over 12,000 merchants.
Why you want to work here: Work life at Shopgate involves company keynotes, ongoing feedback, training and education through Shopgate Academy and external coaches, flexible work hours, company pension with 10 percent added, an employee referral program and corporate discounts at online and local shops.
From the boss: "We're hiring a number of roles across all teams, but we look for specific character traits in every hire we make," said CEO Marc Biel. "First and foremost: integrity. A 'do what you say you'll do' mindset is an essential starting place for success. People who thrive on a team, and who are compatible with our collaborative community are also a must. We are growing the world's largest team of mCommerce experts, and look for people who either are or want to be part of this e-commerce evolution. We're passionate about the products and services we provide our merchants, and we want every team member to share in that enthusiasm."