In a city like Austin, where it seems a new restaurant pops up on your commute weekly, it's nearly impossible to remember all the places you'd like to check out.
But Maddy Odom is making it so that the next time a friend asks you, "Where should we go?" you'll be locked and loaded with options.
The first-time tech founder launched Jet Journal this month to provide travelers and trend seekers with a social application for finding, planning and sharing experiences.
"We give users the creative freedom that they don't have on other apps available," said Odom.
Users can follow other people's adventures and save ideas into their journals for future trip planning, or they can create their own posts to share with others. There's also a group journal feature that allows for friends to coordinate trip planning together by dropping in activities and locations that they'd like to check out.
It's essentially a blend of Pinterest, Instagram and Medium that can be used to plan your most exotic future trips, or, you know, lunch.
"With Jet Journal, you can save ideas for later in an organized way so that when you're traveling, or even home in Austin, you have them quickly accessible to flip through," Odom said.
The platform also provides templates for users to build out posts so that they can uniquely arrange photos, add multiple locations, share a bit about their experience and more.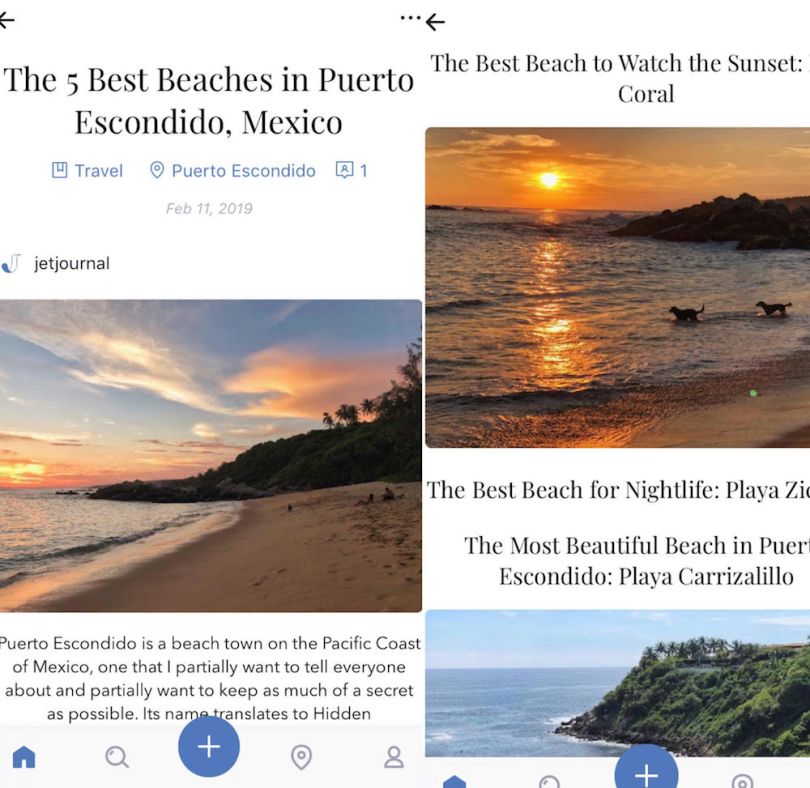 "If I'm in London right now, I can post my five favorite coffee shops, tag five different locations and click on each one individually to save in a journal that I can reference later," said Odom.
In fact, Odom was in London when she said that — and at a coffee shop. The global traveler first got a taste for adventure abroad at the age of 14 with a trip to Europe. Five years later, she moved to Paris to study, but quickly averted her energies to Jet Journal.
"I was at dinner in a Parisian cafe when the idea came to me," said Odom. "I felt like there wasn't one application where I could fully share my traveling experiences. That's when Jet Journal started. I went for it, and started development of the platform in March, 2017."
Since then, Odom has moved back to Austin to launch Jet Journal and has grown the team to three employees. The startup just launched its second version earlier this month.
"We wanted to bring more value to the social media scene," said Odom. "It's more than just liking a photo. It's a learning, interactive experience."
While the app is currently free, Odom said the company has several strategies in place for monetization, including advertising, once they scale Jet Journal's user base. She also said they have begun building out in-app purchase options like additional photo templates and font styles for post building. Eventually, Odom said she'd like to give users the ability to sell their journals through the app.