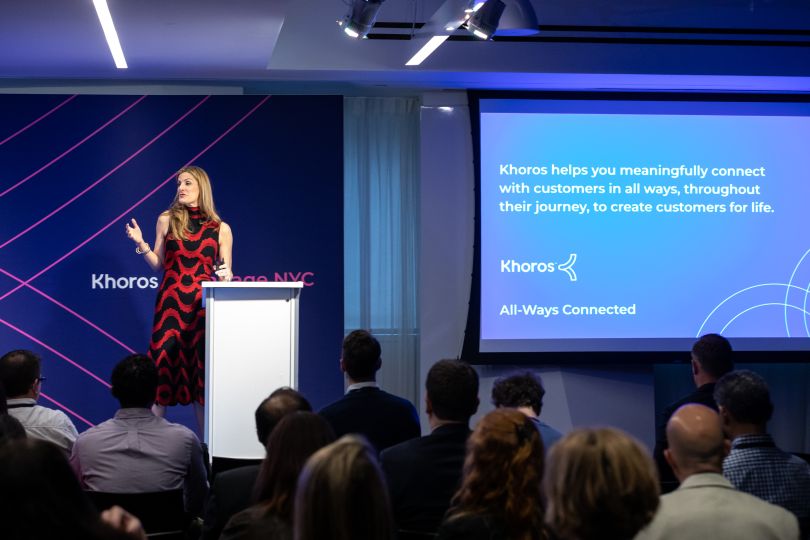 When the opportunity arose for Katherine Calvert to help marketers market better, she was more than excited.
A marketing expert with more than two decades of experience, Calvert signed on as Khoros's chief marketing officer last year, supporting the company through its Spredfast and Lithium Technologies October merger.
By combining the expertise and technology from both organizations, Khoros is poised to help brands connect with customers wherever they are from one platform, managing both marketing and care support.
"If we wanted the market to see us as a robust platform, we needed a brand and a story to match," said Khoros CMO Katherine Calvert.
We spoke with Calvert to learn about Khoros's origin story, how the employees from competing teams have adjusted and where the company is headed next.
Your leadership experience runs deep. What's different about working at Khoros compared to some of the executive roles you've held previously?
I love the business of marketing, and Khoros gives me the chance to market to people like me — marketers. Marketing is all about connecting with people, and Khoros' solutions help my peers leverage technology to connect more authentically with their customers. It's fun to work on a solution that I'm so passionate about professionally.
I initially took this job because of the people, and our team is what keeps me here every day. I had the chance to work for Pete Hess again with a new set of challenges and learn best practices from the Vista team. The people at Khoros are exceptionally talented, and I learn from them every day. We're building a culture where we win together — one where we take the work seriously — but not ourselves.
What's the inspiration behind the name Khoros?
The word "khoros" is the Greek word for chorus. The khoros was the group in a play who connected directly with the audience to deliver color, context and counsel — making sense of the action around them. They were the truth-tellers, the advice-givers and the melody makers in a dissonant world. This is what we want to be to our customers, the signal through the noise that helps them identify how to better connect with their own customers.
What were some of the biggest challenges for the company at the time of the announcement, and how did Khoros overcome those?
As former competitors, the first hurdle to take on was shifting our mindsets. We were no longer part of our legacy companies, but instead on one team. Starting fresh with a new company name was a great catalyst for that. We also started fresh and redefined our core company values for the new company, which we created by polling our employees about the attitudes and behaviors they cared most about. Of these three values, "We win and grow as one team" is something that we try to live out every day.
From an external perspective, we needed to get the word out. Rebranding is an exciting endeavor, but it's useless if nobody knows about it. We needed our employees, customers and stakeholders to rally around the new name, identity and mission. This meant prioritizing effectively communicating the change.
Khoros is actually made up of over 10 companies. We're a dynamic team that has found our way to Khoros from many different avenues."
What were some of the cultural similarities between Lithium and Spredfast before the merger? How has Khoros preserved or improved these cultural qualities?
Lithium and Spredfast — apart from having similar products — attracted similar employees. Smart, resourceful team players were at the foundation of each organization, which has made our merger all the more successful.
Khoros has utilized these foundational elements to create our new company values: we earn thrust through our actions and attitudes; we win and grow as one team; and we listen, learn and lead to help our customers succeed.
Some cultural behaviors can't be created — they develop over time. One of the things we're most excited about is seeing how these two companies gel together organically to create their own unique culture. Both legacy companies have some pretty amazing, and often hilarious, traditions. It'll be fun to see what new traditions emerge over time! And we have an especially big presence in Austin, where we're prioritizing our growth.
What type of growth is Khoros planning from a hiring standpoint? What does it take to be successful at Khoros?
We are growing! As our company enters this new period of maturation, we are always looking for new talent to join the Khoros team. We look for people who have a forward-thinking mindset and who bring a positive outlook and  fresh perspective. The most successful Khoros employees live our values every day and aren't afraid of change. In our industry, we have to continuously evolve to win.
What's something people might not know about Khoros that you think would surprise them?
Khoros is actually made up of over 10 companies. We're a dynamic team that has found our way to Khoros from many different avenues, but all remain united in our mission: We help companies create customers for life.