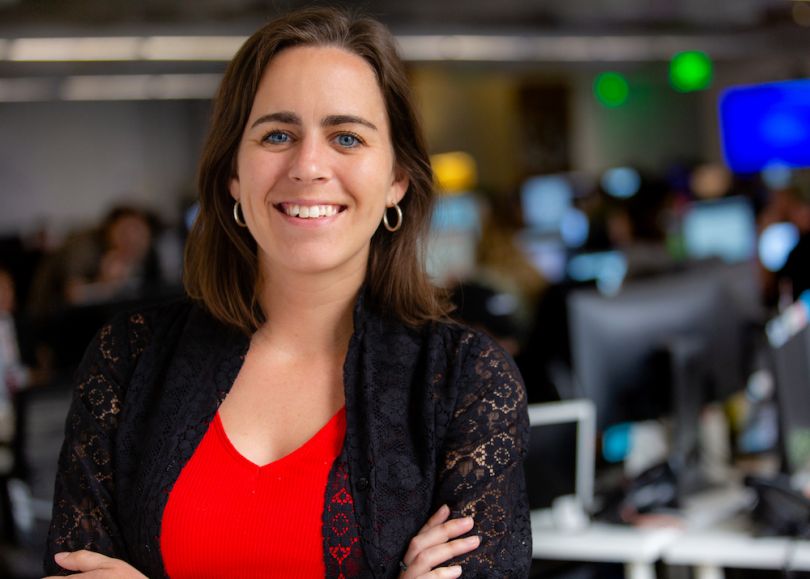 Morgan Nielsen joined Main Street Hub six years ago shortly after graduating from the University of Texas.
Her then new career marked her first professional endeavor in the "real world" and till this day remains so.
So when the giant web services provider GoDaddy acquired Main Street Hub last year, the uncertainty of what lay ahead rang loudly for Nielsen.
"Main Street Hub was all I knew," said Nielsen, GoDaddy's senior manager of content. "I wasn't sure what to expect."
Turns out, she had no reason to worry, as GoDaddy shares the same mission in helping small businesses succeed as well as an emphasis on career growth for its internal teams.
We connected with Nielsen to learn more about the role GoDaddy's Austin team will play in developing a full service package for websites and social management, as well as how the company plans to grow its local presence.
Walk us through GoDaddy's acquisition of Main Street Hub. How does the move add value to GoDaddy's clients as well as the GoDaddy team?
Each week, I see the added value in a new and different light. For our customers, this matchup allows us to get closer to being a one-stop-shop for all of their online marketing needs. GoDaddy is known for providing domains, websites and more. Now that "and more" includes do-it-for-you social media services, known as GoDaddy Social, which is a huge deal for small businesses. For our team members, being a part of GoDaddy means great resources, support and benefits like 401(k) matching, volunteer opportunities and transportation assistance.
What is the Austin team responsible for, and what exciting projects are y'all currently working on?
We have a few different functional teams in Austin. The bulk of our Austin team is focused on our GoDaddy Social product, providing social media services for small businesses and independent ventures. This includes all sorts of technical, strategic and creative roles that create on-brand, engaging content for our customers to protect their online reputation and elevate their online presence. We also have teams focused on bolstering our website services, which will continue to expand in the near future. We provide do-it-for-you website building through GoCentral, as well as a do-it-with-you consulting service for GoDaddy's GoCentral customers.
Our main project? Getting better and better at assessing the marketing gaps for businesses and entrepreneurs, then, boom! being there to provide the products or services they need to build their online presence and connect with their communities.
What kind of growth is ahead for GoDaddy's Austin team?
We're growing rapidly in Austin. Within the social media services team alone, we've hired nearly 60 people in the month of May. We're hiring for technical and creative frontline roles, as well as key product and engineering roles. As we work to serve more GoDaddy customers, we need more great people to join our team and help us scale to provide the absolute best services for small businesses everywhere.
Everyone brings something different to the table, and I'm excited to say that table is getting pretty big."
How does the local office and team complement that of GoDaddy's existing office culture?
I've loved working here the last six years because I believe in the mission of supporting small businesses, and the people I'm surrounded by are like-minded in addition to being hard-working, conscientious and unafraid to challenge the status quo. Working alongside our new GoDaddy teammates across the country, I've realized how much our values are aligned and our cultures truly connected. During the acquisition, our leadership teams emphasized the complementary nature of our company values and cultures, and in the last year, it's been great to see that play out in real time.
What kind of role does employee growth play in GoDaddy's culture? What professional development opportunities are available for your team and throughout the company?
As our products, services and impact grow, there are more and more new role opportunities, and we aim to promote from within. We're focused on equipping our current team members with the skills and learnings needed to get to that next level. There's also an impetus on individuals to take their personal development into their own hands, use the resources around them and seize new challenges.
We aim to hire people who are hungry to learn, and there's more we want to do as a leadership team to provide food for that learning. We're working on building out more structured optional learning and development opportunities so that people can gain both personal and professional development skills that will help accelerate their careers and succeed.
What's something you can share about GoDaddy that would surprise people?
What might surprise people about GoDaddy is it's extremely inclusive culture. I've been very impressed by it throughout the acquisition and in getting to know their teams across the country. The entrepreneurs, small businesses and independent ventures we serve are unique. Our team members are unique. And that uniqueness is celebrated, embraced, and encouraged. Everyone brings something different to the table, and I'm excited to say that table is getting pretty big.