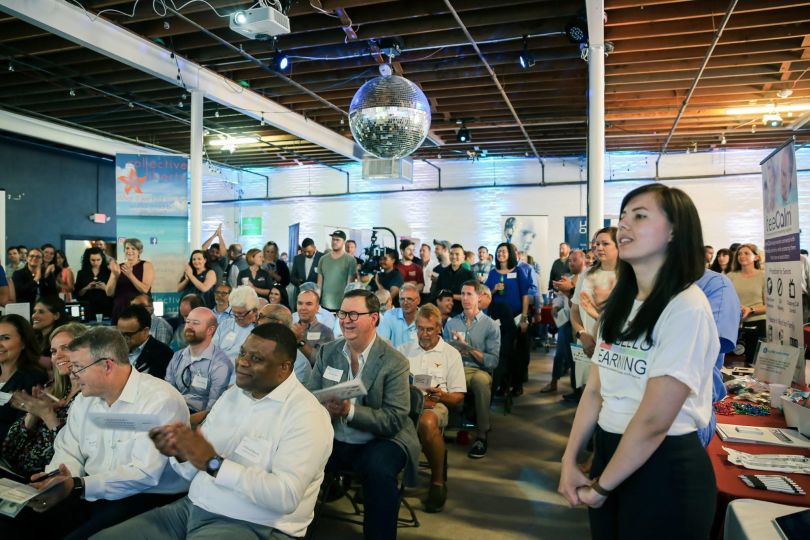 After four months of hustling, the 79 startups that participated in the MassChallenge Texas startup accelerator and competition have been winnowed to 14.
Those finalists will compete in a final pitch-off for a chance to win up to $500,000 in equity-free cash. To walk away with the money, they must demonstrate their growth and impact to a panel of judges — and the competition is tough. 
Of the 14 concepts that came out on top, three are healthcare-related. Three are high tech, two focus on social impact and the remainder span different industries. Their value propositions range from using blood samples to detect early-stage cancers to increasing crop yields by manipulating light frequencies. 
More than half of the final-round concepts are founded by women. 
"MassChallenge Texas' track record of accepting more than 50 percent female founders across their Texas-based programs this year illustrates that being intentional about positive impact for the end user will bring forward the best entrepreneurs with the best ideas," Sara Brand, general partner at True Wealth Ventures, said in a statement.
During their time in MassChallenge's program, the startups worked their way through customized curriculums, drawing on the expertise of corporate mentors as they tweaked their ideas and prepared to launch their businesses. They were also connected with angel groups, law firms, marketing agencies, PR firms and venture capital firms, according to MassChallenge.
The accelerator works with a slew of corporate and civic partners to support early stage startups. Its founding partners in Texas are Southwest Airlines, TMAC, WeWork, Upstream and USAA. 
MassChallenge is a global zero-equity accelerator with headquarters in Boston and locations in Israel, Mexico, Rhode Island, Switzerland, Texas and the United Kingdom. 
Here are the 14 startups that will compete for cash prizes, descriptions courtesy of MassChallenge. The winner will be announced at an October 17 awards ceremony in Austin, which will include keynotes from Brand and Texas-based serial tech entrepreneur whurley.
BeatBox Instruments, LLC (Austin,Texas): Beatbox Instruments provides a cheap, effective, and fun yet educational solution for teenagers to start music production. 
Catalyst Education (Austin, Texas): Catalyst Education is founded by experienced and proven STEM EdTech entrepreneurs targeting the $1.3B Higher Ed. lab course learning market. 
Collective Liberty: (Washington, D.C.): Collective Liberty facilitates anti-trafficking collaboration across industries and stakeholders to create ground-breaking, data-driven approaches that work. 
GotSpot, Inc (Houston, Texas): GotSpot is short-term space for your business. We're a marketplace where entrepreneurs borrow Main Street space to grow their businesses. 
MµZ Motion, LLC (Fort Worth, Texas): MµZ Motion is driving the Future of Robotics with the Next Generation in High-Performance Motion. 
MakersValley, LLC (New York, Texas): MakersValley is the AirBnB of small batch apparel manufacturing with the goal to democratize the manufacturing industry. 
Mens Gold Boxx (Austin, Texas): MensGoldBoxx is a Big & Tall ecommerce revolution. Intuitive customer profiles make finding your fit and style easy. Technology built to be licensed. 
Olifant Medical (Texas): Olifant employs a new type of airway device that makes intubation easier.
Phylomics Diagnostics: (Coppell, Texas) Phylomics provides early detection of multiple cancers in presumably healthy individuals by analyzing blood serum. 
Pocket Innovations, LLC (Richmond, Virginia): Pocket Innovations solves the common complication of pocket hematoma associated with pacemaker implants. This new medical device is the first preventative solution. 
Roper (New Mexico): Roper makes mobile technology that helps beef producers control disease, maximize their calf crop, sustainably manage pastures and save management time.
SolGro (Fort Worth, Texas) SolGro increases greenhouse crop yields by converting photosynthetically inactive sunlight (O,Y,G,I,V) into photosynthetic light (R,B). 
teleCalm, Inc (Allen, Texas) teleCalm's phone service can be life-changing for seniors living at home and those in senior living. Keep your elderly loved ones connected longer and protected. 
TRAXyL, Inc (Warrenton, Virginia) Traxyl is dramatically reducing the cost of broadband communications by "painting" optical fiber onto the road surface.