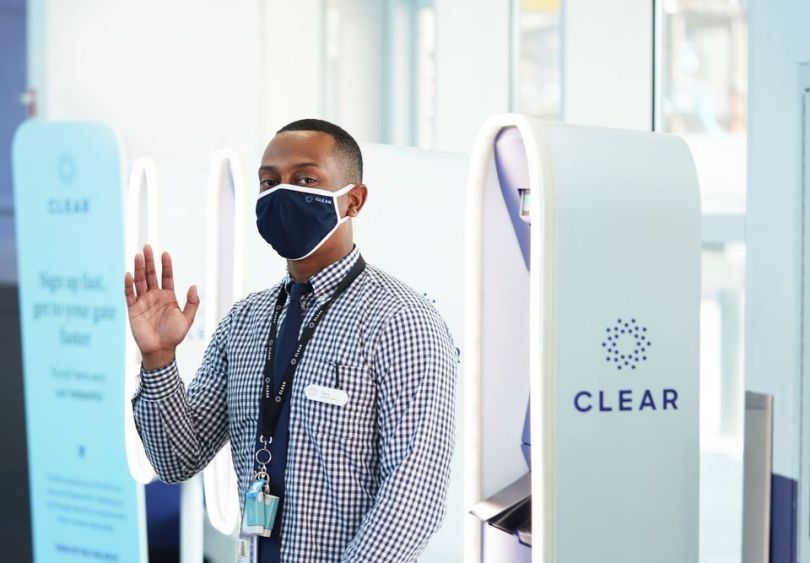 If you've wandered an airport terminal recently — or even pre-COVID — odds are you may have seen one of CLEAR's kiosks. These kiosks use biometric data, like facial recognition, to confirm a person's identity so they can get through airport security. The kiosks are so secure that they're even certified by the Department of Homeland Security.
But CLEAR's identification technology has potential to be used for much more than getting people onto planes. And now the company is raising money to expand its technology into new verticals.
On Monday, New York-based CLEAR announced the completion of a $100 million strategic funding round. Some investors in this funding round include Danny Meyer's Enlightened Hospitality Investments, the Partnership Fund for New York City, NFL investment arm 32 Equity and the family office of Michael Jordan.
Although CLEAR is based in New York, the company has an office in Austin with several open jobs. The company also said that some of this new investment will be put toward hiring.
Investors from the hospitality and sports entertainment space are excited about CLEAR because of what its technology has to offer for those industries. The company recently launched its Health Pass application, which can confirm a person's identity and connect it to relevant COVID-related information — like vaccine history. This is important because a lot of industries rely on people showing up in person, but these businesses won't be able to safely reopen unless they have strict COVID-related protocol in place. Checking which individuals have been vaccinated against COVID-19 can help prevent the spread of the disease, and allow people to return to these businesses safely.
Over 35 organizations already use CLEAR's Health Pass to create safer in-person environments. Some of these organizations include the National Hockey League, MGM Resorts, the 9/11 Memorial and nine NBA teams. Over five million individuals use CLEAR.
This new investment will help CLEAR continue its growth across multiple industries, beyond the aviation industry. The company also says it will use the funding to invest in new customer adoption, technology development and hiring.
"Since 2010, CLEAR's vision has remained constant: to provide our members frictionless journeys that make it easy to experience what they love doing best," CLEAR CEO and founder Caryn Seidman-Becker said in a statement. "With this new investment and our committed partners, we are ready to double down and make this vision possible at a time when it's more important than ever to be able to come together safely."