Everyone has their football pre-game rituals. Especially when it comes to the Super Bowl. Well maybe not everyone, but we certainly do.
We are an office of many allegiances, from die-hard Tom Brady fans, to Austin natives rooting for the QB of the Eagles, to perplexed Cowboys fans who just want to see sports history, there were plenty of reasons to get pumped!
To celebrate, we thought it would be a great idea to put all that excited energy to good use -- with our own Super Donation Super Bowl clothing drive!
TicketCity has been supporting the Austin community for 28 years and our desire to support local has never stumbled. So to wrap up the season of giving we thought what better way than to give our unused clothing second life by donating them to one of our favorite local charities, Treasure City Thrift.
Why Treasure City Thrift? They're an Austin-based grassroots collective that strives toward zero-waste by reselling and recycling whatever they can, and always at an affordable rate. By partnering with Ecology Action they pack a one-two punch when it comes to community and environmental support!
And why we love the Super Donation clothing drive? Not only are we helping our fellow Austinites but we get to do a little spring cleaning in the process. Another solid one-two punch.
As for the results -- in the course of two weeks leading up to the Super Bowl we were able to donate over 300 pounds of clothing!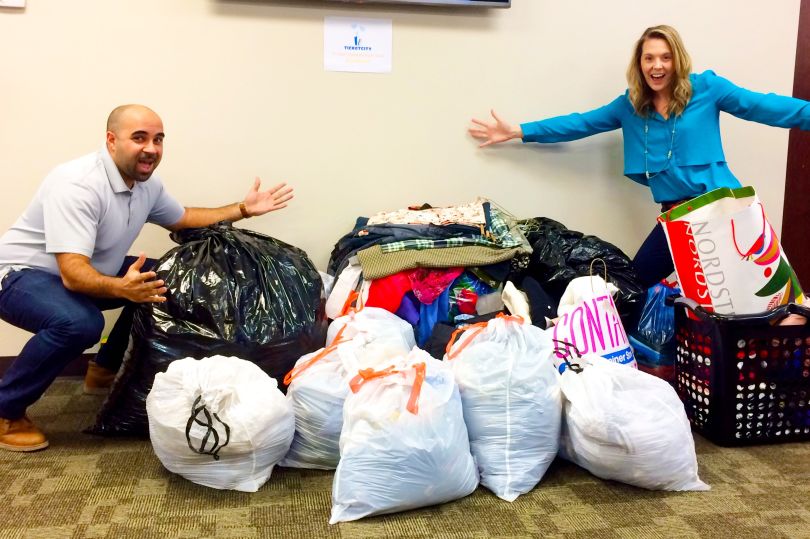 With all that feel-good excitement it certainly made for a Super Bowl pre-game we soon won't forget.
Including for those TB12 fans in the office (better luck next year?).