The age of the startup has introduced many innovations into company life and one of those has certainly been a vibrant renaissance in office design.
Tech office designers utilize open spaces, bright colors and comfortable working stations to inspire the Millennial worker. Here are the five key components to consider when designing your next office:
Artwork and Murals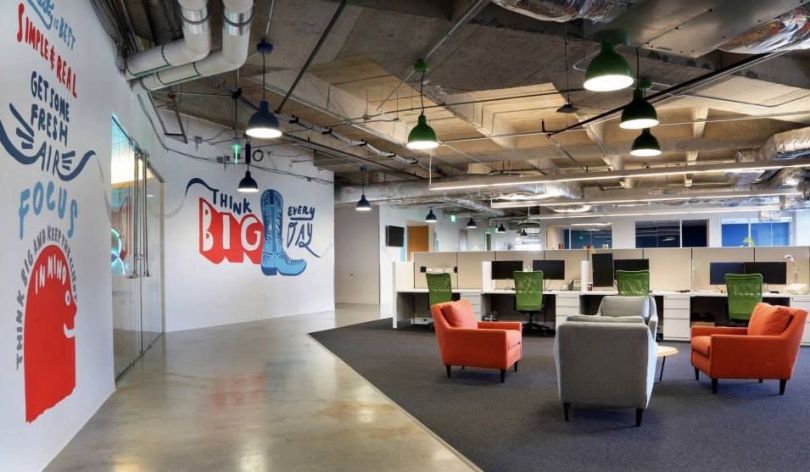 BigCommerce didn't stop at just one awesome mural. Utilizing local artists, both their Austin and Sydney office are littered with bold artwork meant to inspire their workforce.
Another company utilizing the local art talent, OutboundEngine went with a different vibe to their office walls. Their huge mural is a creative focal-point to their workspace.
Utilizing Spaces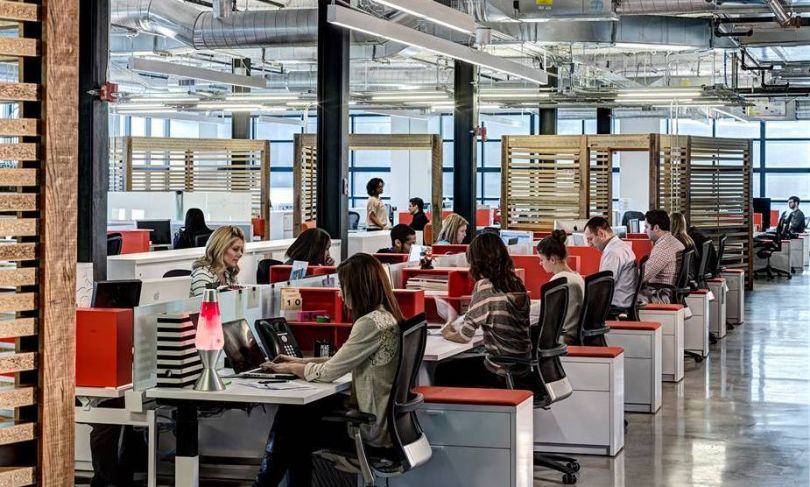 Startups thrive in open space so it's vital to invoke that sense when selecting furniture. The days of cubicles are behind us and companies like Knoll are dishing out work spaces and chairs to maintain a sleek design while also utilizing space.
Image courtesy of Beautiful Lands.
Of course, desks and chairs are only one component of the evolving work space. This generation of workers understand the value of changing locations throughout the day which has led to companies installing swings, beanbags or even indoor turf. 
Playing off of the local vibe is crucial and Square Root has done just that with their Airstream trailer parked outside their low-key office in the Clarksville neighborhood.
Image courtesy of Office Lovin.
While there are a lot of benefits to startup spaces being open and spacious, it doesn't bode well for employees on phone calls. To avoid distraction, many offices (like London's We Are Social) have installed both old and contemporary phone booths for quick calls. 
Staying connected to the company's roots
When you think startup office, you don't always think abandoned power plant. Athenhealth took over this old industrial building and added modern flare, including a disco ball (a cherished relic of their old office) that dangles from an elevated crane. 
Civitas Learning put a unique twist on their meeting rooms — the founders named each office after a college hangout or a spot by the original office.
Reminder of the Mission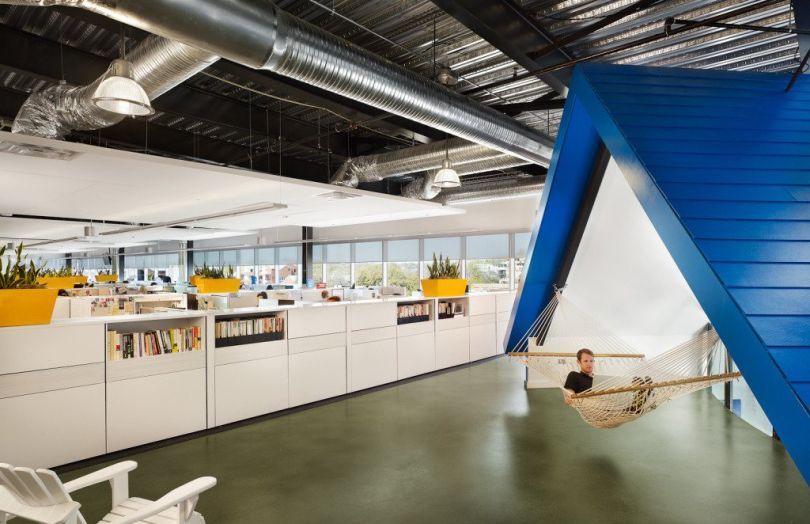 HomeAway's office is an easy one to spot from down the road. The huge blue bird house in their corner window doubles as a hammock lounge and serves as a reminder to the rental company's core mission.
Sometimes the writing is on the wall, as they say. Blackbaud has instilled their company motto by planting it all over the office, from the main entry-way to the game room tables.
From the fun decor and outdoor patio to our weekly happy hours, there's a place for everyone in downtown Austin, Texas.
RetailMeNot found a good way to make sure their employees remember the importance of their work. A huge digital display in their kitchen shows off all the major brands the company works with.
Entertainment
Image courtesy of Glassdoor. 
There are few games as underrated as shuffleboard. Dropbox found a great spot for their table, showcasing their office's beautiful view over downtown Austin.
Instead of installing a game or two throughout the office, some companies dedicate whole areas to employee's entertainment. filled their's with a personally branded arcade game and ping pong table. 
The number one stereotype of a startup office is the presence of an always-active ping pong table. Main Street Hub took it one step further by branding their paddles and dedicating a whole room to the wonderful sport.
All of these awesome offices have one thing in common: they're original. So while you're encouraged to draw inspiration from others, it's important to find what is unique about your company and show it off with style.