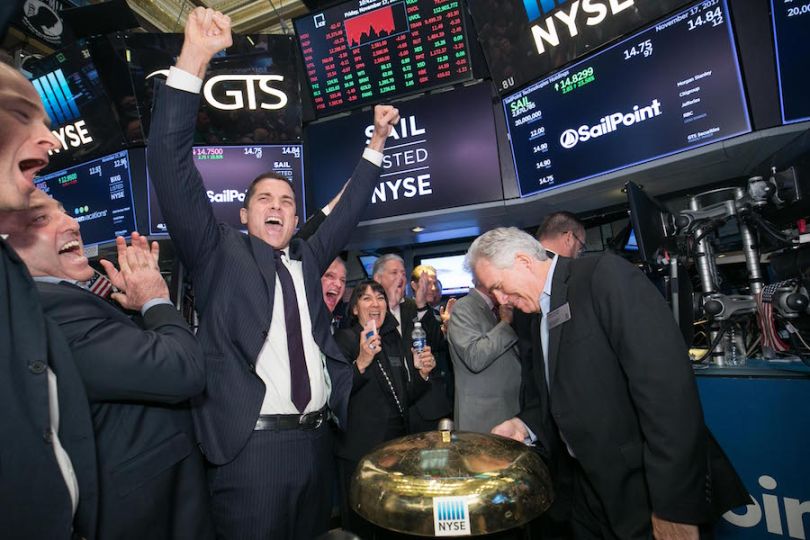 After months of planning, Austin-based SailPoint announced on Friday an IPO pricing at $12 per share, bringing in some $240 million.
Between the company and the selling stockholders, 20 million shares are available for trade under the ticker "SAIL." According to a company-issued statement, the offering is expected to close on Nov. 21.
"I am honored and humbled to share SailPoint's significant milestone today with our customers, partners, investors, friends and, most importantly, the entire SailPoint team," wrote CEO Mark McClain in an email. "Our company could not have reached this milestone without our incredible SailPoint family. This amazing group of professionals is dedicated to delivering the most innovative identity governance solutions in the market, coupled with a deep-seated commitment to our customers' success."
SailPoint filed for the IPO toward the end of October this year, but talks of going public began in February. The company launched in 2005 and has since grown beyond Austin, with offices in Singapore, Sydney, Switzerland, Frankfurt, France, the Netherlands, Cape Town and London. Its local team now has more than 375 employees.
In 2016, SailPoint generated over $130 million in revenue and reported 178 percent growth from 2013 through 2016. Its success earned SailPoint the 434th spot on this year's Deloitte Fast 500, up 14 spots from the previous year.
The company develops identity governance solutions, supporting clients that include Sallie Mae, WeightWatchers, Guardian, plus six of the largest 15 federal agencies.
"While we are excited to enter this new chapter in SailPoint's story, our focus remains on conducting business as usual, maintaining our commitment to protect our customers' applications and data, while giving them the ability to grow and innovate, securely and confidently," said McClain.
SailPoint's IPO marks the first of its kind in Austin tech since 2014.