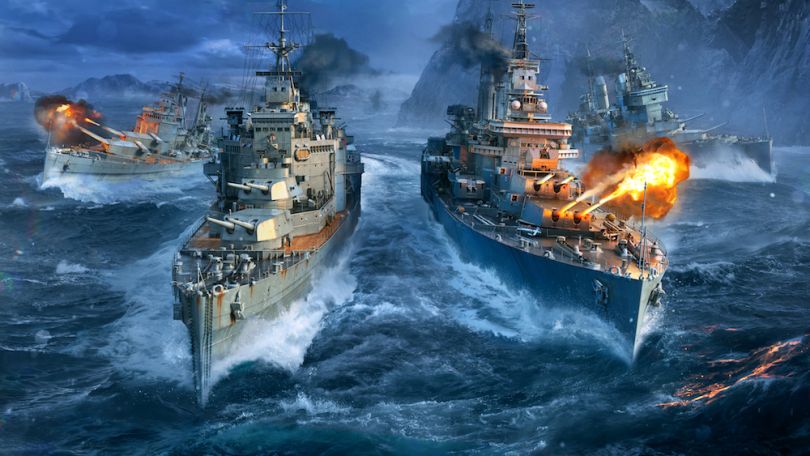 There's no doubt that war is traumatic for the individuals who serve, but too often that stress follows them even after they get home.
The United States government reports that 11 to 20 out of every 100 veterans who served in Operation Iraqi Freedom and Operation Enduring Freedom have post-traumatic stress disorder in a given year. It's important that these individuals get the mental-health resources they need, but some veterans are finding their own form of therapy through video gaming.
Video game developer Wargaming knows this firsthand, so it's partnering with nonprofit Stack Up to raise money and awareness for veterans who need mental-health support.
Through the partnership, Wargaming will sell a special in-game bundle in its popular World of Warships game. The bundle will be available over a nine-week period, and all of the proceeds of the sales will go toward Stack Up's Overwatch Program — which provides veterans with access to certified crisis-intervention volunteers through video game messaging platform Discord. The company says it's looking to raise $100,000 through sales of the bundle.
"We know a lot of our players are veterans, so this partnership seems natural for us," Artur Plociennik, Wargaming America's Austin-based regional publishing director, said in a statement. "We are honored to have the opportunity to support Stack Up's mission of bringing comfort and friendship to veterans in need."
Later this year, Wargaming will also embed a link within World of Warships to connect its gamers with trained Stack Up mental-health support volunteers. The company is headquartered in Nicosia, Cyprus, but also has U.S. offices in Austin, Chicago, Baltimore and Emeryville, California.
Stack Up was founded in 2015 to give veterans and civilians a support network through video games. The organization has helped over 35,900 U.S. service members both during deployment and at home.