On-Demand + Sharing Economy
Industry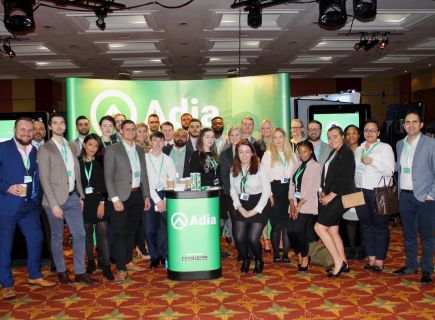 Hello, we're Adia
Adia builds technology that automates how people go to work in the retail, hospitality and experiential marketing industries while giving employers instant access to data-validated talent. Our technology is an award-winning App & Cloud-Based Digital Platform for hourly workers; it leverages AI to connect employers & employees in a whole new way...
Why Work with Us?
We believe that the recruitment experience can be better. That technology can be leveraged to eliminate inefficiencies in the world of work. Adia helps jobseekers find flexible work opportunities in the hospitality, catering, events & promotion industries easily while giving employers access to great talent whenever they need.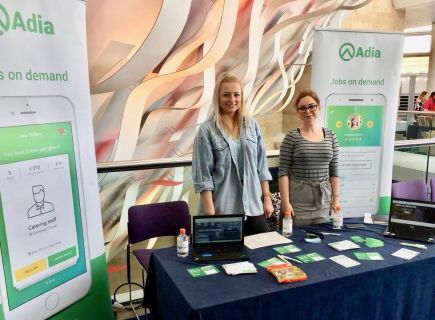 We are
Inspiring,
Energetic &
Bold
An Insider's view of Adia
123
How would you describe the company's work-life balance?
I know some startups can really struggel with this one, but the Adia team understands that while we are passionate about our work, we are humans with goals and needs that exist both inside and outside the workplace. We respect each other and there are clear boundaries and a balance!
Laura
US Marketing Manager
123
How do you collaborate with other teams in the company?
We are open and flexible to whatever means of collaboration will best serve to fit the teams needs. Often times we use video conferencing, especially since we often collaborate with our European team members. We like to align on goals, tasks and progress using the project management tool, Asana.
Kelly
Sales Project Manager
123
What makes someone successful on your team?
We place a tremendous amount of value on initiative, efficiency and innovation. Being that we are so new, there isn't an expectation to follow in line with how things have been done before. So we look to each new team member to bring their best thinking, innovative solutions and tools.
Dan
Project Manager
123
How do your team's ideas influence the company's direction?
Being a global company, I rely heavily on my country managers to help influence how certain initiatives should be shaped according to cultures and trends in their respective countries. We are currently all collaborating on a brand redesign project and we welcome ideas and feedback from the entire marketing team, regardless of tenure or title.
Maebellyne
Chief Marketing Officer
Where we are
Adia is one of many companies with space in Capital Factory, one of Austin's most dynamic and largest coworking spaces in the heart of downtown.
701 Brazos St, Austin, TX 78701
Technology we use
Engineering

Product

Sales & Marketing
.NET

Languages

C#

Languages

Java

Languages

Javascript

Languages

jQuery

Libraries

AngularJS

Frameworks

Azure

Databases

Google Analytics

Analytics

Firebase

Analytics

Google Play Console

Analytics

ITunes Connect

Analytics

Illustrator

Design

Photoshop

Design

Asana

Management

Wordpress

CMS

Campaign Monitor

Email