Four fast-growing tech companies made office moves within the last six months to make room for their swelling teams — including one as recent as last week. Take a peek inside these fresh new spaces.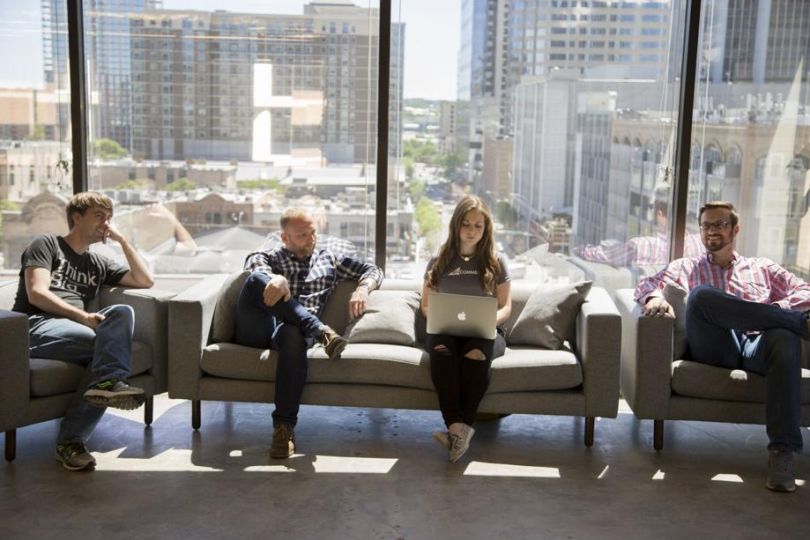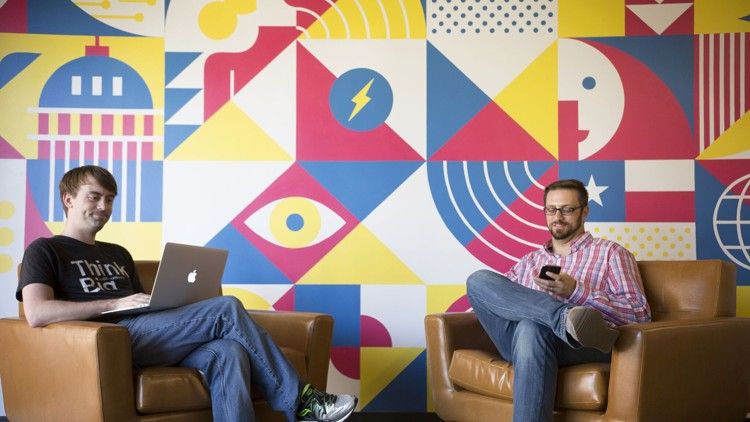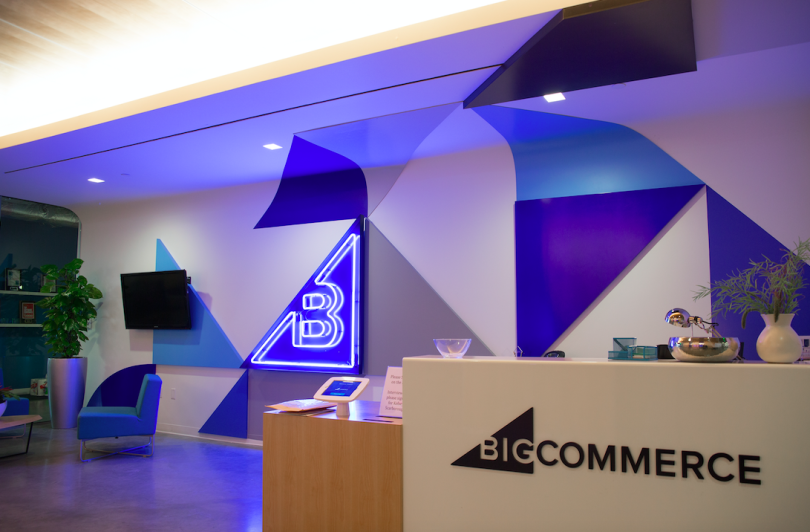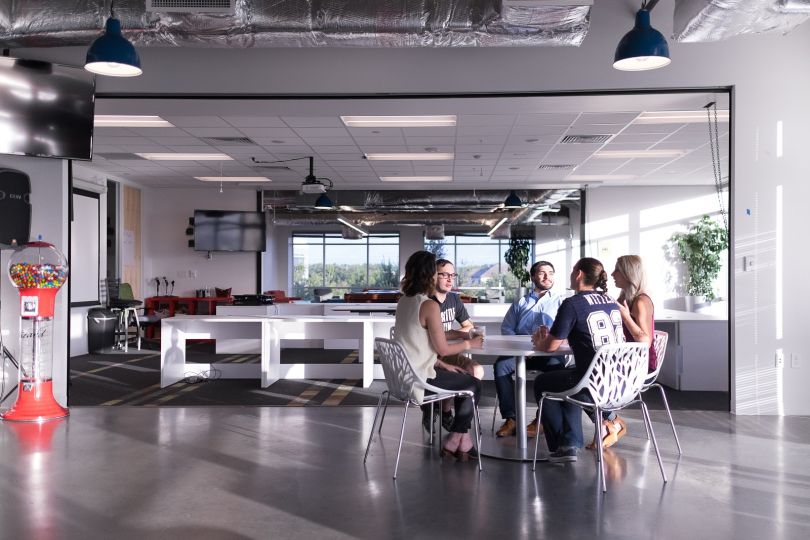 What's better than one awesome Austin office? Two! BigCommerce's PR manager Rachael Genson and their director of communications John Yarbrough gave us the deets on both their huge office up in Northwest Austin and their new downtown abode.
Locations: 11305 4 Points Dr.; 7th and Brazos
How many employees work at the office? We have about 350 employees between both our downtown and Four Points locations.
How big are the spaces? 
Four Points: approximately 40,000 square feet.
Downtown: approximately 11,000 square feet
When did you move in?
Four Points: March 2013     
Downtown: Our first office downtown was opened in 2016, but we outgrew that space pretty quickly and moved to 7th and Brazos in 2017 to accommodate continuing growth on our engineering, product and design teams.
What's unique about the offices?
Four Points: We worked hard to create an environment at Four Points that promotes productivity while still exuding a vibe that is uniquely us. Murals painted throughout the space by local artists reflect our company mission and values, while swings, stocked kitchens and a community game room inject some elements of fun. Our "Chillax" room houses a massage chair where employees can take some time to relax, and our weekly team happy hours offer an opportunity to connect with teammates in a more casual setting.
Beyond that, our HQ has a rotating schedule of on-campus food trucks, a free onsite fitness center, beautiful views of Austin's green hills and enough natural light to keep employees feeling energized day-after-day.
Downtown: Our downtown space features a large, open layout that supports ample team collaboration and local tech talks and meetups. Our employee-designed wall of giant Legos currently creates some separation between our all-hands space and the nearby desks, but also serves to give people another outlet for creative expression.
The lounge area, which has a great view overlooking the iconic Driskill Hotel, includes a foosball table, ping pong table and a selection of video games for impromptu entertainment (not to mention an awesome VR set-up). Finally, an in-office shower allows employees to take advantage of transportation alternatives and fitness opportunities available nearby.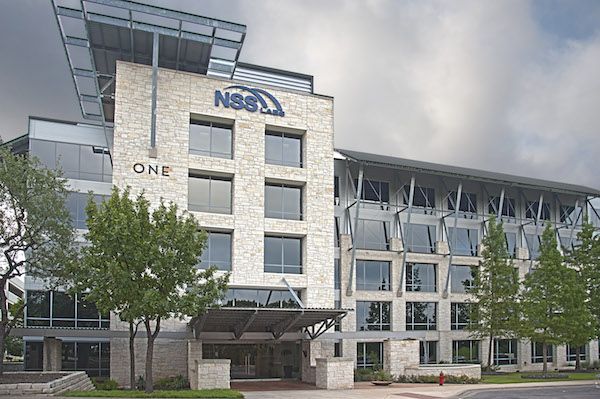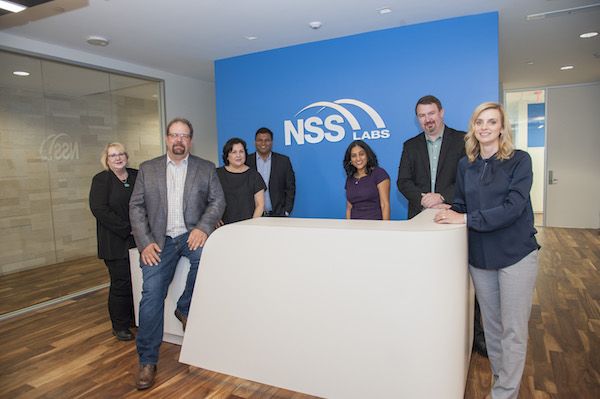 The NSS Labs crew just moved closer to downtown from their previous West Lake office to a new place off Mopac. The space includes plenty of views overlooking the greenbelt and ample room for collaboration. 
Location: 3711 S. Mopac Expy
How many employees work at the office? 90 (and growing!)
How big is the space? 23,000 square feet
When did you move in? Sept. 18, 2017
What's your favorite part of the space? There are so many new amenities it's hard to boil it down to just one. Our new space is very collaborative and has 360-degree, floor-to-ceiling views overlooking the Loop 360 greenbelt.
What's unique about your new office? It has several high-tech features such as Cisco Spark Boards, Automatic Sit/Stand desks, a projector wall, and floor AC in our test lab facilities. We have a big kitchen area complete with a large island, commercial refrigerator and ice maker. It's surrounded by an adjacent seating area with a TV screen and floor-to-ceiling window views.
In March, uShip consolidated multiple offices into one large location of East Riverside Drive. Heather Hoover-Salomon, executive VP of operations, talked about their new kitchen and included some fun info regarding the team's coffee and banana consumption.
Location: 205 E Riverside Dr.
How many employees work at the office? 220 employees
How big is the space? 45,000 square feet
When did you move in? March 2017
What's your favorite part of the space? Definitely, the industrial gourmet kitchen that serves up food to 200 per day. The uShip office actually goes through 10 cases of bananas and 120 pounds of coffee each month.
What's unique about the new office? Being under one roof allows for more collaboration among employees, so the office has been designed with a lot of informal casual seating areas with glass whiteboards for teams to meet, kick around ideas and collaborate.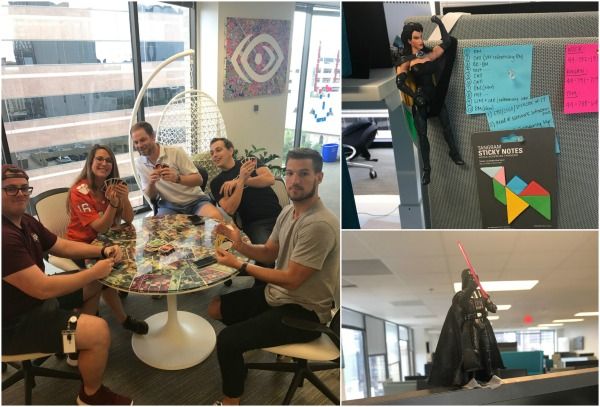 The kitchen is the heart of the home, and the same logic applies to the ThousandEyes office. Office manager Felicia Curran shared how everyone gathers in the kitchen in the morning to plan for the day, then returns again for the daily catered lunches.
Location: 211 E 7th St.
How many employees work at the office? 40 people
How big is the space? 6,000 square feet
When did you move in? May 2017
What is your favorite part of the space? The kitchen. It has quickly become the main hub for our entire office. In the morning everyone will congregate in the kitchen to get coffee and breakfast to discuss meetings planned and goals for the day. Since we have catered lunches each day, our entire office eats as a team and chats about work, life and of course the delicious food.
It's also a fun social space and includes an entire wall with humorous reviews and feedback from previous meals. Quotes range from "chicken drizzled in jalapeño ranch is what dreams are made of" to requests for daily poke bowls.
What's unique about the new office? At ThousandEyes, each team member chooses a superhero to represent and inspire them. Our offices are decorated with superhero paraphernalia including actions figures, comic books, posters and artwork to remind us to think and innovate beyond the limits of mere mortals. In this environment, we can put our knowledge and experience to good use, do our best work providing expert support to our customers and ensure they're getting the most value from our Network Intelligence platform.
Images provided by companies.