Executives within Austin tech are on the move once again. This month, nine companies welcomed new leadership from previous roles at Calvin Klein, Amazon Web Services, Springbox and more. Take a look to see who brought on new C-levels and senior leadership recently.
Effective January 7, Marissa Tarleton took over as CEO for RetailMeNot. The company promoted Tarleton to CEO from her previous position as chief marketing officer, which she held since 2015. RetailMeNot founder and former CEO Cotter Cunningham will continue to support the company as chairman of the board while starting a new position with MacAndrews & Forbes, owner of Harland Clarke Holdings and RetailMeNot.
Following a $26 million funding in mid-November, ClearDATA's hot streak continued in December with the additions of two key executive hires. The healthtech company named Michael Donohue as chief marketing officer and Dean Fredenburgh as chief revenue officer. Donohue has over 25 years of experience in senior leadership roles and most recently held the title of CEO at Axial Exchange.
Fredenburgh has 20 years of sales leadership experience in the healthtech enterprise sector. Before ClearDATA, Fredenburgh led the healthcare and life sciences sales teams at Amazon Web Services. Prior to that, he held numerous leadership sales roles at Teradata during his 14-year tenure, including area vice president of financial, insurance, health care and life sciences for the Northeast.
Tom West, founder and former CEO of Austin-based Springbox, moved to a new role with local fintech firm AffiniPay. As chief growth officer, West will lead the company's scaling efforts, which include adding 60 more people to its 120-person team. West also supports Mobile1st, Digital CEO, Kele Inc. and BrightTag in board roles and is a member of Austin YPO.
After raising $6 million in funding and announcing Dan Quayle as CEO in November, RF Code continued to make moves by adding David Williams to the team. Williams will support the company as VP of strategy and business development. He held previous positions as senior vice president of portfolio strategy at CA Technologies and vice president of research at Gartner.
Following 15 years at Rackspace, Jacques Greyling will join Vapor IO as chief operating officer. The company plans to enter more than 100 markets this year and will utilize Greyling's experience to lead its customer services departments during this growth. Greyling held numerous executive titles at Rackspace, including, most recently, senior vice president of global infrastructure.
YETI announced this week that Melisa Goldie will serve as its first-ever chief marketing officer. Goldie's career includes 15 years at Calvin Klein, where she worked her way up the executive ladder, eventually operating as global chief marketing officer. Before joining YETI, Goldie launched a marketing consulting agency that she ran for two years.
Last month, Olono, the startup behind an AI-powered virtual sales assistant, raised $3 million in funding without issuing a statement. This month, however, the company announced that Matt Curtin has joined the team as chief revenue officer. He brings with him more than two decades of experience from sales leadership roles at Kinnser Software, Bazaarvoice and FreeMarkets.
On Thursday, DISCO, an e-discovery platform for law firms, shared that Aaron Trull has been brought on as VP of human resources. The company intends to hire up to 150 more employees over the next three years, and will rely on Trull's deep HR experience. He comes to DISCO after a six-year tenure with Bazaarvoice. Before Bazaarvoice, Trull supported Dell, AMD, Hewlett-Packard and Ernst & Young in HR roles.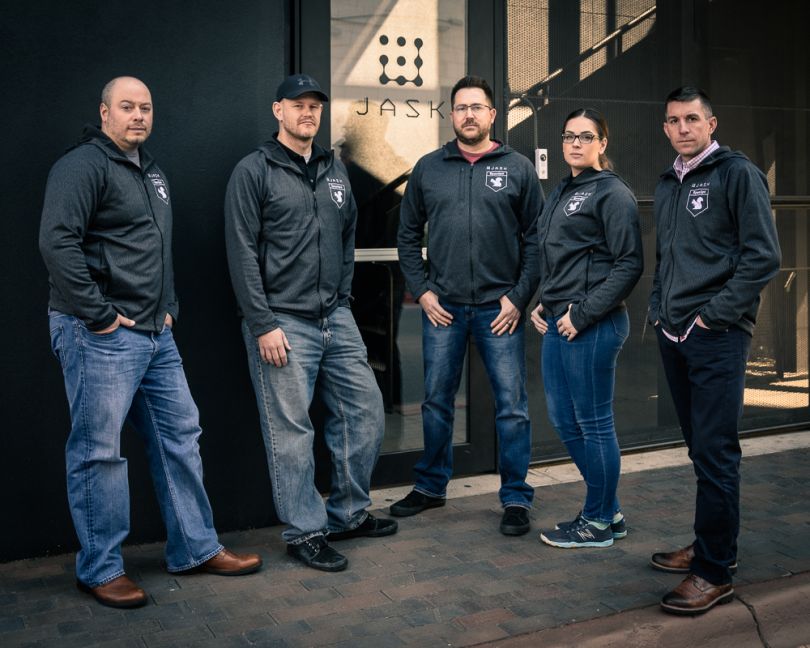 JASK, the three-year-old cybersecurity firm with headquarters in San Francisco and Austin, recently announced six additions to its special operations team that include industry veterans from IBM's X-Force, RiskIQ and the U.S. Department of Defense.
Darren Spruell joins JASK as a senior threat analyst. Prior to joining, he was a threat researcher with RiskIQ.
Before coming aboard JASK, senior threat analyst Brian Gardiner worked with IBM X-Force IRIS as a senior incident response analyst. He also worked for Aetna as the information security advisor for its security data analytics department.
Greg Longo brings with him to JASK industry experience from both the public and private sectors. The senior threat analyst has served with the U.S. Air Force and Air National Guard since 2002, and currently serves as a Communications Squadron Commander. Prior to JASK, Longo worked for Covestro as the global threat management lead.
Ellie Soto, a former digital network vulnerability analyst for the Department of Defense, joined JASK as a threat analyst. She supported the DoD for seven years, including through a deployment in Afghanistan.
Threat analyst David McEwan comes to JASK with more than a decade of cybersecurity experience. His previous roles include senior security operations specialist for Akamai Technologies and system administrator for HCA Healthcare.