Blackbaud takes the old saying, "Don't mix your personal life with your professional," and flips it on its head — there, you're hired for the person you are both in and outside of the workplace. 
"Blackbaud's values don't start and stop as soon as you walk through the office doors," said Rachel Montgomery, the senior director of professional services for the social impact software firm. "These values can carry into your own life and be a part of what you bring to the community at large. We are employing people who want to bring these values into their careers."
Rachel, along with her colleague Andrei Rogers, are prime examples of what it means to live out Blackbaud's mission of spreading good. We caught up with both to learn more about the impact they're making at Blackbaud and the Austin community.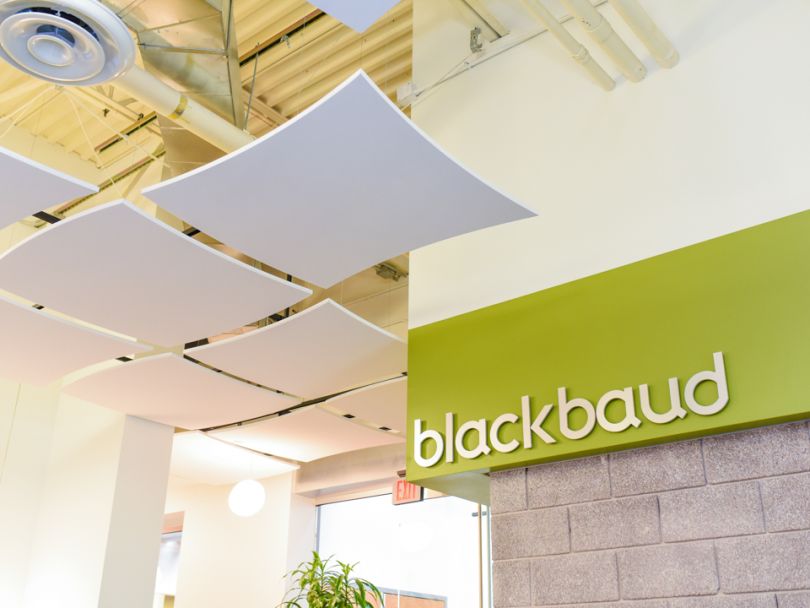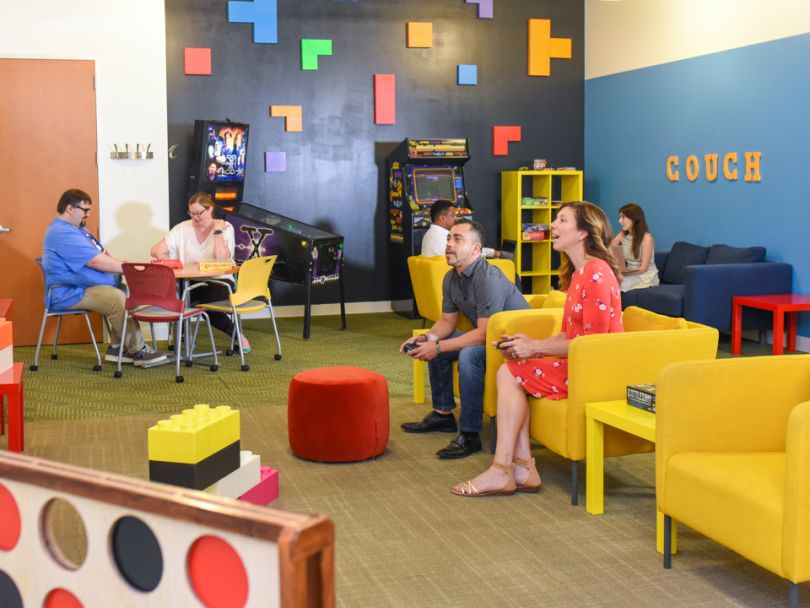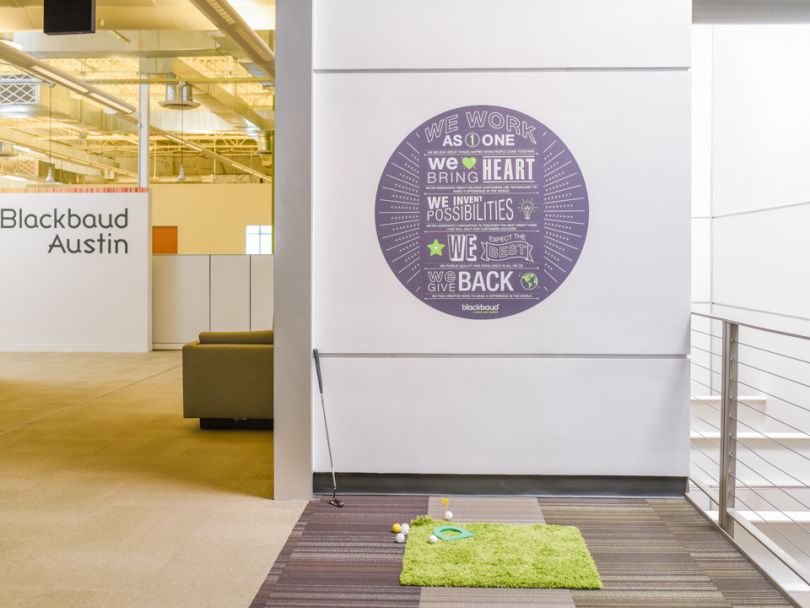 FOUNDED: 1981
EMPLOYEES: 3,300+ nationally, 345 locally
WHAT THEY DO: For nearly 40 years, Blackbaud has supported those who spread social good throughout the world with cloud software, services and data intelligence.
WHERE THEY DO IT: North Austin, The Domain
VOLUNTEERING REWARDED: While all the employees are naturally eager to give back, the company offers a little extra motivation by rewarding extra days off for their volunteering efforts.
REACT, RESOLVE: Creative, solution-forward thinkers soar here who are able to react and resolve situations quickly.
TECH UPGRADE: Blackbaud's technical team has been hard at work modernizing its framework and application architecture to deliver customer value faster.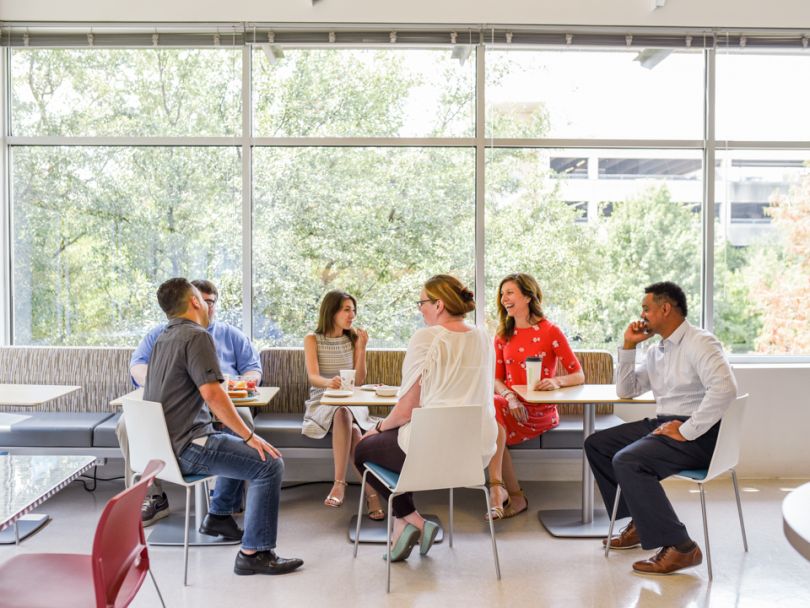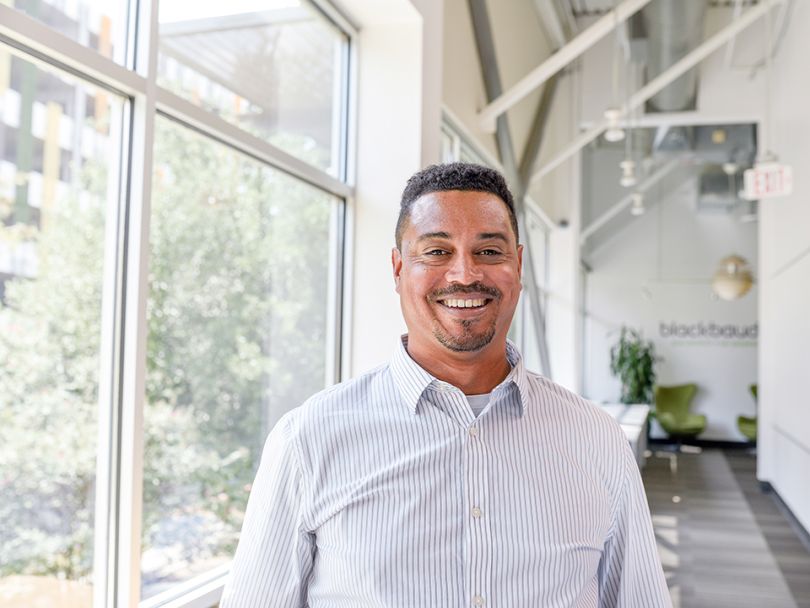 Andrei Rogers, Cybersecurity Engineer
As Blackbaud's technology continues to grow, so does the demand to protect it from cyberattacks — that's where Andrei and his team come in. In addition to addressing and mitigating threats, their unit is also tasked with laying security across all areas of Blackbaud. Outside of his role responsibilities, Andrei's all about giving back. 
FIT DAD: Having two high octane athletic sons at home keeps Andrei fit. In addition to playing with his boys, he enjoys cooking, trying new foods and traveling. 
What about Blackbaud's mission inspires you, and how does Blackbaud's culture mirror the clients you serve?
All of our customers have different ways of achieving their goals. Those ways present different challenges every day. It's amazing how Blackbaud listens to each individual customer to cater to their needs and help them reach their goal. I have also always admired Blackbaud's devotion to giving back to the social good and local communities. From employer-sponsored volunteer days to community grants, Blackbaud allows its employees to give back to our clients and communities in so many ways.
In what ways have you given back to the Austin community? What drives your passion to give back?
I currently help with several local nonprofits. One specific one is called Changing Expectations, which targets underrepresented youth to gear them towards careers in the STEM fields. It is an awesome experience to help teach and watch the younger generations get excited about technology. As a native Austinite, I have watched how the technology changes in Austin have impacted the lives of many locally. Being a product of Austin and living and working in this technology boom has helped drive me to bring social changes throughout the local communities I personally grew up in.
 
It is an awesome experience to help teach and watch the younger generations get excited about technology."

How does Blackbaud support a diverse and inclusive workplace? What initiatives have you been involved with and what impact has this had on the company?
Because our work encompasses many diverse customers, Blackbaud has been at the forefront in creating a more diverse work environment. Blackbaud recently won Forbes America's Best Employers for Diversity 2019 Award, and last month, Blackbaud launched its New Cares Center that highlights the different affinity groups along with volunteer opportunities. I was involved in helping launch one of those affinity groups, like the local chapter of BLEND (Black Employees Engaged in Diversity) to help connect our internal employees. This resource has been tremendously valuable to help bridge diversity and to bring more opportunities to volunteer in our local communities.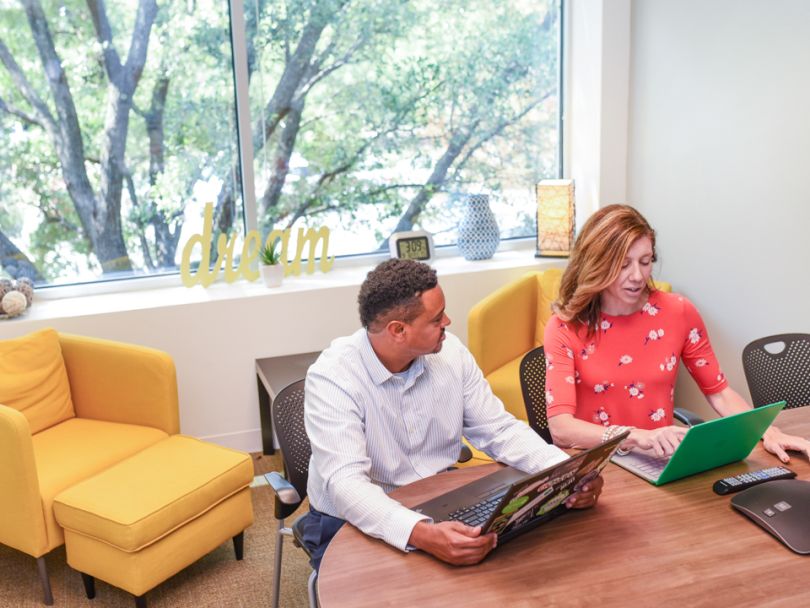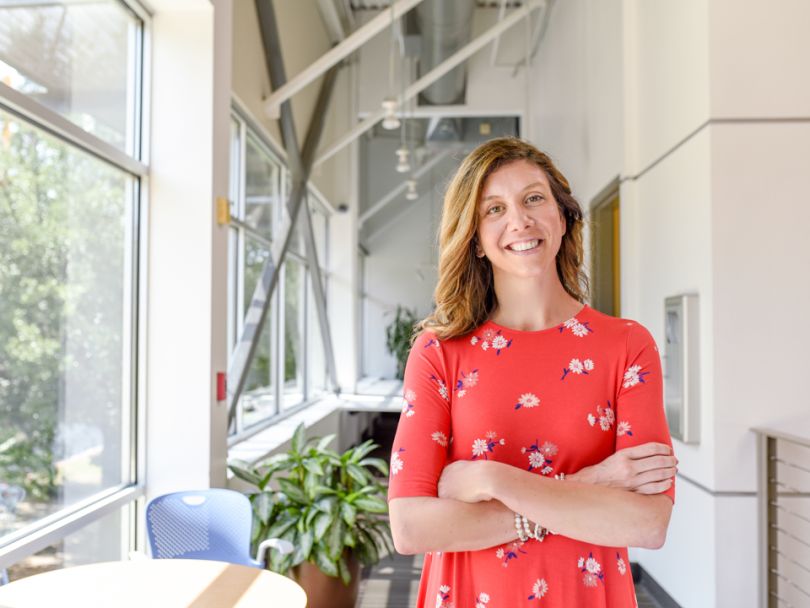 Rachel Montgomery, Sr. Director, Professional Services
Rachel has been with Blackbaud for more than seven years, changing roles and departments along the way. The opportunity to work in a variety of positions, paired with the people of Blackbaud, are the two big reasons she continues to stay. Like Andrei and many others on her team, she loves to give back to the Austin community.
AUSTIN AUTHOR: A writer at heart, Rachel was thrilled when she was selected to represent working moms out there this year as a contributing writer for local parenting resource site, Austin Moms. 
How does Blackbaud foster a diverse and inclusive environment? Why is this important?
We only become smarter, faster and stronger when we are including all inputs. If we only hire the same people over and over again, we miss out on valuable insight, we miss blind spots and lose the opportunity to advance our goals and mission. We want to ensure that Blackbaud is an environment that is welcoming to all: We encourage participation in affinity groups, we participate in diversity and inclusion training, and we ensure our recruiting efforts offer a diverse pool of candidates. 
What are you involved with at Blackbaud outside of your role? How has this impacted your experience working for the company?
I have served on the Austin leadership team for the last five years, and this year I was nominated and accepted the position as a site leader. In this role, I get to interact with all local leaders who have teams here in our Austin office, as well as our facilities team and CSR team. This has provided insight into other team's motivation and how we can come together to solve a problem once that can then permeate the whole office. Additionally, it's been so great to see the response as we align on facilities updates and our CSR contribution.
To be honest, my favorite part is getting the entire office together for an event whether it be a holiday potluck, an all-hands meeting with some Austin flare, a movie marathon for Harry Potter's birthday or World Cup soccer. If you can get your work done and have a little fun, we are all the merrier! 
 
We only become smarter, faster and stronger when we are including all inputs."

Your team is experiencing rapid growth. What unique opportunities or challenges does your team face in this industry, and how do you hire for success?
We are in a very tough market here in Austin with so many amazing tech companies. Blackbaud is uniquely poised to be able to offer entry-level positions, leadership opportunities and advanced roles. We often hear we are competing with catering, dry cleaning, bike repair and other perks in the industry. We want to differentiate ourselves through our mission and the work we are putting back into the world — but don't worry, we have tons of snacks, plenty of happy hours and lots of perks for healthy living.