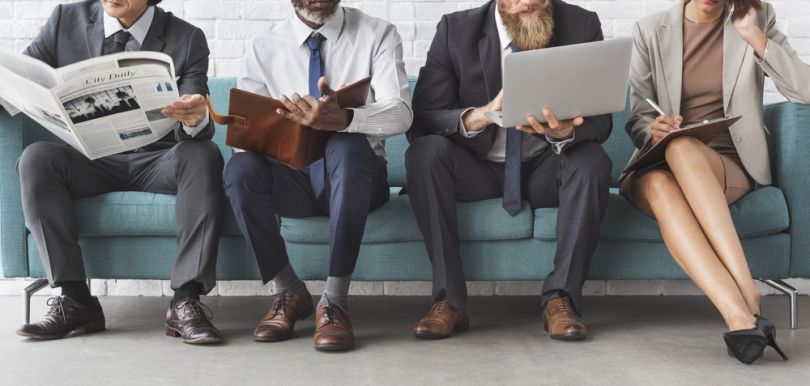 The college dropout turned tech tycoon story has evolved into a leading stereotype in the startup world. 
But more often than not, it's just that — a story.
In reality, most future founders grab their degree and head into a competitive job market just like the rest of us, eager to climb the corporate ladder and become industry experts in their fields. Some innovators could be ten years in before taking their expertise to entrepreneurship.
While the paths to entrepreneurship often differ, one consistency tends to ring true among founders: Once they get a taste of startup life, they're likely here to stay. We caught up with three local founders to hear more about their journeys and why a trip back to corporate America is probably off the table.
Prior to launching The Beeprint in 2016, Rebecca Dejean worked for a handful of Fortune 100 tech companies in software project management, marketing, implementation and business development. After developing a solution for a friend who'd launched a startup supporting nonprofits, Dejean decided to try starting up herself. The Beeprint specializes in startup and small business development services including include brand generation, web strategy, app development, web design and everything in between.  
What inspired you to launch your first venture?
I was inspired to develop my own business by helping a close friend. She discovered her passion and talent in fundraising while participating in a leadership program. Impressed by her commitment and dedication to perfecting her craft, I was determined to create a platform for her to shine. I picked up skills in web development and analytics and learned more about the fundraising and nonprofit industry to empower her with best practices to get started.
I implemented tools for her organization and came up with the branding of her company. Three years later, she is flourishing, has expanded her team and is crushing the game supporting reputable nonprofit organizations all over the nation. I'm so proud and love to hear all the success stories and case studies.
When have you thought to yourself, "Yes, I definitely run a startup"?
I knew I was running a startup when demand increased for our services rapidly, and we essentially created custom packages for every prospective client. We wanted to be all things to everyone without a clear path or vision of long-term success. Our focus was helping others, but we didn't quite have the foundation or structure a business needs to scale and sustain over time. In that moment, I silently admitted to myself that I created a beast and needed to implement a foundation and process ASAP!
Do you think you'll ever rejoin corporate America?
I imagine my involvement with corporate will always be in the mix to some degree. Whether a strategic partnership, contractor or client, it's pretty tough to avoid some part of corporate America. I've learned to use it to my advantage by working on projects that I care about and collaborating with startups and organizations that align with my values (diversity, inclusion and equal access for all).
While the odds of Verb CEO and co-founder Suzi Sosa returning to the corporate world are low, Sosa did say she'd consider the opportunity if a larger company wanted her to come in and make waves within the organization. Sosa launched Verb, an employee engagement platform focused on social impact, in 2013.
What inspired you to launch your first venture?
I saw the opportunity to prove a new model of business that would have both huge financial return and huge social impact.
When have you thought to yourself, "Yes, I definitely run a startup"?
How about that time when a customer asked us if we could serve their employees in China. At the sales meeting, I said, "Sure, absolutely!" Back in the office when I told them the plan my team said, "WTF!!?? We've never done anything in China." I said, "Yeah, but we can totally figure this out!" And, we did.
Do you think you'll ever rejoin corporate America?
It's unlikely. When I fantasize about life-after-Verb I spend more time thinking about living/working in an airstream out West than a corporate job. That said, I think more corporations are looking to bring disruptors in-house, like Troy Carter at Spotify. I would definitely entertain a role where I was challenged to be an entrepreneur inside of a large corporation.
MeetEdgar's founder and CEO Laura Roeder ditched the corporate world because she wanted to work for herself. Now, she said it's unlikely she'll ever return. Roeder launched the social media scheduling platform MeetEdgar in 2014. Before that, she founded a media company in 2009 that offered online courses and workshops for entrepreneurs interested in learning how to use social media for their businesses.
What inspired you to launch your first venture?
Social media marketing wasn't really what it was today. In fact, it wasn't really a thing at all yet when we launched. I had helped people turn their social media profiles into tools for building their brands, and I saw how much of a difference it could make for them. I wanted to scale that and go from being a one-to-one consultant to someone who could help a lot of independent entrepreneurs like myself use digital marketing to compete in a marketplace that had been closed off to them before. That's how I got started in creating online courses and hosting workshops.
When have you thought to yourself, "Yes, I definitely run a startup"?
This happens every time we host a company retreat. We're a completely distributed team, and as an expanding company, our team tends to grow between our twice-annual retreats. Early on, a retreat would mean five or six of us getting together. Then it was 15, then 20, then 30. When you get all of those people in a room and can see your team and see all those people who are working together, creating things and making this vision come to life, it can take you by surprise a bit. It makes everything feel very real, and it's a very tangible way of seeing how far you've come!
Do you think you'll ever rejoin corporate America?
Probably not. Like a lot of other founders, I left corporate America because I loved the idea of working for myself and building something of my own. Running a startup isn't just the type of work I know and can do the best — it's the type of work that I feel gives me the greatest opportunity to positively shape the lives of others. How could I give that up?