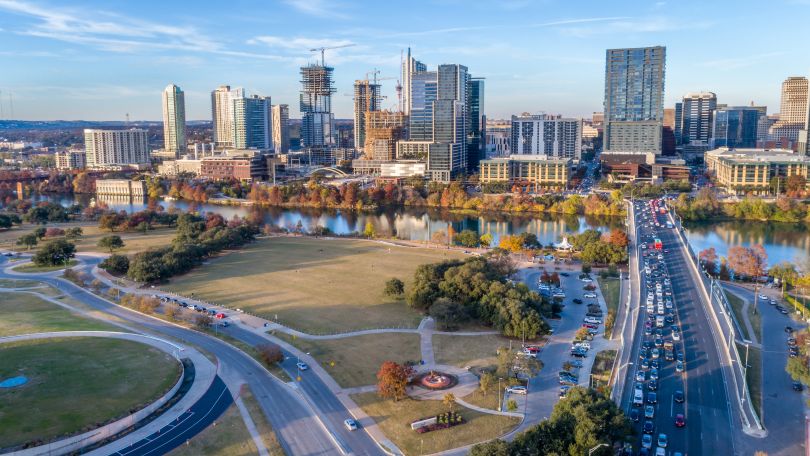 Seven Austin tech companies welcomed new executives leading into the new year, including one that announced five leadership hires. Take a look at who made moves and where.
Spredfast, the company behind social media marketing and management solutions, scored a former VP from the largest social network out there. Blake Chandlee, investor and former Facebook VP of global partnerships, recently joined Spredfast's board of directors. Chandlee led the opening of Facebook's London office and was the company's first international employee.
SecureLink made aggressive executive hiring moves, adding one C-level and four VPs last month. Chip Pate has been named SecureLink's CFO. Pate previously served as CFO at PDI. Also joining the team is Alexis Jones as VP of people, Lauren McQuade as VP of marketing, Rob Palermo as VP of product management and Kyle Christensen as VP of sales.
Accounting SaaS startup ScaleFactor welcomed David Loia as VP of customers. Loia will lead the company's global sales and marketing initiatives as part of ScaleFactor's scaling goals following November's funding announcement. Loia launched his software career at NASA and has since worked at Iconixx, Zenoss, Humantelligence, Next IT, RightNow Technologies and Oracle.
Zain Nemazie signed on as VP of engineering at edtech predictive analytics company Civitas Learning. Nemazi, who has 18 years of experience leading high-performance engineering teams, previously headed the local engineering team dedicated to Google's mobile platform development. Before Google, he served as VP of engineering at Adometry, which Google acquired in 2014.
Austin-based FloSports has experienced massive growth since is 2006 launch — especially during 2017. In addition to expanding its sports subscriptions offerings by 11 channels, the local team nearly doubled its headcount. Just before the holidays, FloSports named Pat Noonan as the company's first CFO. Noonan joined FloSports in 2014 as SVP of business development. He previously worked for Austin Ventures as a senior associate.
Anaconda, formerly known as Continuum Analytics, announced Lars Ewe as its new SVP of engineering. Ewe brings 20 years of experience to the Python data science platform and most recently held the VP of engineering role at big data healthcare platform called Evariant. He's also held senior management and executive roles at AMD, BMW, Borland, National Instruments and Oracle.
 
Shari Wynne Ressler, founder of the early-stage consumer product accelerator program SKU, announced she would be stepping down to pursue other interests. Managing director Genevieve Gilbreath will assume the executive director role. The program launched in 2011 and has included Austin Eastciders, Primizie, Epic Bar, Raven + Lily and Verb in its accelerator.