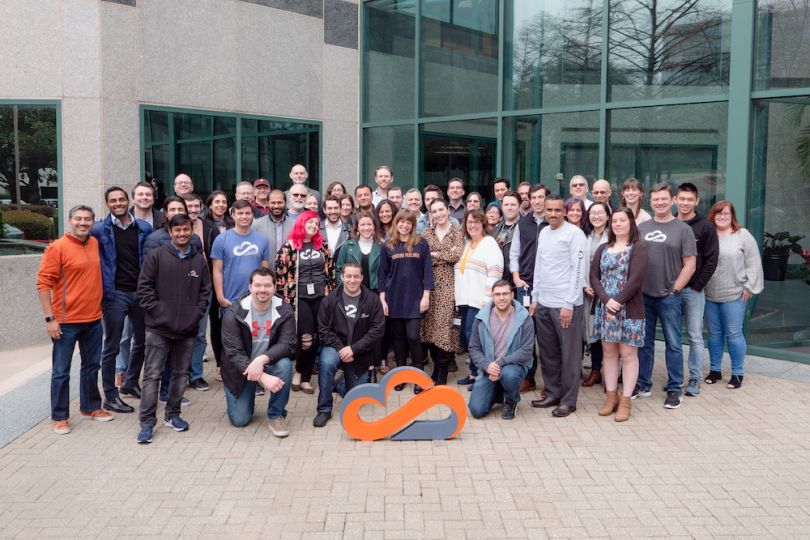 For the past three years, CognitiveScale has experienced more than 100 percent year-over-year growth. They've collected numerous awards, chalked up the highest number of AI patents ever filed and accepted for a private company, and locked in some of the biggest names in Austin tech to join its leadership team.
Also worth mentioning, CognitiveScale is only six years old.
Adding big-time clients like UnderArmour, Dell, Anthem, and NBCUniversal in the past couple of years, the AI firm shows no signs of slowing down.  
Now, as the company prepares for its next stage of growth, they've got a little help from seasoned tech veteran ML Maco.
ML joined CognitiveScale earlier this year as chief revenue officer. Her esteemed career boasts more than 25 years of experience including senior executive roles at HPE and Oracle.
We connected with ML to get a preview of what's next for CognitiveScale and nab some advice from one of Austin tech's most prominent women leaders.
What inspired your move to CognitiveScale?  
There are several reasons I made the move to CognitiveScale, but if I had to boil it down to three they would be: the leadership team's experience and vision; the customer- and employee-first culture; and the opportunity to shape the next major inflection point in the technology sector by deploying AI systems in a practical, scalable and trusted manner.
What are some of the things you learned from your previous executive roles that will be most important to you as you lead CognitiveScale's sales org.?
You must start by being a good listener in order to learn about the culture and business functions before drawing assumptions. Once you have a good understanding of what to start, stop and continue doing, make solid decisions that are measurable — and communicate, communicate, communicate.
You joined CognitiveScale amid a banner year of growth. Where do you plan to take the company's sales organization from here?
I am excited to have joined the company while it's witnessing such a growth trajectory. We reported 128 percent year-over-year growth in annual software and subscription revenues in 2018. Gross margins, average selling price per client, churn and customer satisfaction scores also improved markedly. I will continue to support the culture of being a customer and market leader, in addition to increasing investments in our partner ecosystem to scale and grow with the market. This will allow for further expansion of our team to align with the growing market opportunity. There will also be continued investment in sales enablement and development across all channels.
There's always room for personal growth."
How would you describe your leadership approach, and how has this helped you stand out as a leader in tech?
It's a combination of leading with collaboration across all functions. Also, it is extremely important to have clarity, consistency and communication of vision, strategy and execution to achieve maximum potential for customers, employees and the company.
What advice do you have for women in tech looking to grow within an organization?
I've been fortunate to have a number of female mentors throughout my career who have shared the wisdom I've received and practiced. I've learned to be a good listener and be vocal where I'm able to add value and impact the organization. I'm a continuous student of my business, our customers' businesses and the industry. Additionally, I am grateful to be part of an organization that is a large supporter of facilitating more women in tech and STEM, in particular.
My advice for women is that there's always room for personal growth. Take on new challenges whether they are lateral or vertical — there's great value in expanding your experiences across functions. Also, get involved in your greater tech community. CognitiveScale gives opportunities to our employees to be involved in monthly PyLadies events, the University of Texas' Women in Engineering program and more.
How do you promote and support professional growth in your department?
I encourage my team to be curious, take measured risks, learn from mistakes and support each others' success.
What about CognitiveScale's future are you most looking forward to?
From an overall perspective, our focus on operationalizing AI for enterprises, ability to drive transformative business outcomes, and commitment to ethical and trusted AI are what excite me the most. For customers, I believe we have an opportunity to capture the untapped value of AI by radically simplifying the development, deployment and management of their AI systems. For our employees, our culture is built on having a purpose that has the potential to be much greater than what many have experienced in their careers.