Nineties rapper Mase once said, "If it ain't about the money, Puff, I just don't care." 
While some sales reps may fully embrace that motto, for these sales professionals, it's quite the opposite. We caught up with sales reps and leaders from 10 Austin tech companies to learn what they love about their job. To our surprise, compensation didn't come up once. What did come up instead? We've shared what these tech sales pros value the most. 
LogicMonitor Regional Sales Manager Andrew Savens has spent 13 years in technology sales. He can't think of a better career. In his leadership role, Savens said the most rewarding part of his job is helping his team members be their best. 
What inspired you to pursue a career in tech sales in your industry??
SaaS-based technologies provide businesses with the ability to be more agile, simplify operations, shorten time to market, and gain significant ROI. As a sales professional at LogicMonitor, this presents an opportunity to learn new and exciting technology while also selling a high-value solution. We are the market leader for cloud-based performance monitoring because our platform can support the most complex and diverse use cases with very minimal overhead costs or effort. For these reasons, LogicMonitor is an awesome opportunity for those who are interested in growing their sales careers in tech.
What aspects of your current role do you love the most? 
I have the opportunity to lead a team of sales professionals focused on acquiring new customers. The most rewarding part of being a leader is developing my team members to be their best. Our management philosophy is to hire competent employees, give them the tools to succeed, and then get out of their way to let them accomplish their goals. For that reason, we look for candidates who are excited to show up and help our customers solve really cool problems. LogicMonitor is on an explosive growth trajectory, so it's also crucial to have employees who can thrive in our dynamic environment. Contributing to the development and success of my team members is challenging, fun and fulfilling!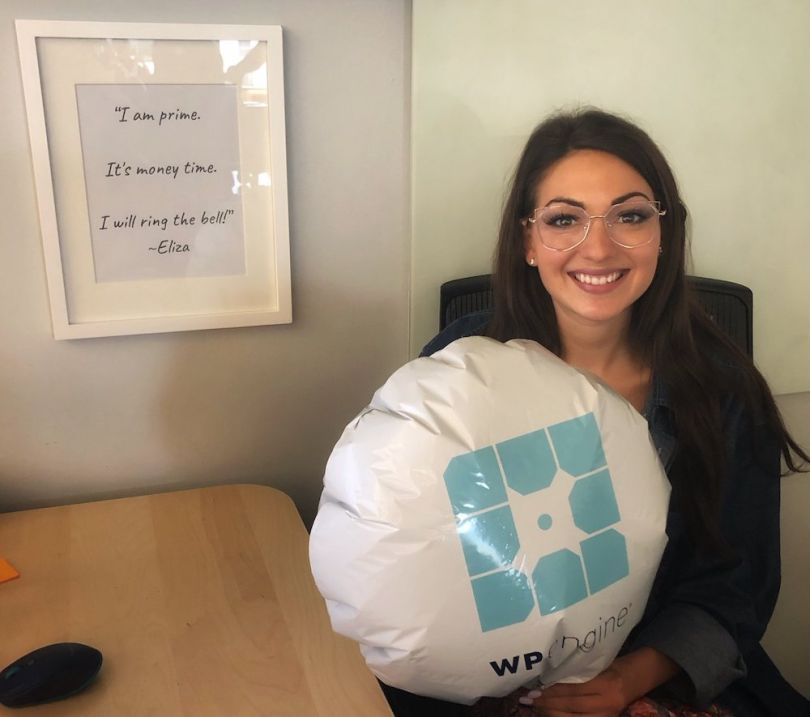 When Eliza Ganster's customers think of WP Engine and their working relationship with her and her team, she wants them to think of her as their partner and consultant. This goal impacts everything Ganster does as a team lead in account management, especially when it comes to solving her customers' situations — in fact, it's these challenges that she thrives on. 
What inspired you to pursue a career in tech sales, and particularly within your current industry? 
This is funny, but for as long as I can remember I have loved sales! When I was little, I would record pretend commercials. Sales is just a natural part of who I am. The industry I was previously in was declining, and I saw the way the world was changing towards technology, which excited me. Overall, I'm a creature of habit and pretty opposed to change so I challenge myself by jumping into situations that push me. The tech industry is ever-evolving and growing. WP Engine is in an industry that I had never worked in before, but one that touches several verticals. This attracted me because I could work with new industries, as well as some that I had previous experience with, and also had the opportunity to learn a new skill set.
What aspects of your current role do you love the most?
I get to work with extremely smart and supportive people. When I came to WP Engine, my goal was to grow and challenge myself professionally and personally. In the year I've been here, so much has changed for the better — and it's exciting to be part of something moving at the speed of light. One of my passions is to build and fix processes, and I get to implement that skillset to solve my customers' problems. Goal setting and big-picture thinking are interests of mine, and we do that in our customer conversations, which is really unique and fulfilling. At WP Engine we have a motto, "be here, be you," and it's so true. We have the autonomy to be ourselves while making an impact within the organization.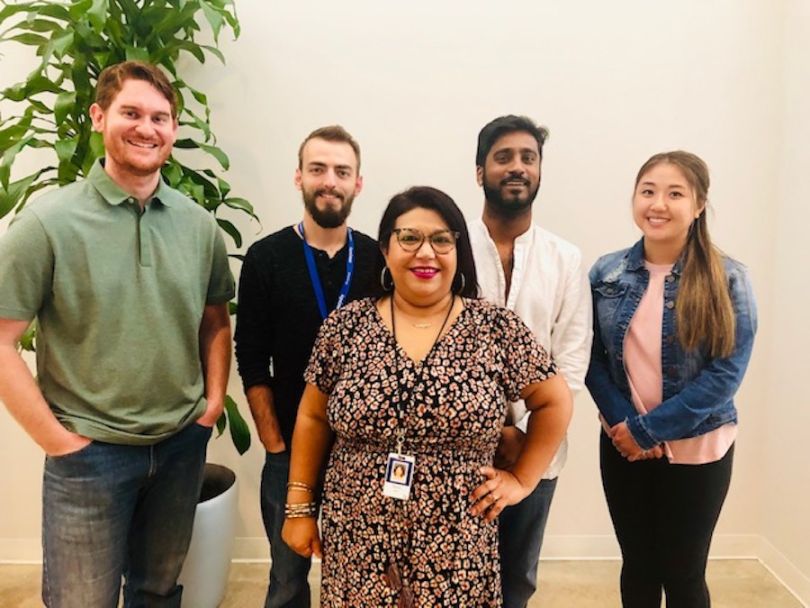 Stacey Soto didn't start in sales, but she's been there ever since LegalZoom's leadership team encouraged her to explore sales opportunities within the company. Now she's a sales manager. This investment in her growth — and her investment in the growth of others — is one of the things Stacey loves about her job most.
What inspired you to pursue a career in sales, and particularly within your current industry? 
I began my career in customer care and found I really enjoy helping people and figuring out solutions for their needs. After some years, I became curious about other departments in the company. The great thing about LegalZoom is that leadership always encourages continuous learning and growth, so I was able to immerse myself in the world of sales and pick up various skills. That's how I developed a passion for sales. It was my growing interest combined with a dedication to the company mission of democratizing law that led me to make the switch to my current position.
What aspects of your current role do you love the most?
LegalZoom leadership was invested in my growth from the moment I came on board, so I love that I now get to pay it forward. I guide both my direct reports and leadership in setting up career paths and recognizing individual strengths. It's amazing to see my team succeed and know I had a small part in that. I also enjoy teaching other Zoomers the sales skills I've learned throughout the years, empowering them to provide top-notch service to our customers. It brings a smile to my face when they receive customer praise from advice I shared with them! Truly, what I love most about my role is that I'm able to help other Zoomers succeed.
Following a few sales gigs in the advertising space after his move to Austin in 2013, Daren Pope was on the hunt for something more — his words, not ours — meaningful. That's when he discovered health tech startup Medici and joined as inside sales executive. 
What inspired you to pursue a career in tech sales, and particularly within your current industry?
While helping local businesses grow through advertising is gratifying, I hoped that an opportunity would arise where I could continue to use my skill set and also be a part of something more meaningful. I decided to switch to a role that focused on tech sales for healthcare. Medici checked all the boxes in my pursuit of a more gratifying career. Everyday I get to sell a product that helps advance the access to healthcare for patients while improving the work/life balance for doctors. 
What aspects of your current role do you love the most?
I wake up feeling excited to come to work because I know that I am part of something significant, which is disrupting healthcare in a positive way. The personal satisfaction after seeing success in sales is awesome. However, the satisfaction of combining personal success and contributing to something that helps so many people, is on another level. Outside of that, I love the great co-workers that I work with, the great leaders that I work for and the great culture that I am part of.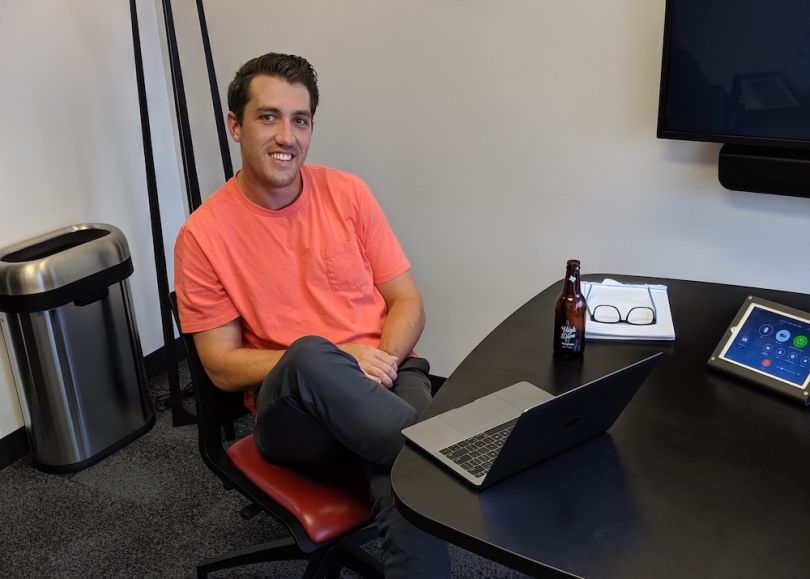 Although Brendan Hanley was unsure of what he wanted to do post-college, he did know that the traditional corporate route wasn't for him. That's when he found New Knowledge, where he supports the information integrity platform powered by AI as an account executive.
What inspired you to pursue a career in tech sales, and particularly within your current industry?
After graduating, I looked at what options were out there and was pointed in the direction of sales development. In this entry-level role, I learned about myself, my skills and interests. I discovered my hunger for a competitive atmosphere and problem solving, and took the sales route.
For me, the industry isn't as compelling as it is to have a mission-driven organization. I have been hit-or-miss on specific industries, but the one thing I always try to keep consistent is that the company is driven by one spoken mission. There are so many companies out there that are looking to "fill a void" and "do it better than anyone else." Those companies tend to run into issues when the going gets tough — and the going always gets tough in any startup. If you truly believe in the mission, then you are there to ride out the storm and see it through to the other side instead of jumping ship at any sign of hardship.
What aspects of your current role do you love the most? 
The thing I love most about my job right now is that I am with a bunch of super smart people that have been tasked with "figuring it out." New Knowledge is a young company. There's a lot we need to do, and a lot we don't know yet. Everyday we learn something new about our prospects, customers, messaging, market and competitors. This makes every day different and keeps us engaged.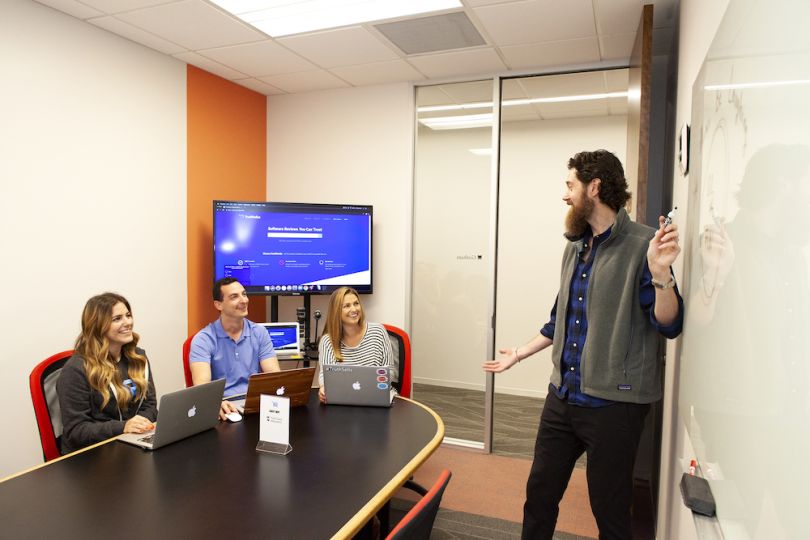 Account Executive Derek Levine has nothing but great things to say about customer insights platform TrustRadius. From his team to their values, and everything in between, Levine left a glowing review for his employer. 
What inspired you to pursue a career in tech sales, and particularly within your current industry? 
Tech sales has allowed me to be a part of a company whose products and services I truly believe in. Personally, I enjoy part-evangelistic, part-consultative selling. I'm challenged constantly, which helps me grow as a sales professional as well as a person. The money is certainly attractive if you are a top achiever, and the ability to grow and develop a strong professional network has helped for career development. As I always say, work hard and smart. You have to enjoy the everyday grind, the hunt, the thrill of closing business, and being a true team player. 
What aspects of your current role do you love the most?
We have a fantastic team that's intelligent, driven and collaborative. It's fun to come to work every day and know that everyone is fighting together to win business and strengthen partnerships with our customers. We go about our business the right way, and we believe wholeheartedly in the core values of our company. That's something you don't come across often enough. I find it exciting that we get to be leaders of change, because we are educating the market on how to develop a robust customer voice strategy. I love that the energy is at an all-time high, we are growing the team, constantly trying new things — and the sales pit is rocking!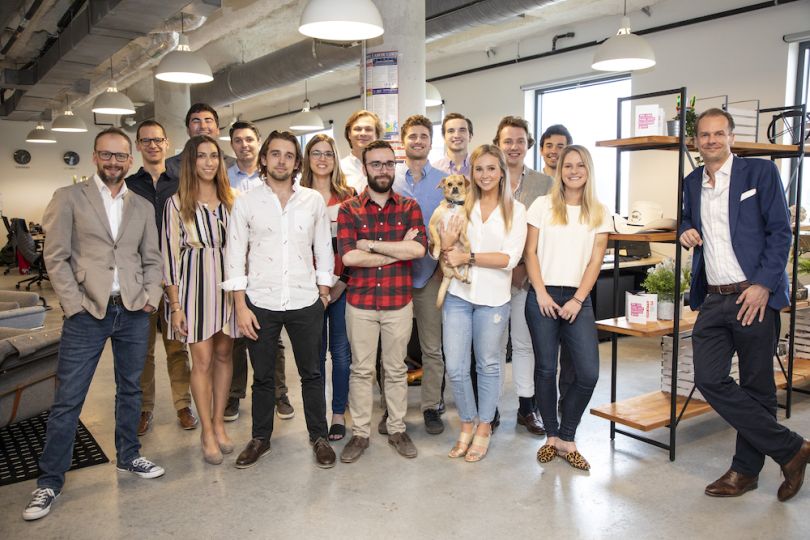 Logan Rohrbaugh said he's always been a driven and motivated individual, so his career path into sales evolved naturally. But why marketing tech firm MVF? We'll let Rohrbaugh explain.
What inspired you to pursue a career in tech sales, and particularly within your current industry?
I was motivated to pursue a career in sales because of the challenging nature of the role and the opportunity it poses in being able to have a direct impact on your own success and those of the company's. In sales, I've found a personally challenging role where your success has a direct correlation to the work you put in. I was drawn to tech sales and the industry I am in now, because of how digital marketing is at the forefront of business across so many industries. Potential future growth in these areas is unlimited.
What aspects of your current role do you love the most? 
I enjoy making a direct impact on our company's ambitions through the work I do. Plus, I get to surround myself with a driven, collaborative team working in an exciting atmosphere every day, which continuously motivates me. I feel valued for my hard work here, which is a sign of a great company.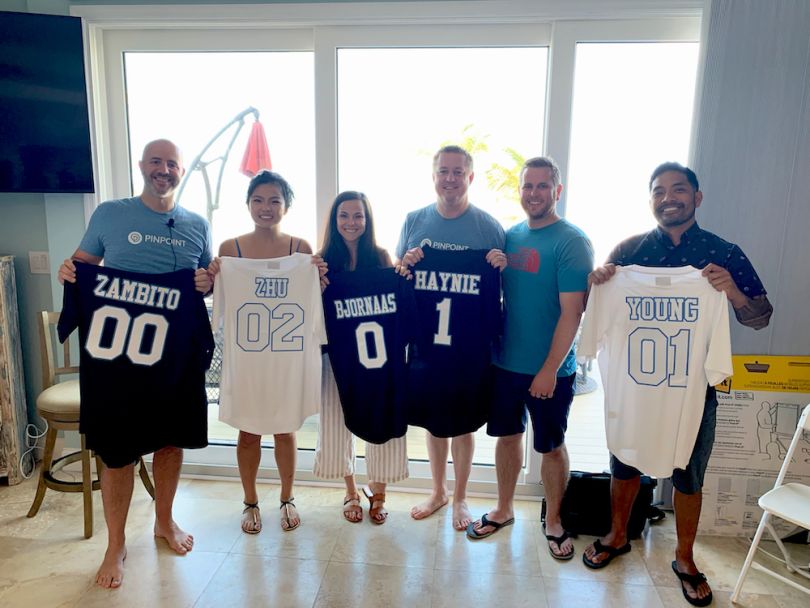 For Pinpoint Senior Sales Development Representative Jully Zhu, choosing tech to launch her career was easy. Citing the vast advancements the world has made as a result of technology — like wireless access for example — Zhu wanted to be part of an industry driving serious change.
What inspired you to pursue a career in tech sales, and particularly within your current industry?
It's two-fold. The business classes at McCombs School of Business at the University of Texas made me realize how important it is to build a strong foundation. Some of the strongest entrepreneurs today started in sales — including Mark Cuban and Warren Buffet. And I think I'm following in some tremendous footsteps. The other half of my decision was based on my own personality. I've always enjoyed interacting with people, particularly strangers, and getting to know how they see the world. I worked at my parents' restaurant growing up and, funnily enough, they never taught me to avoid speaking with strangers.
What aspects of your current role do you love the most? 
The pain Pinpoint's product is solving for engineering leaders is game-changing. I love witnessing people's eyes light up when I tell them about it. The opportunity that exists for me in sales because of that is huge. The most important thing has always been finding a company I love, and I was very fortunate to find Pinpoint. Not only is the product great, the people are as well. From our executive team to our engineering team to our sales team — it's really a big family.
An extrovert working remotely in an outside sales role, Emmy Bateman was on the hunt for an opportunity to join a dynamic, like-minded team that supports a wide range of industries. She found just that with emergency communications platform AlertMedia. The senior account executive shared why this was such a great move for her. 
What inspired you to pursue a career in tech sales in your industry? 
In tech, the products and the customers are always evolving. It's precisely this ever-changing nature of tech that really drove me to make the move into tech sales. What drew me to AlertMedia is that it has a hugely positive impact on the lives of people all around the world. Our emergency communication software is used by organizations in over 90 countries to keep their people safe during critical events. It's exciting to work for a company that offers a product that is making a real difference to real people, improving outcomes and, in some cases, saving lives.
What aspects of your current role do you love the most? 
I love being able to provide meaningful benefits to our customers and their employees. Hearing stories from our customers about how we've helped them protect their people from harm and be more efficient is incredibly fulfilling and motivating. Organizations of all sizes — and from virtually every industry — use our software. Since every organization can benefit from improving their communication during emergency events, the total addressable market is limitless. AlertMedia is growing so quickly, yet we've barely scratched the surface of potential customers.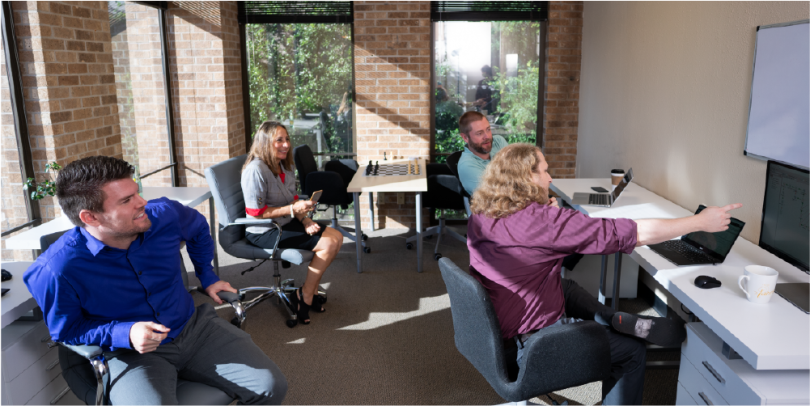 For Oliver Meek, the most fun roles in tech are those supporting industries that haven't received a whole lot of innovation love. Like the supply chain industry, for example. As a senior account executive for LeanDNA, Meek has some fun — and then some. 
What inspired you to pursue a career in tech sales, and particularly within your current industry? 
I think the beauty of tech and software sales is two-fold. First, it offers an extraordinary variety of industries and travel destinations. I never get bored. Second, it puts me at the cusp of something new. I wanted to be at the front end of the tech revolution and on the bleeding edge of an industry problem. It turns out that supply chain is the perfect place for that. We're selling something new and exciting for a market that's been a bit overlooked and left behind in the digitization of everything. It's ripe for disruption, which is where the most fun occurs. 
What aspects of your current role do you love the most?
I love that I'm not just a little cog in a big machine here. We can all see the value we bring to the organization, even outside of our specific roles, and every piece of exciting news is met with high fives from the CEO. It's also incredibly validating to see prospects get excited about what can we do for them. I get to sell a solution that really helps them in their daily work and careers. Overall, I just love the value of the company — both in the value we bring to our clients and the value I can bring to our team.